Hello and Welcome to my AliExpress Review
Earning money online has been a casual and effective way of earning money in the modern world. Rather than working hard on 9 to 5 jobs, people are tuning in to various opportunities they can get on the internet.
One of the most popular ways of earning money online is affiliate marketing. Affiliate marketing is basically becoming a salesman for prestigious online market places such as Amazon and eBay.
You can work from home and on your own schedule as well and if you can boost your sales you will also earn handsomely.
Today I am bringing you a popular based Chinese-based affiliate program in AliExpress and provide you with all the details regarding the site including how you can join, earn and redeem your payments.
So let us get started.
What is AliExpress?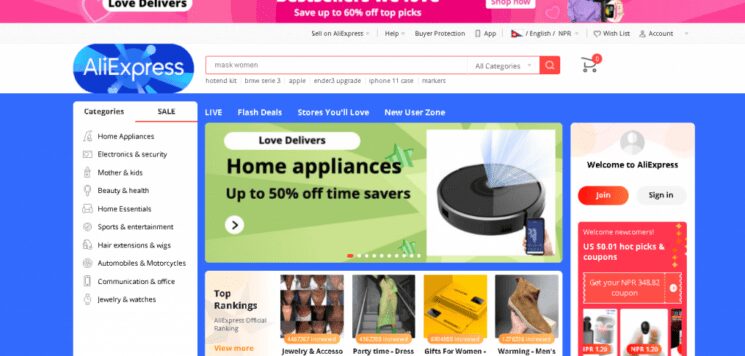 AliExpress is one of the most popular online global marketplaces for buying and selling products. It is based in China which provides many online buyers their products at a decent price.
Just like other big online retail platform the site also has a method to boost its product which is known as Affiliate Marketing. The site has connections with many Chinese sellers and vendors and when buyers buy a product AliExpress connects them and ships the item on their behalf.
What is the AliExpress Affiliate Program?
Just like other big online retail marketplace such as Amazon, AliExpress also has its own affiliate program to boost its products. However, they are not as popular as Amazon and many people don't even know about this affiliate program.
However, it has mainly become popular among bloggers and online businessmen about dropshipping. The affiliate program is a self-hosted program as well as can be joined through CJ Affiliate.
But it is recommended you try AliExpress Affiliate from their landing page.
How to Get Started?
It is easy to get started on AliExpress Affiliate. You just have to register as an affiliate on their site. To register you have to complete a short registration form and then wait for the approval.
Their approval takes up to 10 days. Once you are selected you can now access AliExpress Portals.
How does AliExpress Affiliate Work?
After you are signed up and receive access to AliExpress Portals you will also receive their special links. You can create your affiliate link for any special product or page of that special product.
This page will give access to not only a specific product link but to its accessories as well. You can also get access to AliPlugin which creates your Affiliate link automatically and easily.
But the plugin is not free and you have to pay up to $70 for its services. Another amazing feature of the site is you have each tracing iD for each affiliate product which helps you keep track of what is happening with your products.
How Can You Earn?
The only way of earning from AliExpress Affiliate link is if anyone buys a product from your Affiliate link and you will receive a commission from it.
Their commission ranges from 3 to 9%. However one of the bigger setbacks up the affiliate site is that you will not receive any commission for hot products.
Hot products sell quickly and other websites like Amazon encourages their affiliates to sell hot products which in return gives them a good chance to earn satisfyingly.
Another major drawback of the site is your maximum commission amount will never be more than $50. This is why the site has come under very heavy criticism of its Policies.
Minimum Payout and Payment Method
There is no minimum payout threshold of the site and you can withdraw any amount you want. However, the payment method of the site is only through International Bank Transfer.
And you also have to pay 15% of the amount you want to withdraw due to bank services which really hinders the workers. You will also receive your payments after one week.
The site not having a digital payment system like PayPal is very flawed and inconsiderate.
Pros and Cons of AliExpress
Pros
The site has a very large range of products for affiliate marketing.
They have an excellent platform in affiliate link building by individual and page link building.
AliExpress ships worldwide for free.
The site has very reasonable and cheap pricing which boosts sales of an affiliate.
Cons
The site does not pay a commission on sales of hot products.
You will not receive more than $50 despite the value of your product sales.
They only have an International Wire Transfer which charges workers up to 15% of the amount withdrawn which is very unprofessional.
Conclusion: AliExpress Affiliate Review
After a thorough AliExpress Affiliate Review, it is safe to say the site is legit. They have an excellent user-friendly interface and a very professional affiliate link-building method.
However, the drawbacks of the site are very significant for affiliate marketing users. They do not pay commission on hot products. You can only earn a maximum of $50 for the commission no matter the value of the sales item.
You also have to pay 15% of the interbank transfer amount since there are no options for PayPal. After deducting all these issues I strongly recommend our users to look for other affiliate marketing like Amazon for a better-earning opportunity.
If you want even more earning money online options you can check our review of Lucktastic where you can earn cash by scratching cards.