What is Treasure Trooper?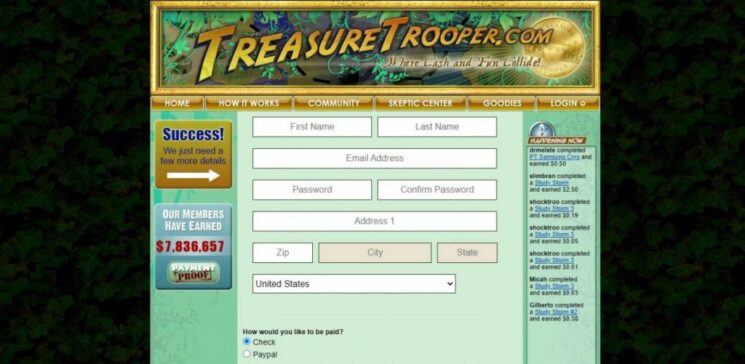 Treasure Trooper is a Get Paid To (GPT) website where you can earn money for taking paid surveys. You can earn money in Treasure Trooper by completing various offers, taking surveys, and getting cashbacks.
Also, you can earn by playing games and growing your dragons, and selling them. This site is just like Paid Game Player site in which you can earn by not only playing games but also by doing some macro tasks like watching videos and answering surveys etc.
How to Join Treasure Trooper?
Joining Treasure Trooper is free and easy. When you visit  TreasureTrooper.com!, you can find the register option on the home page. Fill in your date of birth and gender and click join now.
Afterward, you will be asked to fill in your first name, last name, email address, password, address, zip code, city, state, country, and payout option and the Treasure Trooper will send you a conformational link to confirm your email address.
How Does it Work?
After the registration process is completed in Treasure Trooper, you can start earning money by completing various offers, taking surveys, and getting cashbacks.
You can start earning by completing cash surveys. Taking a survey in Treasure Trooper is complicated and there are three ways to do it. They are: through study storm, through survey seeker, and 6 daily surveys.
In survey seeker and survey storm, there are many surveys available, but it requires filling out some additional personal details that take 24 hours to set up. The number of surveys available in these methods is more than dozens in a day.
In a daily survey, you can only take 6 surveys per day. But you will not be qualified for each survey. One of the factors that qualify you is your address but other factors are unknown.
The next option where you can earn some cash is by taking cash offers. Most of the offers are taking surveys on external websites and some are visiting chatrooms or giving nicknames or purchasing items etc.
You can cash search to earn rewards. Cash search is a strange concept where you are paid for using the Treasure Trooper search engine. This search engine acts like Google.
If you are looking for an awesome GPT site then check our review of Gift Hunter Club and earn some decent extra income.
Macro Tasks and Offer Walls
Another way of earning is visiting the cash walls option and watching videos. The videos may contain ads or other stuff that Treasure Trooper promotes.
The main concept of this website is growing dragon. You can purchase dragon eggs and a lot of different accessories to grow and train a dragon once it has been hatched.
Also, You can sell these dragons in the Treasure Trooper's shop and earn money.
You can install the Treasure Trooper app on your Facebook page and connect it to your Treasure Trooper account. But Treasure Trooper will use your Facebook page and post all your accomplishments so be careful of being spammed.
Treasure Trooper also pays you cashbacks on shopping online. But there are not much renowned stores on this website.
However, if you do like cashback shopping sites, why don't you check our list of famous and legit sites. Check them out below:
How do you Earn?
You will be paid by Treasure Trooper in either arrowheads or dragon scales or cash itself.  Regarding payments, You can earn from 0.5 USD to 1 USD by completing surveys and also can earn a dragon scale as a bonus.
Most of the cash offers pay you in dragon scales and the remaining pay you in cash. You will be paid in cash from 0.5 USD to 1 USD. The cashback option also allows you to earn but there are not renowned stores in Treasure Troopers. So, I recommend using other websites to shop.
For watching videos, you can earn arrowheads. You can earn an arrowhead for watching 17 minutes of video. Arrowhead can be used to buy dragon scales.
The main theme of this website is growing, training, and selling a dragon. You can buy a dragon egg for 15 dragon scales and other accessories like heat lamp bulb, dragon food, dragon medicine, dragon treat, training session, and other items and upgrades for a different amount of dragon scales to grow and train your dragon.
You can breed your dragon and also sell them in an inbuilt store named Cogg's Coop. If you sell a unique dragon then you can win 100 USD.
You can also play a mini-game like a treasure hunt and win cash or dragon scale or arrowhead.
Talking about a minigame, you can earn some easy cash by joining Lucky Day App and start earning.
How Does the Company Pay?
Most survey websites pay you from PayPal or through check. PayPal payment is done only in few countries even though PayPal is available worldwide.
If your country is not PayPal accessible country then you can get paid through check. But payment through check will arise various complications like the tax system, conversion rates, and many more. The minimum payout threshold of PayPal is unknown.
Pros and Cons of Treasure Trooper
Pros:
It is free and easy to join Treasure Trooper
Treasure Trooper gives various opportunities to earn
Growing dragon is a fun way to earn
Cons:
Difficult to redeem rewards
Treasure Trooper is time-consuming
PayPal is not available in all countries
Conclusion: Treasure Trooper Review
Treasure Trooper is not a scam but it is not recommended. You can earn money in Treasure Trooper by completing various offers, taking surveys, and getting cashbacks but it is way too time-consuming.
Even though Treasure Trooper is legit you can earn money faster by joining different survey sites.
This website is fun as you can grow dragons and sell to earn higher cash but what's confusing is that you have to sacrifice your earnings to grow and sell dragons.
Furthermore, there are better websites where you can play games and earn.