What are Royal URLs?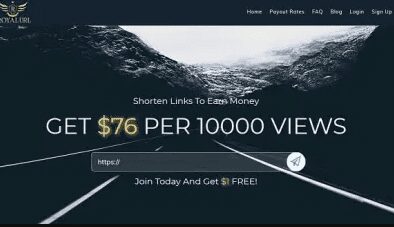 If you are looking for a website where you can earn money then Royal URLs is a website that allows you to earn from your home. It is an online platform that pays you to shrink lengthy links and URLs and share them on various platforms.
You can share those shortened links on your website, emails, blogs, videos, forums, and social media. So why shrink the URLs? It is easier to remember or catch a shortened link and also it provides a chance to earn money.
How to Get Started?
Visit RoyalURLs.com to register your account. In order to get started, you need to enter some of your details like email address, password, real name, etc.
After that agree to the terms and conditions of the site.
Finally, verify your account to get started which is the final process. The site will send you an email in your email id for verification which will contain a link which you should click to confirm your email address.
Then your account will be activated. After activating your account now you can start earning and working.
Note: This website is already closed so you cannot join to earn money.
 How Do Royal URLs Work?
After registering an account in royal URLs, you can start earning money. You can shrink any links to any websites, forums, social media, videos, and blogs.
You can copy long links and paste them to shorten them in a long box on the website.
Then share the shortened link in your websites, blogs, forums, emails, videos, and social networks like Facebook, Twitter, YouTube, Instagram, Viber, Snapchat, and WhatsApp.
Also, refer to Royal URLs to your friends and relatives to earn more. You will receive a referral bonus for every friend or relatives that joins Royal URLs through your link.
There are certain requirements in the Royal URLs site that you should keep in mind while shortening and sharing URLs. Some of them are:
Not to use VPN or proxy servers
Do not use more than one accounts
Not to use abusive links, harassing, or threatening in nature
Avoid shortening links that contain illegal contents or post links on illegal websites.
Not to share or publish links that have adult or pornographic contents
Do not share links that contain a virus, malware, trojans, or other harmful code that may destroy hardware and software
So, keep these instructions in mind while using Royal URLs or your account will be banned forever.
How Do you earn?
Royal URLs pay you on basis of the CPM rate. CPM stands for cost per thousand. It is a pay rate that pays for every 1000 visits.
The highest pay rate in Royal URLs is $6.50 for every 1000 visits and the lowest pay rate is $1.50 for every 1000 views. Royal URLs are available internationally and their pay rate changes in a change of time period.
Remember that simply clicking on the link and visiting it is not counted as the visitors are required to reach the destination page. When a visitor clicks on the shrunk URL, a full-page advertisement is shown.
The ads are 5 seconds long. Then after 5 seconds, you can press the continue button which redirects the visitors to the destination page. The traffic must visit the destination page to be legitimate.
Referring to your friends and relatives is another way of earning in Royal URLs. You can earn a 25% referral bonus for a lifetime but to earn a bonus your friend or relative has to join Royal URLs using your referral link.
 How does Site Pay?
Royal URLs pay through PayPal, Payeer, Skrill, and Bank Transfer. The minimum payout threshold is $10 for PayPal and Skrill, $12 for Payeer, and $200 for bank transfers.
Pros and Cons of Royal URLs Review
 Pros:
It is free and easy to join
li pays through PayPal and many sources
The referral bonus is 25%.
The payout threshold is low for PayPal and Skrill.
 Cons:
The pay rate very low
It does not pay through Bitcoin
The payout threshold is higher for bank transfers.
This site is not available nowadays.
Conclusion: Royal URLs Review
After the valid Royal URLs review, we can say that the site is not a scam. You can earn money by shortening and sharing URL links on this website. The site will pay you in cash only and through different payment sources.
The payout threshold differs according to payment sources. You can also earn through a referral bonus which is comparatively higher that is 25%.
Note: This website is not available nowadays so look for other sites. This website was at the very top before closing. Try other websites to earn money.
Check out our review of Linkvertise and find out if the site is legit or a scam.