What is Word Relax App?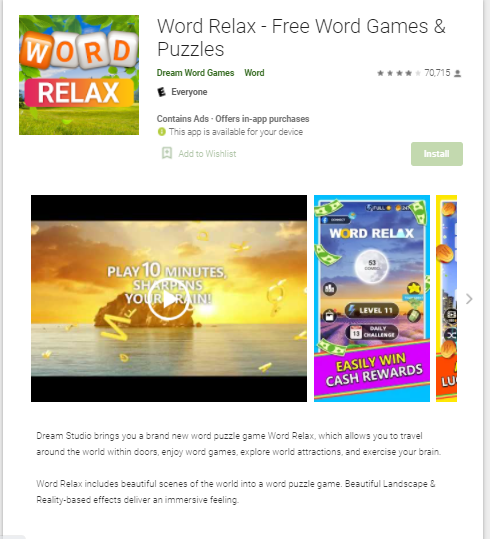 Word Relax App is an online platform that claims you can earn money. It claims that you can earn by playing word games. This app is developed under Dream Studio.
The main goal of this app is to help people increase their vocabulary.
How to Join Word Relax App?
Joining Word Relax App is easy. You can download Word Relax App on your mobile devices. It supports both Android and iOS platforms.
So, you can find this Word Relax App on Play Store and App Store. You can install it from one of the stores that are supported by a mobile device. After installing it you can start playing and earn various rewards.
This app is available worldwide. This app also pays through PayPal so you will require to be 18 years old to create a PayPal account.
 How Does Word Relax App Work?
Word Relax App pays you for playing word games. It is like a crossword game where you have to find words of various lengths.
The length may be from two to five letters. Once you find all the words you will complete the level and earn virtual coins.
The main goal of Word Relax is to help people increase their vocabulary by unlocking hidden words by connecting a few letters provided.
At first, the letters will be fewer and you will have to find a smaller number of words. As the level increases, the letters will increase and the difficulty will also increase.
There are about 9100 levels and each level is represented by a specific country and the game wallpaper also changes according to that country. For example, if the level represents Egypt then the game's background will be a pyramid.
You will earn coins for passing a level at the beginning but as the level of the game increases then you will only earn after completing a couple of levels.
But if you are stuck in the game, you can use a hint. Hints are not free so you have to buy using those earned coins. A hint reveals a letter of a word you require to unlock.
Why play word games on Word Relax?
Playing word games on the Word Relax application has many advantages. If you are looking for a site to help you improve your performance in word games, especially in scrabble, visit this site https://scrabble–word–finder.com. As mentioned above, by playing regularly on Word Relax, you will earn money and improve your vocabulary. In addition to these positive points, there are many other advantages that you should absolutely know about. These are :
Stress relief : it is proven that word games activate the secretion of dopamine, which is a hormone that induces relaxation and unwinding. So after a hard day at work, you can do it on your computer, tablet or smartphone.
Improved concentration level : on a platform like Word Relax, the word games are time-based. This forces you to stay focused to reach your goal in time. This improves your memory, and forces your brain to focus better.
Improve problem solving skills : Word games involve creating new words from jumbled letters. This forces the player to think of different ways to solve the problem. This will help you improve your strategic thinking, which is useful for solving any problem. It will certainly be useful in all other areas of your life.
How do you earn?
Like I already said that you earn for playing word games. After completing a level or two you will earn coins. The amount of coin you will earn differs from level to level.
There is also a tournament through which you can earn rewards. You will have to collect the flower in the tournament. The player who collects more flowers will earn coin rewards.
You can also earn a daily bonus. You will earn 50, 100, and 200 coins as a daily bonus. These coins will be distributed randomly.
How Does Word Relax App Pay?
As we already know that Word Relax App pays through coins. The minimum payout threshold is either $100 for Word Relax App. The conversion rate is not clearly mentioned and it varies as per the country.
But some of the people claim that they earn $0.01 after completion of every 50 levels.
You are paid through PayPal or through Amazon Gift Cards. Word Relax App recommends you to request payment from Amazon Gift Cards as the payment will be quicker through Amazon.
Pros and Cons of Word Relax App Review
Pros:
Pays you through PayPal and Amazon gift card
It is free to join
Word Relax App is easy to join
Your vocabulary will be good.
 Cons:
Does not pay you through bitcoins
This app has limited earning opportunities.
Many complaints regarding its payment.
 Conclusion: Word Relax App Review
After the Word Relax App review, we can easily conclude that the app is not a scam. It provides you the opportunity to earn rewards by playing word games.
Their main objective is to increase the vocabulary of the players. You will have to earn $100 to redeem your earning.
You can join Word Relax App as it is legit. But you have to be patient as its pay rate is low and the earning will be much harder once your level is increased.
But if you are interested in playing games and earning then this app is for you.
This app also has many negative reviews regarding its payment but the positive point is that it increases the vocabulary of the players. This game can be played by children too as it helps them in learning and correcting spelling.
If you like Twitch and want to earn some money by just following Twitch members, check out our review of Twitch Followers and find out if the site is legit or scam.