What is My Constant?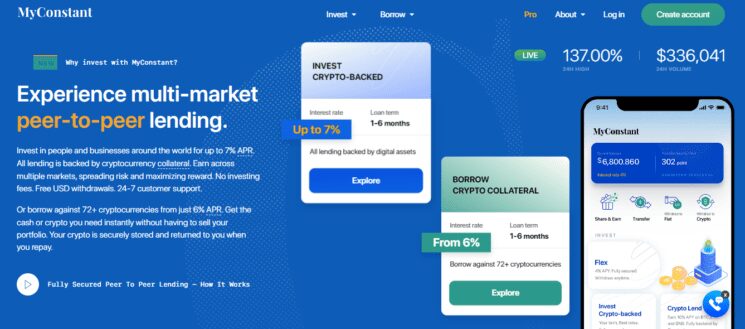 My Constant is Peer to Peer lending website. This website was launched in May 2019. Their main objective is to give investors great interest rates on investments and easy access to credit when they need it.
So, what exactly is My Constant? The answer is My Constant is a crypto lending platform that offers investments in crypto-backed loans. It also allows you to set your own interest and terms on crypto loans.
In this My Constant Review, we will teach how to get started and earn from the site because it is really complicated but essential to learn them.
How to Get Started?
Visit  Sign Up – MyConstant to register your account. You are asked to enter your details of password and email address and you can also sign up directly through your Facebook account or Google account.
You can also request an invitational code for verification of your account.
My Constant is also available in both App Store and Play Store. So, you can download this app on your Android and iOS devices.
 How Does My Constant Work?
My Constant is an online platform that connects investors and borrowers to do business together. Investors deposit any amount and choose to either Lend US Dollars or Lend a Crypto to borrowers.
But borrowing is not easy. Borrowers must put up to 200% of the loan amount in cryptocurrency or a portfolio of cryptocurrencies as collateral to obtain the loan.
As an investor, you have four different options to earn. They are:
Deposit US Dollar
Deposit Crypto
Lend US Dollar
Lend Crypto
You can deposit US Dollars through wire transfer, Zelle, or APH. You will receive a certain rate of interest and it changes according to the market.
Click on the Make Deposit tab in the My Constant account and choose how much you want to deposit. You can also choose deposit methods to deposit your money.
You can also deposit cryptocurrencies. My Constant allows you to deposit 72 supported cryptos. First, create your deposit order and then copy our wallet address or scan the QR code using your wallet app. Your balance will update according to the market rate.
Lending US Dollars and Cryptos is another way of earning for investors. You can set your own term and policy. For lending USD, you can choose instant access or a fixed term of 30, 90, or 180 days.
Then send your funds through ACH or wire transfer. For lending Crypto, send your crypto to their lending pool and they will redistribute it among their trusted exchange partners.
You can select your terms and the interest is compounded and paid, giving you immediate returns and when you're ready, withdraw again to a wallet of your choice.
From the site, You can also borrow the loan in My Constant. You can choose terms suitable for you and send collateral to secure the loan.
There is also a membership level. For every dollar, you borrow or deposit you will earn membership points. It will help you upgrade your membership level to gold, platinum, or diamond.
The point expires after 180 days. You can also refer My Constant to your friends and relatives. The referral bonus will be based on your current membership level.
How Do you earn?
You only earn as an investor. Investors lend or deposit US Dollars and Cryptos and earn interest. The interest differs.
If you are depositing US Dollars or Cryptos then you will earn a 4% Annual Percentage Yield (APY) on your balance.
You can deposit your US Dollars through Zelle for amounts under $2,000, through ACH transfers up to $5,000 per transaction, and through wire transfers which are unlimited.
If you are lending USD then you can set your terms and earn interest accordingly. you can choose instant access or a fixed term of 30, 90, or 180 days.
For instant access you can earn 4% APY, for 30 days you can earn 6% APY, for 90 days 6.5% APY and for 180 days you can earn 7% APY. Currently, there is an offer that if you lend USD for 90 days, you can earn 10% APY.
If you are lending Crypto then you can earn 8% APY on BNB or 11% APR on PRV.
How are you paid?
My Constant pays through Zelle, ACH, wire transfer, and gift cards of various stores. On the site, You can directly deposit in your local bank but it may take up to two days depending on your bank.
You can withdraw as much as you like for free. You can also withdraw Crypto in any crypto wallet and also convert USD to Cryptocurrencies.
Pros and Cons of My Constant
 Pros:
It is free and easy to join
My Constant pays through wire transfer and other sources
Provides you interests in depositing and lending
You will not lose your lent money
It is available globally
Cons:
It lacks transparency
Terms and Conditions keeps on changing
Does not pay through PayPal
Conclusion: My Constant Review
After the thorough My Constant Review it can be said that the site is not a scam. You can earn money by lending and depositing on this website. You will be paid on cash and cryptocurrencies and through different payment sources.
This website is suitable for both investors and borrowers. Investors can lend or borrow US Dollars and Cryptos. They can lend in their own suitable terms and conditions. Borrowers can also borrow a loan but have to keep collateral for it.
If you have checked My Constant Review and also want to earn some money by watching ads, please check our review of Ad Wallet and find if the site is legit or scam.