What is Robson App?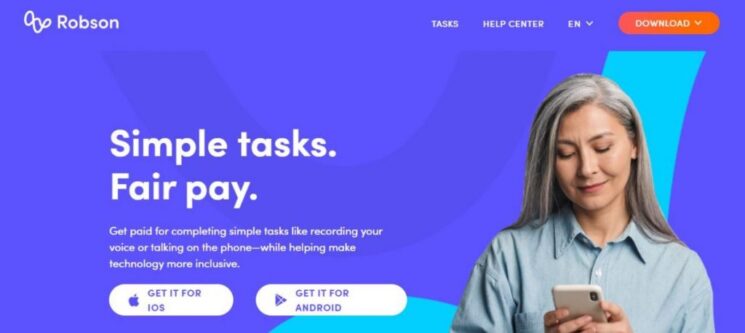 Hello and Welcome to Robson App Review. Let us take a look at Robson App.
Robson is an application that is a Get-Paid-To (GPT) app developed by the company named Globalme. And this type of app is designed to help people like you contribute to the development of new technologies with the power of your own voice.
And in return for your little effort, you will get paid. So, here's how you can earn from Robson.
How To Work on Robson App?
This app offers only one earning opportunity which is through the tasks they offer. When you log in to the app, you will immediately see all the available tasks and you can work on them.
You will also get notified via email if there are new tasks for you.
Usually, their tasks contain to record short phrases, participate in phone conversations with your friends or transcribe, with apps like this.
On the site, you will have to reach a certain threshold before you can withdraw your earnings. But it's a little different with this app.
You will be able to receive the payment right away regardless of the amount. Obviously, the task has to be approved by Robson first.
So honestly, this application has no payout threshold, which is definitely a good thing because you don't need to wait to get paid.
How do You Get Paid?
Robson offers two payment options which are PayPal or Amazon gift cards. You can easily choose which one you prefer during the registration phase.
If you choose to get paid through PayPal, it will actually take up to 5 business days for the amount you earn to be credited to your account. So, don't expect to receive your earnings right away.
How much money can you make?
Robson offers rewards that are fair to the people. This app does pay a decent amount for the tasks they offer (usually around $5 to $50 per task depending on the complexity of the task).
So, the amount you will actually be able to earn from this application will mostly depend on how many tasks you can complete.
Unfortunately, you don't have any control over how many tasks will be made available for you.
This is usually determined by your location/where you live. And according to my research, there are more tasks available for the people who live in the US, Canada, or the UK.
If you live in any of the following countries which are mentioned above, then you will be able to earn a good amount of money from this app. As for other countries, the opportunities may be quite a few.
Can you use it on a desktop?
Robson actually is a mobile-only platform. So, just to answer the question above, no you can't. You need to use a mobile device, preferably a mobile phone to earn from it.
The good thing about this app is, its app is available for both Android and iOS devices. So, the compatibility won't really be an issue.
Who can join Robson?
You will finally be able to sign up as a member of this platform regardless of where you live because it is available globally. On the site, the user has to be at least 18 years of age to join.
If you meet the age requirement you just need to fill the form and give your mobile number. The mobile number seems compulsory for this application.
When you are finally done with the sign-up form, Robson will then send you an SMS message containing the verification code.
Simply fill the code in the equivalent field in the application to complete the registration. Once you've done what it asks you to do, you can now finally log in to the app and start working on different tasks.
Pros and Cons of Robson App
Pros:
The site doesn't have a payout threshold
It pays quite well
It offers a convenient payment method (PayPal)
Cons:
It offers limited earning opportunities
It also takes a bit of time to get paid
Conclusion: Robson App Review
After the detailed Robson App Review, we can clearly say that the site is legit. However, you will not earn enough to use it as an active source of income.
But if you like doing the simple task and want to earn passive income, please feel free to join the app and earn some money.
Thank you for checking Robson App Review, If you are passionate about doing reviews and providing feedback please check our review of Play Test Cloud Review and find out if the app is legit or scam.