What is PureProfile?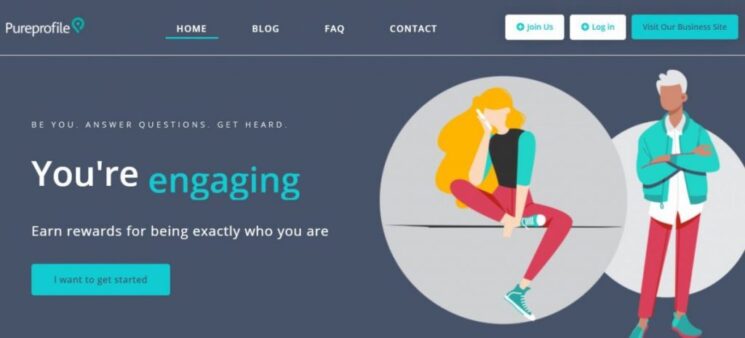 PureProfile is an online network that provides cash for those who answer genuine survey questions. The site is based in Australia and is only available for Australian residents.
The site has a user-friendly interface that assists users to conduct surveys very easily. You can easily earn real cash by conducting and answering some easy and interesting surveys and providing your vital opinion.
On the Pureprofile survey site, you can earn up to $20 per survey. They provide your rewards in terms of points and later you can convert those points into cash.
Today we will learn more about PureProfile sites, how to join, earn and withdraw your earnings from the site. We will also clear you if the site is legit or a scam.
If you are interested to find more high-paying survey sites, then check out more survey sites reviews:
How to Get Started?
First of all to get started, you have to register and sign up in the site. You have to provide your email address, data of birth, postal number and your gender.
Once you fill in the details, you can now login the site and find out surveys in your dashboard immediately. Each surveys already have amount accumulated and you will be clear how much you will receive immediately.
The site provides surveys frequently and you can answer them according to your interests.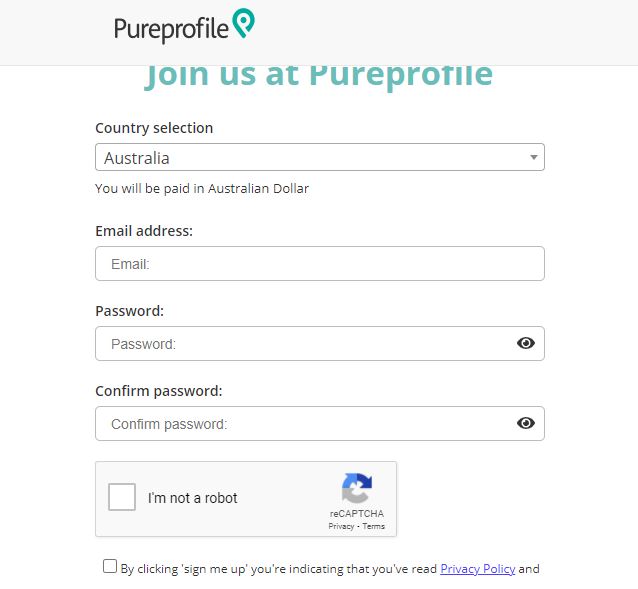 How to Work and Earn From Pureprofile?
Pureprofile is a survey site which joins top companies who wants to receive feedback on their website or product before global launch with the user who likes to provide valid and authentic opinions and feedbacks.
Their list of clients who wants to receive feedback is top class which includes Hoyts Cinema and AA Smart Fuel.
The basic work or task in the site is to answer survey and provide feedback that is available in your dashboard. You can clearly see how much you can earn from each survey.
The site also asks you about your interests and hobbies which will filter the survey for you in the manner of your interests and that you can provide clear feedback on.
Apart from surveys, there are also other ways of earning from the site by watching videos and playing simple games however the amount that you earn from these simple task is lot less than answering surveys.
How Much Can You Earn from Pureprofile?
The amount you earn depends on the number of surveys that you can complete as well as from simple task that you can complete.
Pureprofile surveys have their own price based on the complexity and length of the survey. The survey price range from $5 to $20 according to the nature and complex of surveys.
The time limit on the site also varies according to the survey. The surveys can be from 6 minute to 40 minute long.
You can also earn from surveys on the basis of time spend on the survey which means if you unfairly got out of the survey without completing it you will be paid based on your time on the survey.
This is one of the most attractive policy on Pureprofile website.
How does Pureprofile Pay?
There are two ways of redeeming your earnings on this site. One way is Paypal and the other is Giftcards. You can withdraw your earnings from Paypal once you reach minimum threshold of $20.
However it can take up to 30 days to receive your earnings finally. Minimum threshold of $20 may not seem much but it depends on your location. The survey you can complete and amount of survey that you can receive depends on the location of your living or your country.
The other options of redeeming your earnings is from Giftcards. The minimum threshold is also $20 in this option. You can withdraw your earnings via giftcards which is faster than that of Paypal however you can only withdraw the worth of $50 for 60 days period.
There are various gift card options to choose from which are iTunes, JB Hifi, Kmart and many more.
Pros and Cons of Pureprofile
Pros
You can receive frequent surveys and in quick fashion.
The dashboard is user friendly and very easy to understand.
The surveys are based on your interest which makes the task really inteesting.
You can earn cash from your screening period of the survey which eliminates unfair kick out.
Pureprofile pays you via Paypal which is accessible for many persons.
Cons
The minimum threshold of $20 is quite large for the location which does not get fast surveys.
If you choose paypal options you will receive your earnings within 30 days which is quite long period of time.
Conclusion: PureProfile Review
After the thorough Pureprofile Review, we can clearly state the site is legit and is one of the best paid survey site in the world. We recommend everyone who can join the site to join and earn the cash from easy and interesting surveys.
However you can only earn some cash depending on your location so please do not make it your only source of income. If you are interested to earn cash from answering surveys check our list of top paid and best survey sites in the internet.