In this post, I am going to review a popular Android game called Puppy Town which claims you can earn money by merging puppies in the game.
But does the app pays as it claimed? Well, I am going to share everything about this game like how it works, how to cash out, how much you can earn, if you can withdraw your earnings, and a full review.
So, let's get started:
What is Puppy Town – Merge & Win game?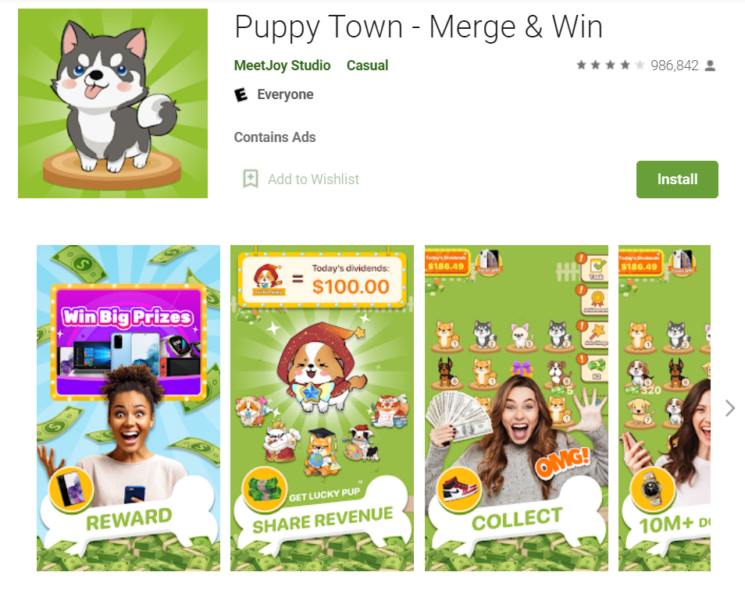 Puppy Town is a casual android game available on the Google play store which allows its users to make money simply by merging puppies on the game. The game, developed by MeetJoy studio, has over 50 million installs.
Check out more details about this app below:
| | |
| --- | --- |
| Name | Puppy Town |
| Developed By | MeetJoy Studio |
| Platform | Andriod |
| Size | 80M |
| Installs | 50,000,000+ |
| Permission Required | Find accounts on the device, Contacts, Location, Phone, Photos/Media/Files, Storage, Wi-Fi Connection Information, Device ID & call information, and other |
How to Earn Real Money in Puppy Town?
Users need to merge puppies and build puppy towns to earn rewards. There are other similar apps on Playstore where users have to collect some stuff to earn money and the more they collect the item, the more money they will make.
In this case, users have to collect rare puppies and merge them to earn rewards.
How to Cash out on Puppy Town game?
Once you reach the minimum payout threshold which is $100, you can withdraw your earnings to your Paypal account.
Review: Is Puppy Town Real or Fake?
Puppy Town app is not a scam but it's not a genuine company either. According to the reviews of the users, many were unable to reach the minimum cashout threshold.
And in my opinion, the app is developed in a way that users will be able to merge puppies and earn some initial earnings but when they start reaching the minimum cashout threshold, users will stop earning.
Here are some of the user's reviews from Google Playstore:
Review #1:  According to this user, he completed level 64/64 by collecting a lot of puppies and he earned $188 on the game but he was unable to cash out the earnings because he was unable to collect one of the puppies.

Review #2: According to this review, the user likes the gameplay part of Puppy Town but the app is misleading when it comes to making money as users don't get a chance to withdraw earnings as they can't reach the minimum cashout threshold. The user also claims that the app is designed in a way that users get stuck in some part of the game and stops earnings.

Review #3: This user claims that Puppy Town is a waste of time and similar to many other users he was unable to reach the limit for cash out. He claims in detail that no matter how many puppies users merge they will not be able to get the 1 puppy that is required to earn more. He clearly warns not to use this app if you are expecting to earn some money.

Review #4: This user was expecting to get an iPhone and AirPods via the PuppyTown game but was unable to win it and the user suggests not to waste your time by downloading the app.

And there are tons of reviews like this on Google Playstore about this game. Despite having so many negative reviews, the app still has received 4 out of 5-star ratings of 968k users.
Many users who search for online jobs stumble upon apps like this and people download this app looking at the 4-star ratings of the app.
But in my view, the app asks users to rate the app as soon as they open it and many users rate it with 4 or 5 stars without even using it for few days, so that might be the reason it has received 4 stars ratings of so many users.
But this app also has some reviews which claim they have received payments from the app. And honestly, I don't think this makes it legit in any way.
To finish this review, I will suggest you stay away from this app or use it just to have fun with the game. After reading so many negative reviews, I don't think users can earn money from this app.
If you have used this app, please share your experience and reviews of the app in the comment section below.