Hello and welcome to my honest PointsPrizes Review.
Points Prizes is a Gpt platform where you can earn money by completing various tasks. You can complete various offers and surveys, play games, and watch videos to earn points and redeem them for cash or various rewards.
You can even work a part-time or as a night job.
But you may be wondering if this app really pays and if it is not a scam. Well, you have come to the right place for your curiosity.
Today I am going to provide you with detail regarding Points Prizes which includes
what really is Points Prizes,
how it affects users, how can someone join,
how they earn,
how they redeem their earnings,
payment methods, and most importantly
if it is worth your time. So, let us get started
What is PointsPrizes?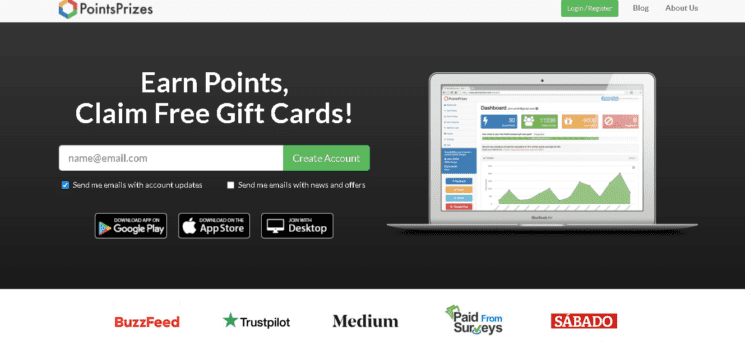 Points Prizes is a platform that allows you to earn money and prizes. You have to complete various tasks to earn rewards.
It was started in 2016 and since then it has been running. You are paid for watching videos, taking surveys, playing games, and so on.
How to Get Started?
You have to be at least 18 years old to join this site. You can visit pointsprizes.com to register your account. To register your account, you can simply submit your email address.
Then you will get a confirmation email to confirm your email address. After it is confirmed your account will be registered. There is no country restriction so you can be anywhere to join this platform.
But you should PayPal account to redeem your earnings. If you do not have one then you can create it.  You can also use this as an app on your mobile devices.
You can download Points Prize from the Play Store of the Android platform and the App Store of the iOS platform.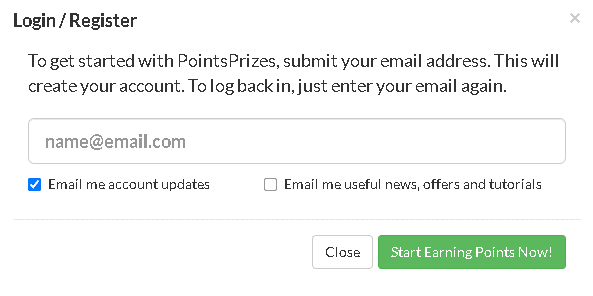 How can you earn from PointsPrize?
You can earn rewards on Points Prize in different ways. You can complete various offers and surveys to earn rewards. There are various offers available on the site. You will get paid as per the type of offer.
You will be paid higher in top offer walls rather than regular offer walls. You will also be for surveying various types of apps, products, sites. Initially, you will be getting a survey that pays lower.
As you complete these surveys you will be receiving better surveys. Watching ads and videos is also a way of earning money on this site.
Although you will receive fewer points for watching a video, you can watch up to 500 videos in a day and earn 500 points. These videos may include movie trailers, ads, celebrity news, etc. On social media and various sites, you may get coupon codes.
You can use this code by visiting the "Use Coupon" tab and redeeming the points in your account.  One of the fun ways of earning points is playing games. There are various online games in the Points Prize platform that you can play to earn points.
Each game you play will give you one bonus point. But there is a limitation. You can only earn up to 750 bonus points. Every day when you log in you get to answer few questions.
You can answer this short poll and earn 5 points every day. You can also get paid by referring this site to your friend. If your friends use your referral code then you will receive 10% of what your friends earn.
If you want to earn from doing GPT tasks, surveys, Cashbacks, and surveys then please check our Clickperks review and find out the awesome site you were searching for.
Minimum Payout and Payment Method
You need to have 3000 points to get paid. The payment threshold is $20 and 3000 points are equivalent to this amount. You can redeem your earnings through PayPal. You can also redeem your earnings in different ways.
You have the option of requesting gift cards, PayPal payment, and Bitcoin Payment. Gift cards only work in the US. People residing outside the US can request PayPal payment or Bitcoin payment (if you have a bitcoin account).
The gift cards include rewards from Amazon, Netflix, eBay, iTunes, and many more. But receiving payment is not that fast. Once you request payment or gifts you will not receive them fast enough.
You will receive your payment or gifts in around 7 days to 30 days of your request.
Pros and Cons of PointsPrizes?
Pros:
Earn points from various tasks
Free to join
It is worldwide so anyone can join
Can be operated on smartphones
 Cons:
People residing in the US can only receive gifts
Higher threshold i.e., $20
Slow payment
PointsPrizes Review: Legit or Scam
Points Prizes is not a scam. It seems legit. It provides an opportunity to its users to earn money and various rewards. There is no country restriction so anyone from anywhere can join this site.
But this site does not provide you with high money. It only provides a handful of money. Your earning per month will not be high. So, you should not entirely depend on this site for your source of income.
But before you leave, please check our review of ProTypers and find out if you can earn by just typing captcha.