Paraphraser.io claims to be one of the leading paraphrasing tools, but does it live up to the expectations? It has many great features, and it allows you to paraphrase rather quickly, but its performance and reliability remain questionable. When I came to know about this tool, as a professional writer, I was also wondering if it truly delivers the convenience it advertises. Let's dive deeper and assess whether it's a legit tool or not.
Paraphrasing happens to be one of the most trying processes of writing. It requires a lot of reading, processing, and, well, rewriting. That's why paraphrasing is taught from an early age in schools so students can understand its need as well as the subject better.
That's when a lot of paraphrasing tools have helped writers in today's age. These AI-based tools aim to make it easier for writers to simply paraphrase at the click of a few buttons.
Paraphraser.io happens to be one of those tools. But is this online tool legit? Does it help you paraphrase properly, or is it just a gimmick? This article will answer those questions and more, so let's get started.
What Is Paraphraser.io?
Paraphraser.io is an online paraphrasing made with cutting-edge AI tech, or so the website says. The program claims to have included the latest AI algorithms and paraphrases using a few content modes. It offers six content modes overall—three of which are paid, and the other three are free.
It offers an extensive paraphrasing ability of around 1000 words at a time. The tool's UI is also quite a straightforward design with an editor and a section for paraphrased text:

At the top side, you can see the paraphraser's content mode with premium/paid ones marked by a crown. It also offers the ability to paraphrase in 22 different languages, which you can select in the bottom-mid option.
Besides that, it's quite a straightforward online paraphraser that simply lets you put your text on one side and get the paraphrased text from the other. You can also upload DOC, DOCX, Text, or PDF files to paraphrase with it.
Paraphrasing with Paraphraser.io
Paraphraser.io acts as an online toolkit with various writing assistants/tools. However, the website's name is Paraphraser.io, so it's only fitting that we use it primarily for paraphrasing. So, to understand whether it's legit or not, let's talk about its three free paraphrasing content modes.
Fluency:
Fluency mode in Paraphraser.io is targeted towards making content smoother and easier to read. Now, you would expect this mode to make a few changes, such as shifting voice from passive to active or vice versa.
Here's how it performs:

The green text should indicate the text that it has paraphrased. From that, you can see that the paraphraser focuses on making content easier to read. Therefore, it has used simpler words and shorter sentences to describe the same thing.
For instance, using "keep up to date" instead of "stay on top of" indicates the need to stay in the loop. Thus, proving that the Fluency mode in Paraphraser.io is legit.
Standard: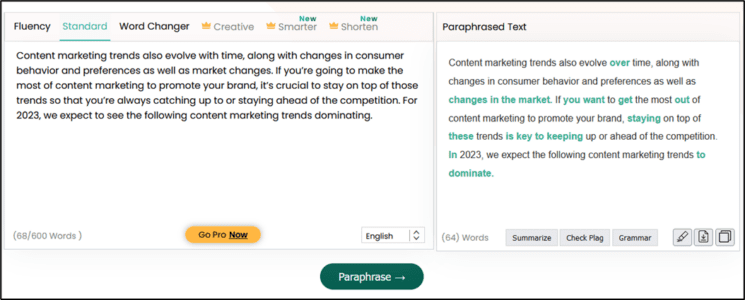 We could assume that the standard mode in Paraphraser.io is meant to rephrase your text without messing with the tone, passages, or sentence structures. So, what purpose could it possibly have? Let's try it:
As you can judge by the paraphrased text, the purpose of the Standard mode is to change the text enough and only when needed. In other words, it's ideal for those who are looking to reduce redundancy or fluff.
Word Changer:

The Word Changer mode is quite self-explanatory. We're expecting this mode to replace specific words with synonyms. This could be ideal for those looking to remove plagiarism or avoid duplicity. Here's how it works:
And as you can see, the Word Changer mode replaces words with alternative synonyms. It's great to find alternative words and expand your vocabulary. But it is also not ideal in many cases. For instance, it changed the word "content" to "substance."
Now, you can make those slight edits yourself to avoid replacing any words that it shouldn't have. Other than that, it's a solid mode that can help you replace words to improve your vocabulary.
Additional Key Features of Paraphraser.io
Paraphrasing aside, Paraphraser.io also offers convenient in-built tools for additional support for writers. Three of those features in Paraphraser.io are: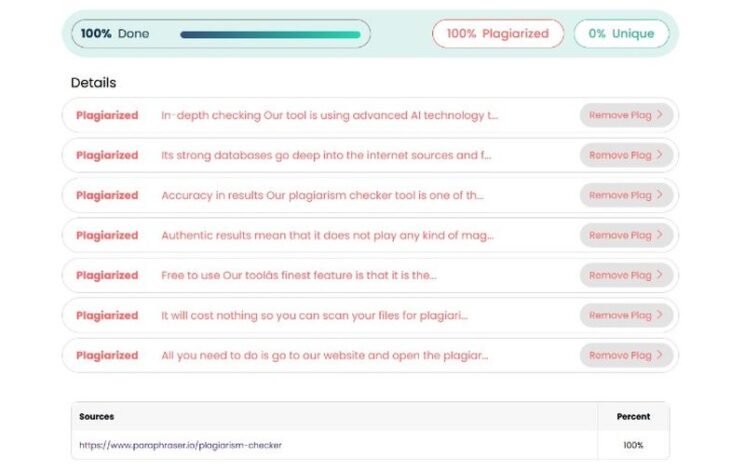 Plagiarism Checker is one of the key tools provided by Paraphraser.io. If you think about the nature of plagiarism, paraphrasing and checking for plagiarism go hand-in-hand. That's why it's utterly convenient for Paraphraser.io to feature this tool.
It has a simple design that lets you scan your content. Here are the key features of Plagiarism Checker by Paraphraser.io:
Ability to scan 1000-words at a time
Finding the location/link of the original text;
And shows the percentage of plagiarism in the text;
These are some of the reasons that the plagiarism checker at Paraphraser.io is also a good tool to use.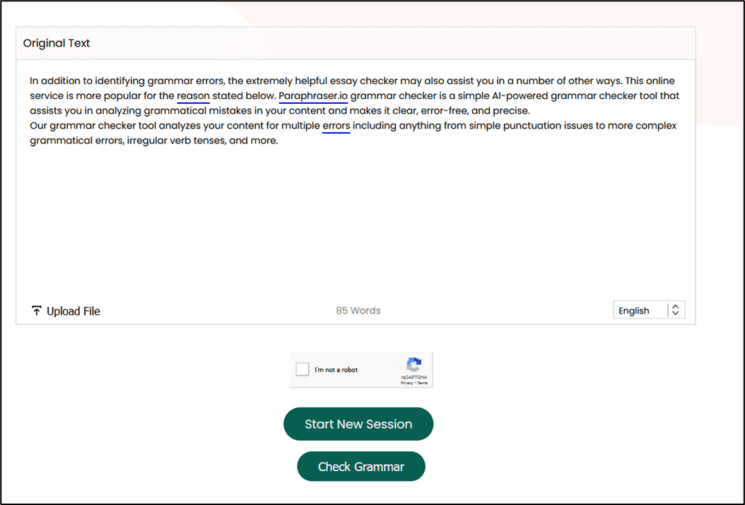 Then you have the Grammar Checker by Paraphraser.io. As you would expect, this tool allows you to correct your spelling, whether it's misspelled or an error. It also lets you fix punctuation. The word limit on this tool is around a thousand as well.
There's not much else to it, and it's not a detailed grammar corrector. But it's a very convenient tool to have if you're looking to use correct spelling and punctuation.
Then there's the text summarizer by Paraphraser.io. As you would expect, this summarizing tool is also a great addition to post-paraphrasing in many instances. For example, academic writers can use it to create summaries.
While bloggers or marketers might use it to create captions, Meta descriptions, etc. It's a very thoughtful addition by Paraphraser.io, and it lets you:
Summarize according to percentage;
Summarize in paragraphs;
Or summarize in bullet points.
It also offers an additional feature called AI Summarizer that basically rewrites the summarized content in better words. This is an ideal feature for those looking to provide a simpler summary of their text.
Conclusion: Is Paraphraser.io legit?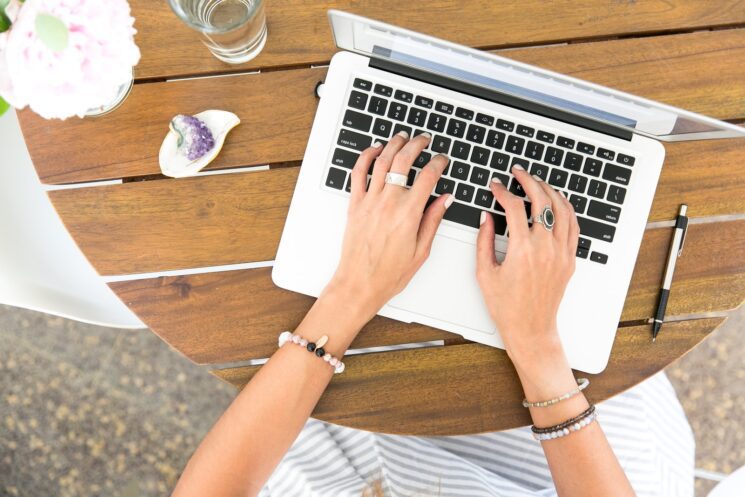 Paraphraser.io is as legit as an online program can be. This online paraphraser has all the key aspects that you'd need in a tool of such ilk. Besides that, the addition of other key features also makes it a great program to have. However, the lack of being able to use the premium version for free in some capacity is a bit of a drawback. But that shouldn't matter, as the free content modes are good enough to rephrase any sort of text.