Hello and welcome to my genuine WdUpload review.
As we all know many people are engaged in Freelancing and Crowd Funding job. There are sites such as Freelancers, Upwork, etc in which employer and owner meet via virtual reality and engage in some sort of working transactions.
Other sites also provide work based on your skills or simply macro jobs. Some providing testing jobs and in some jobs, you have to answer surveys as well as provide feedback face to face.
However, some websites provide you earnings if you upload on their site and if your uploads get downloaded lots of time.
WdUpload is exactly the same type of website where you will be paid for your uploads of various files. But you may be wondering if this site really pays and it's legit. Well, you have come to the right place for your curiosity.
Today I am going to provide you with detail regarding WdUpload which includes
what really is WdUpload,
how it impacts employers,
how it affects workers,
how can someone join,
how they earn,
how they redeem their earnings, payment methods, and
most importantly it is worth your time.
So let us get started.
WdUpload?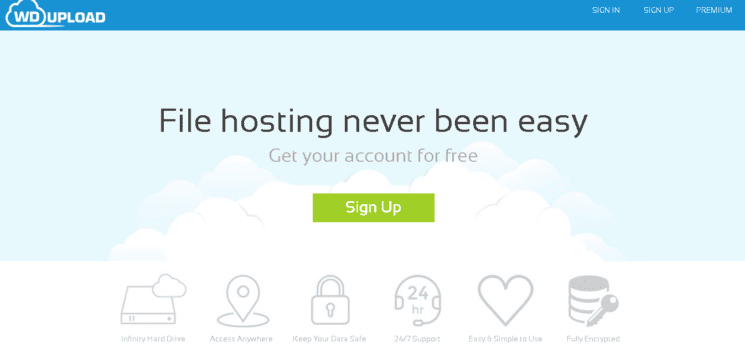 WdUpload is an online platform that pays its users for uploading a file and sharing it as well as sharing an affiliate link. Many people download various items on the internet. There are many files, photos, games, videos.
The company was started in 2015 under Namecheap Inc. using the domain whois anonymity services from Whoisguard DDOS attack protection services from Cloud Flare, Inc.
And it also has it's own dedicated server according to reverse DNS (Domain Name Servers) lookup executed on it's dedicated IP (Internet Protocol) address.
Dedicated Storage Ltd with a physical address at Kam Hon Industrial Building, 8 Wang Kwun Rd, Kowloon Bay, Hong Kong is the main company behind the cloud storage.
The website provides platforms to the workers to earn money by just uploading the files and if someone downloads their files they will get paid.
WdUpload has two membership opportunities. Free Account and Premium Account.
How to Get Started?
To start earning from the site you have to register on the website at first. You have to log in to the site and click the sign-up button in the top right corner.
You need to register your Username, Email, and Password. After registering you need to verify your email address by clicking on the link the site sends on your Gmail id that you registered with.
Once you are logged in you are good to go. You can start uploading or choose many membership options available on the website.
How to work on WdUpload?
WdUpload is basically a site that rewards you for uploading many necessary files that other people will download. Once you are logged in you get various options of bandwidth and storage options depending on your membership.
Now you can start uploading your content on the site by clicking the upload files options of the site. It may take up to 1 hour for files to be uploaded depending on your internet speed and your file size.
How to Earn money from WdUpload?
The most basic way of earning your money from WdUpload is to promote your uploaded files. The more people who download your respective files more you earn. It is as simple as that.
After uploading the files on the site, you will receive a link attached to your affiliate as well. You will earn from $0.10 to $0.50 per download depending on location and file size.
You can also earn from Wdupload from referrals. You will receive your referral link after login into the site. If you can bring in a premier member from your referral link you will gain earnings as part of a commission from the site.
However, the site has not revealed what percentage of the commission you will receive.
Minimum Payout and Payment Method
There are a limited amount of ways to earn from this website but if you can upload a viral file then you can earn a lot of money and a lot quicker.
Your earnings will be first saved on the site's online wallet and will later be redeemed. However, you need $5 accumulated in your wallet to withdraw your earnings.
But it surely may take some time to earn even $5 from this site. But earnings from this site depends purely is based on your luck.
There are two ways of redeeming your earnings from this site. They are Paypal and Bitcoin.
For Paypal, you have to input the correct Paypal Gmail id just after the login. You have to input your Paypal Id once so be very careful while inputting it.
As for Bitcoin, you have to input any bitcoin wallet that you have your account on. There are many wallets such as Coin Base, Bitblaze, Blockchain, etc.
To redeem the amount, you have to have cash worth $5 in your site wallet for both payment methods.
Pros and Cons of WdUpload
Pros
The site is legit and it pays.
It has a 1 Terabyte hosting site.
Very reasonable minimum payout threshold.
Optimum payment method to withdraw your amount.
Chance to earn large earnings if you can upload viral content.
Cons
A very long and tedious process.
Limited amount of earnings options.
Needs to upgrade to premium to avoid ads.
Earnings are based on luck only.
Very limited options of withdrawing payment.
WdUpload Review: Legit or Scam
WdUpload is an online platform that basically provides earnings for uploading files. However, you will only be paid if your uploads are downloaded continously.
There is a very high chance of not earning a single dime despite all the hard work and effort you put in so you have to be careful.
Being said that, if you are passionate about uploading and want to earn some money you can definitely try this site as this site is legit and it pays. You also need to have your PayPal account or your bitcoin wallet if you need your earnings withdrawn.
But please do not take this site as primary means of income.
If you want to have more earning money online options you can check our 15 side hustle ideas for you to start earning immediately.