Do you believe you can earn some decent earnings by watching videos or TV channels on the internet?
Well, you can because there is no online networking platform in the town named HideoutTV which is popular for being an awesome site for earning money as the means of side income.
But Is HideoutTV Scam or Legit? In this HideoutTV review, we will find out how you can earn money from the site and how you can withdraw your earnings.
So without further ado let's get started.
What is HideoutTV App?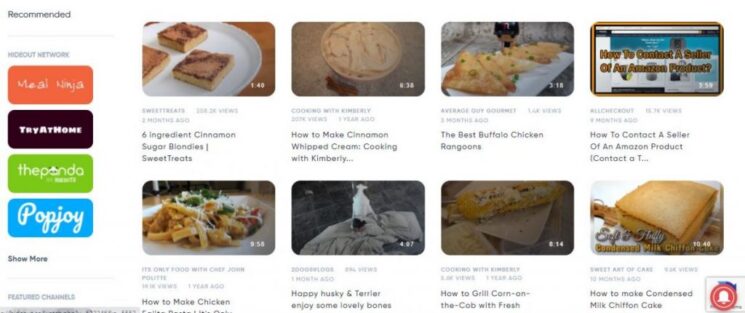 HideoutTV App claims you can earn money from home. It pays you for watching videos.
The videos are based on categories like Food, Health, Movies, TV, Sports, and many more.
HideoutTV is a hybrid of GPT and PTC sites where you have to watch videos to earn money and also follow some set of instructions.
Key Introduction
Website Name – HideoutTV
Founder – Adscend Media and Fehzan Ali
Date of Establishment – 2018
Address – Austin, Texas
Minimum Payout – $0.01
Payout Method – Physical and Virtual Card
Getting Started?
Joining HideoutTV App is easy. You have to download HideoutTV App on your mobile devices. It supports both iOS and Android platforms.
Thus, you can find this HideoutTV App on Play Store for Android and App Store for iOS.
You can either create an account or not to earn rewards. But there are certain benefits that you cannot earn if you do not create an account.
Then fill up the form by entering your details like email address and password.
Now if you want to create an account, submit the registration form, and start earning in HideoutTV App.
The advantages of creating an account are:
You can earn through any Linked Partners
Log in to any device to earn rewards
Easy to link multiple Linked Partners directly to your account.
Switch between the different Linked Partners to earn rewards.
HideoutTV is available only in United States, Canada, United Kingdom, Australia, New Zealand, Germany, Denmark, Sweden, Ireland, Norway, the Netherlands, and other 20 countries.
How Do Earn Money from HideoutTV App?
HideoutTV App pays you for watching videos
You can earn through three ways:
Watching videos
Promo codes
Referral bonus
Before starting to watch videos, you have to choose a reward platform. You have to select at least a linked partner.
#1 Watch TV
Linked Partner is the reward platform you select. Connect your account to linked partners and follow their instructions. The linked partners are:
Earnably
InstaGC
Zoombucks
Prize Rebel
Grab Points
Grinda Buck
Keep Rewarding
com
Points Prizes and many more
After linking your account, you can watch videos. All your points you earned will be transferred to your linked partner so you must create an account on above mentioned Linked Partner.
You must watch at least 6 videos and 6 advertisements to earn rewards. Your points are displayed on your screen, each time you watch a new video.
#2 Promo Codes
You can also earn through promo codes.  You can earn two types of promo codes.
Daily promo codes: You will earn points once you watch videos daily.
Regular promo codes: You can find promo codes on social media of HideoutTV once a week.
Click on the reward button and paste the code then click add. You can refer your friends and family to join HideoutTV App through your referral link.
How Do You Earn?
You will be paid in points initially which later can be converted into monetary value. You have to answer watch videos to earn points.
The pay rate of watching videos is not mentioned and is known once you join this app.
The points you receive will vary as per the length of the video and ads.
You can also earn 0.5 to 2 points for daily promo codes and can earn 25 to 100 points for regular promo codes.
On the site, you can refer your friends and family to join HideoutTV App through your referral link.
You will earn certain points and receive a 15% bonus every time your friend earns points.
How Does HideoutTV App Pay?
HideoutTV App pays through points. 1 hideout point is equivalent to $0.001.
You are paid through your Linked In partners.
You can redeem your points through cash, gift cards, purchasing an app, or a wide variety of other items depending on the partner you signed up with.
The minimum payout threshold depends upon the Linked Partners.
You have an option to choose between a physical card and a Virtual Card. There will be no time limit in the case of a virtual card as you will be paid immediately.
In the case of a Physical card then it will take up to 2 business days for you to receive the card in the mail.
Safety Inspection
SSL Certificate – Valid and Issued by R3
Customer Support – Excellent
Privacy Policy –  Available
Spam and Scam Mails – Tolerable
DMCA Policy – Available
FAQs of HideoutTV
How Much You Had to Pay HideoutTV?
There is no charge or fee to join HideoutTV as it is 100% free.
What will be the length of the video you watch?
Normally the length of the videos you watch can be from 30 second to 3 minutes.
How to contact if you have some problems in the site?
There is Contact Us section section on the site where you contact them and also create a support ticket and you will be responded within 12 hours.
Pros and Cons of HideoutTV
Pros:
Pays you through different Linked Partners
HideoutTV App is easy and free to join
Points can be redeemed through various ways like cash, gift cards, purchasing an app, etc.
Cons:
The pay rate is unknown
It is available only globally but to some 30 countries only
The minimum payout is not fixed and depends upon Linked Partners
HideoutTV provides you the limited opportunity of earning.
Conclusion: HideoutTV Review
After the detailed HideoutTV Review, we can confirm that the app is not a scam. It provides you the opportunity to earn rewards for It pays you for watching videos.
This app is available in more than 30 countries and on both Play Store and App Store.
You can join this app with or without creating an account. You can join HideoutTV App as it is legit.
It pays you through both cash, gift cards, purchasing an app, and many more through your Linked Partners.
Also more than 100 users from Trustpilot site have rated HideoutTV 2 out of 5 which is really poor.
Lets take a look at some User Reviews from Trust Pilot site.
User Reviews
Lets take a look at some positive reviews
Review 1
This user is very happy with HideoutTV as he is earning since 3 months from the site.

Review 2
This user has no issues with the HideoutTV and says they pay him legally and all the time. This user also provides suggestion on how not to get ban.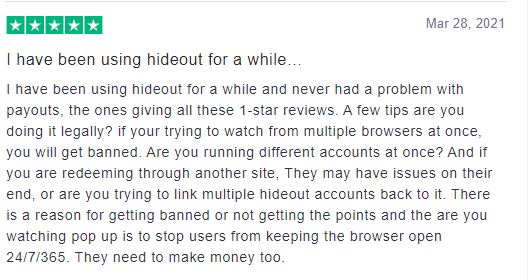 Review 3
This user is also confused by the low rating as he is receiving the rewards from the site easily and effectively.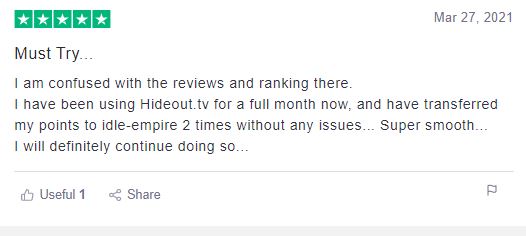 Then lets take a look at some negative reviews
Review 4
Accroding to this user the site banned him without any warnings and it made him very upset.

Review 5
Accroding to this user he has also been suspended without any warning or without any fraud behaviour so they claim the site is fraud.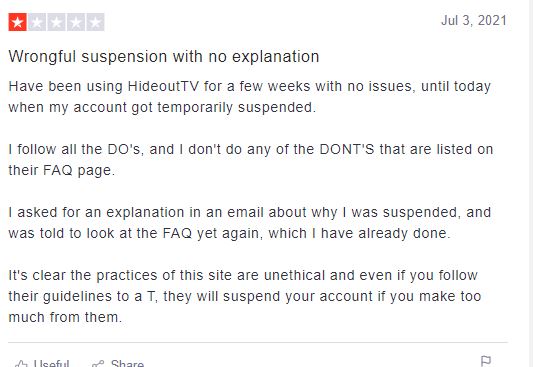 Hence the bottom line is HideoutTV is good opportunity to earn money by watching videos however sometimes the site tend to ban you without any reason which can be frustrating.
Anyway we recommend you give them a chance and start earning some decent earnings.