What is GetPaidTo.Com?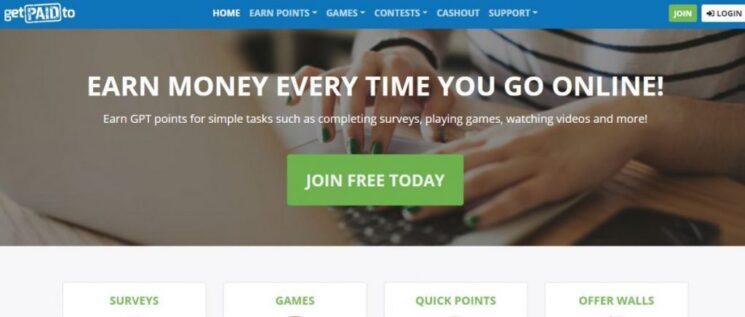 Getpaidto.com is a GPT(Get paid to) site that pays you a small amount of money for every small task that you have completed on the site.
You can complete surveys, play games, do very easy small tasks like solving captchas and completing online offers.
 As all GPT sites, third-party websites place their offers, surveys, and tasks on the site which means Getpaidto.com does not place the task itself the money is offered to the site by the third-party websites.
Getpaidto.com has been in the market for many years and the members of the site are from all over the world.
If you are interested to make money by solving captchas, then check out my Kolotibablo Review.
How can you get started?
To get started, you simply go to getpaidto.com from your browser's address bar. And you can simply register yourself by clicking on the Join option on the home screen.
Before opening a new tab and typing the address to get started, make sure about the payment options available in your country as many countries might not have PayPal, skrill, and bank transfer facilities.
 If the payment options are clear, make sure you are above 16 yrs of age. If both the requirements are clear and good to go then you can easily register yourself to the site.
How do you earn?
This is a very important question and I will be a lot more detailed here. After you register yourself,  you will immediately receive a signup bonus which will be 200 points. 5000 points will pay you 1$.
After that, you will see the homepage where you will find different kinds of tasks that you will be able to do. Some of them are :
Surveys
You can find the surveys through third-party survey panels. Surveys often get you more points than other tasks.
It is easy as you just need to answer the questions based on your opinion or sometimes you might have to research a little bit.
You are more likely to get surveys if you are from the US. The frustrating part of it is, sometimes the survey that you have completed might be disqualified
Games
On the site, you can earn points by playing games too. Yes, you heard it right. Poker, raffles are some of the fun games that you can participate in.
As it is a game, you will not earn much. A point for a game completed. Sometimes you might get lucky playing Poker and raffles.
Offer Walls
You can also earn by completing the offers. The offers might be watching videos, joining the websites, earning cashback, and many different ways.
The earning will depend largely on the difficulty of the task that you will need to complete.
Referrals
You can refer the site to your friends and family members and earn referral commissions. This is an effective method of passive income as you will receive a 15% commission from the points they earn
Quick Points
Quick points are the simple tasks that you can do by visiting third-party sites which involve solving captchas, quizzes, and many different tasks. As the name suggests you will complete it in a fraction of minutes and will be paid very little,
How can you receive your payments?
Unlike other GPT sites, Getpaidto.com is quite flexible in terms of payment as it has multiple options for payment. Most of the GPT sites limit themselves to Paypal or other limited options but in getpaidto.com you will be paid through
Paypal
Skrill
Transferwise(Bank transfer probably)
And the cashout limit is just 5$ for PayPal whereas 1$ for the other two options and as we have mentioned on the top,  5000 points will pay 1$. So you will need to complete as many tasks as you can.
Some members of the site claim to have reached the cashout limit by the end of the day
Pros and Cons
Pros
It is legit and pays.
Payments are made within 48 hrs which is pretty fast.
Minimum cashout limit 1$-5$ (as other GPT sites  have 25$ cashout limit)
Anyone can join from any corner of the world  (where the internet and local laws are favorable)
Multiple ways to receive the payments.
Cons
 The policy of the site is very strict, you can get banned even if you break minor rules.
As it pays extremely low, maybe 1$ a day
this is surely not an option as a daytime job and won't help

reach your financial goals.
Conclusion: GetPaidto.com Review
After reviewing every detail of the site, we can have a basic understanding of this site. If you are looking forward to joining getpaidto.com as a way to earn just a few extra bucks then go for it but if you are looking for it as an option to earn a big sum of money then the site might not be for you.
That was all for the getpaidto.com site review. Hope it helps. We will be back with other helpful reviews like this. Until then keep learning and keep earning.
If you want to earn some decent money by playing some games you can check our review of Taskubucks.