Today, I am going to share my honest Kolotibablo Review.
In fact, this article will cover everything about Kolotibablo in detail.
So, if you want to know how Kolotibablo works, its payment methods, pros, and cons, if it's legit or a scam, then I highly recommend reading this article from start to finish.
So, Let's get started:
What is Kolotibablo?

Kolotibablo is a site that provides an opportunity to work from your home by doing captcha-solving work.
If you have a computer or a smartphone with an internet connection, then you can start working on this site for free.
You can earn around $1.2 per 1000 successful Captcha solving. You can also earn an extra bonus by solving more Captchas with fewer errors.
Other than Captcha works, users can earn money by doing tasks like liking and following on social media, moderating other user's Captcha work & image recognition.
I will share if this site is legit or not later in this post, for now, let's learn more about this site.
How to Get Started?

To get started, you have to register an account. Then you will see a page like the one given below where you have to install the root certificate and browser plugin. ( It's very easy to do so.)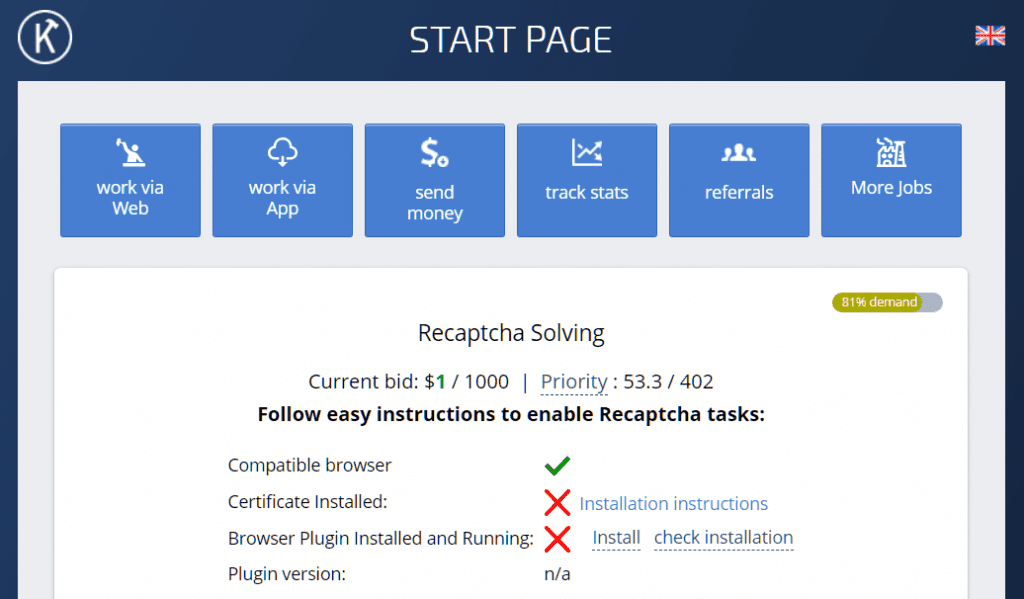 Afterward, you have to click on 'Work Via Web' if you want to work on a PC or a laptop.
If you want to work on your phone, then you can click on 'Work Via Web'.
Then, you can start working within a few minutes. Sometimes, it takes time to get the captcha to work.
But you can set discounts to boost your priority and get more works without having to wait.
Kolotibablo Payment Options

Kolotibablo provides flexible payment options for all users worldwide such as Payza, Walletone, OKpay, Bitcoin, and Paypal.
The minimum payout threshold is $1. But if you want to receive your earnings via PayPal, you must earn at least $5.
If you to earn money with apps that have a low cashout limit, then check out my Coin Pop Review.
How much money can I earn with Kolotibablo?

Your earnings will depend upon how many captchas you've solved. So, it comes to your typing speed as well as your internet connection.
The faster you solve more captchas with accuracy, the more you will earn with Kolotibablo.
Moreover, You can earn an 8% bonus if you solve 5000 captchas.
Users solving more than 500k captchas can earn a 25% bonus.
Top workers on the site earn up to $20 per week. To earn $20 per week, you have to work on at least 3300 captchas a day.
If you spend a couple of hours every day on the site, then it's possible to earn $20 per week.
You can also refer your friends to join this site and earn extra income.
Pros & Cons

Let's look at some of the pros and cons of Kolotibablo:
Pros
Easy and Free to join.
Variety of payout methods available.
Available worldwide.
Tasks available frequently.
Complaints and Cons
One of the most common Kolotibablo complaints is getting banned on the site.
If you did an error while solving a captcha then you will get a strike and getting 2 more strikes will get you banned from the platform.
It's fairly easy to get banned because while working fast you will end up doing a few errors. On top of that, some captcha is very hard to understand, which will end up giving an error.
Another drawback of this platform is the payout is very low.
You will earn somewhere between $0.40 to $1 for doing 1000 captchas. It will require a lot of time and hard work to solve 1000 captcha.
Even if you work for a whole day, you will end up making $2 or $3.
Is Kolotibablo a Genuine Site?
Kolotibablo is indeed a genuine site to earn money solving captchas. However, You have to be extra cautious while solving the captcha work as a lot of the users have reported that they get banned for typing the wrong captchas.
Other than that, there are not many complaints about the site and it does pay its users on time. Kolotibablo has an average of 3 stars reviews on Trustpilot.
The site has been around since 2007 and provides an opportunity to make money from home.
It's a good way to make money which doesn't require any skill.
All you need is a device with an internet connect, to start making money from this site.
This platform is good for students and housewives who want to utilize their spare time to make some money.
However, this is not a full-time job considering the fact that it pays very little for hours of work.
You can't quit your job to work on this site.
In addition to that, if you are like me who hates solving the captcha then this is ideally not the best way to make money online.
While doing the research for this review, I joined this site and took a test for moderation work.
I tried my best to answer if the solved captchas are correct or not. Turns out, I get banned from the factory section.

So, it's very easy to quickly get banned. And there's an option to unban your account which requires you to pay 10,000 Recaptcha points.
Why not just unban the user for free? Duh!
Conclusion

I recommend this network to only those people who don't have any other productive work to do in their spare time.
Overall, If you are a hard worker and want to spend a couple of hours a day to make an extra $10 – $20 per week, you should definitely join this site.
But if you want a long-term way to make money online, then I recommend learning how to start a blog.
I hope this analysis of Kolotibablo helped you to decide whether to work on this site or not.