Today, I am going to share "The ultimate guide" that will teach you how to make money on Fiverr in 2023.
(Step-by-Step)
This guide contains everything you need to know to get started with Fiverr and make money with it.
So without further ado, let's get started:
What is Fiverr?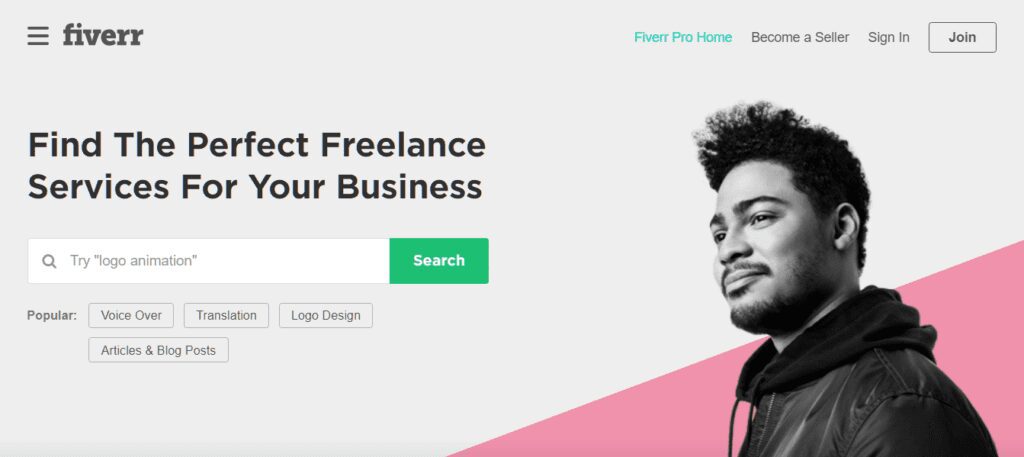 Fiverr is an online marketplace where you can buy and sell freelance services.
It provides a global platform for freelancers to make money online using their skills.
And It is popular for providing freelance services starting at a price of just $5.
You may be thinking:
Wait..what? Only $5?
Let me tell you something!
You can sell any services you can imagine at just $5 but think about it, there are millions of people looking for services every day on Fiverr.
If you can get even 10 orders a day, that's $1500 per month.
That's a nice sum of income. right?
In fact, people are making a living on Fiverr. So can you.
You can even learn to make money with Facebook pages.
Let's learn more about Fiverr.
How does Fiverr work?
Freelancers are called sellers on Fiverr and they can offer their services by creating a gig with a title, description, and a thumbnail.
People who require freelance services can buy the services provided by the freelancers on the platform.
Fiverr also takes a 20% cut from your earnings for connecting the freelancers to the people who need their services.
Who Owns Fiverr?
Fiverr was founded by Shai Wininger and Micha Kaufman on February 1, 2010.
How to Start Selling on Fiverr?
You need to create an account before you can start selling your services on Fiverr.
You will need a working email address and a phone number to create an account on Fiverr.
How To Create An Account On Fiverr?
Creating an account on Fiverr is very easy. If you have no idea to create an account on Fiverr, then I've mentioned the process in simple steps below:
First, Go to Fiverr.com, then click on the "Join" button.
Enter your Email Address or Sign up using Facebook / Google.
Then, Choose your Username & Password.
You need to provide your qualifications & choose the skills that best describes you.
You need to connect your social media profiles with Fiverr which will increase your legitimacy on the platform.
Boom! You are ready!
Pro Tip: Always fill in your correct information and put a real picture of yourself on the profile.
People like to know who they are buying the service from and it makes them feel more secure when you have a real picture.
On top of that add a nice bio or intro to your profile.
These small details will increase your legitimacy, as a result, Your chances of getting orders becomes high compared to people who don't have a legit picture & a bio.
Now that you are ready to create your first gig, let's learn how to do it.
How to Create a Gig on Fiverr?
Creating a gig on Fiverr is like a piece of cake. You will be up & running to sell your services in a few minutes.
If your account is new & below Level 1, you can list up to 7 Gigs on Fiverr.
And this limitation makes sense because anyone can create a new account and literally spam Fiverr with thousands of low-quality gigs.
So if you are limited to 7 gigs only, you can promote a few gigs and take your time to increase the quality of the service and provide good customer support.
So, let's learn how to create your first gig:
1. Check out the Navigation bar and click on the 'Selling' then on 'Gigs'.
2. That will bring you to the 'Gigs' page where you can create, edit, and delete gigs.
You can also check the performance of the gigs. And to create a gig simply click on the 'Create A New Gig' button.

3. Then you will see a page similar to the image below.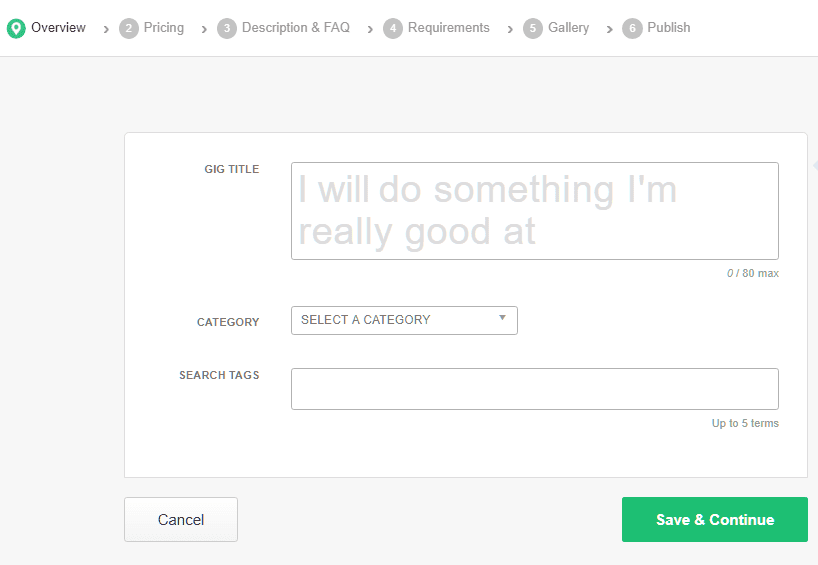 Creating a Perfect Gig Title:
Fiverr lets you write the gig title in just 80 letters, so make sure you choose it wisely.
Don't forget to include your keyword on the gig title.
For example: If you are providing a Logo Design service on Fiverr. It makes sense to use the "Logo Design" keyword on the title to be able to get found when someone searches for a Logo Design gig.
Select a Category:
Select a category that best describes your service.
For example:- If you are creating a 'Logo design service', you can choose a category like Graphics & Designs, then a sub-category of 'Logo Design'.
Choosing the right category will help to get your gig found by people who are looking for it.
Then, you have to select a service type. The service type is like extra details about your gig.
Search Tags
Search tags help your gig to get discovered on Fiverr search results. You can use up to 5 search tags like 'Logo Designs', 'Graphics Design', and so on. Always use search tags that are related to your service
Pricing
In the pricing tab, you have to set a price for your Gig.
Best Part?
Fiverr allows you to create 3 packages:- Basic, Standard & Premium.
And you can adjust the price according to the extra features and value you are providing on each package.
For example:- You can create a basic package with one logo design and 1 revision
Then you can provide 2 logo designs with 3 revisions in a Standard package.
And likewise, you can create a Premium gig with 5 logo designs and unlimited revisions.
Packages help your clients to make a decision on which package becomes beneficial to them.
And you can use packages to upsell your services.
For example, you can add "Social media banners, along with logo design" and increase your price.
Since a new business requires a new logo along with graphics for new social media accounts, packages attract them to pick the best services for them.
Description
When you have an appealing description, you can convince anyone to buy your gig.
People like to read the description of the gig to know what exactly are you offering to them.
So, It's a smart move to include the following things on your Gig Description:-
Share your expertise and experience in the industry.
Include all the features and value you are providing in your gig.
Put your main keyword at the start and end of the description for optimizing it for Fiverr Search results. But try to keep it natural.
Include a money-back guarantee so they feel secure.
Tell them why you should buy from you. Include all the fancy things that make your gig stand out from the crowd.
Include something like "Waiting for your instructions or Can't wait to work with you" at the end of the description.
This may sound like a stupid idea, but this makes them take action.
Then, you can add frequently asked questions after the Descriptions tab.
FAQs help clients with some curious questions like "Can I use the logo commercially?", "Do I have full rights over the logo you created?"
Normally, people don't have time to ask questions to freelancers and wait for their reply.
But, when you clearly mention all the questions & answers in the FAQs section that will help to solve the curiosity of your potential clients. And as you have already solved their curiosity about the service, they may convert to your client.
And that takes us to the next step!
Requirements:
In this step, you have to mention what instructions or informations you need from your clients to start working on the projects.
When someone buys your gig, they will get a plain text field, where they can write instructions or the information that will help you to accomplish the project.
Now, here's the last and important step!
Gallery
You guessed it right!
In this step, you have to include the images or videos, that will serve as a thumbnail of your gig.
But don't put any crappy images on your thumbnail. Because thumbnail is what force your potential clients to click on your gig or click on your competitor's gig.
So, the thumbnail should be high quality and should include plus points of your service like "Extra fast delivery," "Buy 1, Get 1 Free", "Unlimited Revisions," "Best Quality ever" and so on.
These plus points will act as a magnet and pull your potential clients to your gig.
On top of it, you must include a video about your gig if you want to rank your gig higher and get orders quickly.
It's a proven fact that gigs with quality video rank higher, so you don't wanna miss this opportunity.
If you don't have graphics design or video editing skills then you can hire someone from Fiverr to make the thumbnail and video for you.
When you buy the service from Fiverr, you can even learn a thing or two about how Fiverr works and how the freelancer handles clients.
Now, that you know how to create a gig, let's talk about what skills you have and what gig you can offer to the amazing world of Fiverr.
I want to take you step-by-step so you can master Fiverr and start a profitable business or a side hustle using Fiverr.
So keep on reading, I will be sharing more of these small golden nuggets that will make you a pro-Fiverr Freelancer in no time.
What gigs can I offer on Fiverr?
To find a service that is profitable for your freelance career is not that hard.
In fact, you can find that profitable gig if you consider these two things:-
what skills you have?
what is the demand and supply of the skill on Fiverr?
Demand and supply may sound complicated but it's not. In fact, this is the easiest formula or a golden nugget I was talking about earlier which will help you to land your first freelance projects and more in near future.
If there is a demand for a particular product or service and you become the first or among the few of the people who are fulfilling the demand, there you can become successful in a short time period.
If there's a high demand for a certain product and service, and a lot of people are competing to fulfill demand, then you will just get lost in the crowd or have to wait a long long time to be able to find potential customers.
Now, let's break these down and apply them to our Fiverr business. Shall we?
So, there's a high demand for article writing services on Fiverr. Almost everyone is offering the same service for $5 per 1000 words articles.
Here the demand is very high and the competition is also high, so if you just create yet another $5 per 1000 words article gig, your gig is going to get lost in Fiverr's database.
What you can do to stand out is to provide more value than others.
If all of them are providing a 1000 words article for $5, you can create 1500 words for $5 + extra features like free keyword research.
Provide more value and offering less price than your competitor is the simple trick to pull clients like a magnet.
Well, who doesn't love more for a low price?
Make sense. Right?
But for example, Podcasts are becoming more and more popular every day.
That means services related to Podcasts are also high in demand. But the supply is low on Fiverr.
If you can create a good podcast cover on Fiverr and provide the service, then you can get unlimited numbers of orders on your gigs.
But, you have to put some effort to get the ball rolling at first. Like promoting your services on social media, asking your friends and family to buy and review your gig.
The point is to find services high in demand and low on supply, that's a good way to break into the Fiverr marketplace.
Even better:
I will give you a technique to find the services high on demand and low on supply. This will help you to check the demand and competition of the service.
Finding Low Competition Services To Sell On Fiverr:
First choose a niche of your service like graphics design, SEO, article writing, and so on.
Then, you have to go to google trends and search for the niche, so you will get an idea if there is a market for your niche, if it's growing or going downhill.
For example, I searched for 'Podcasts'.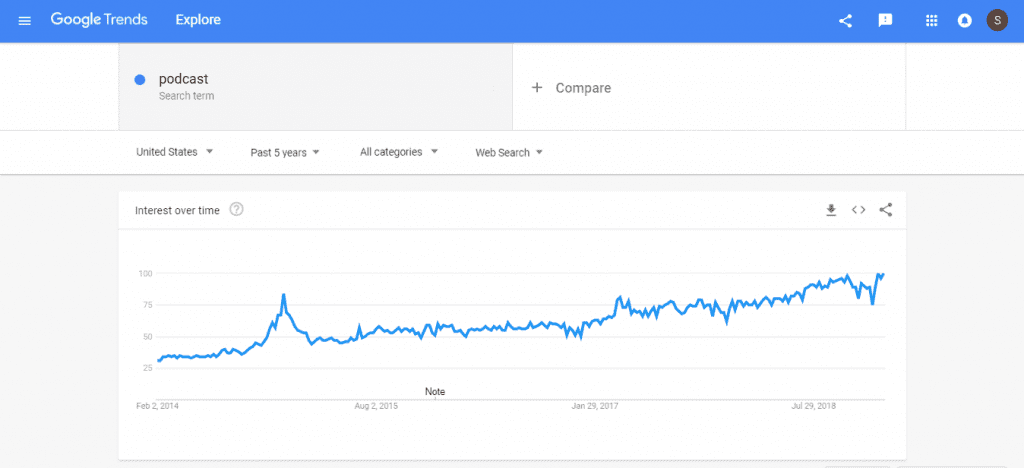 As you can see, the trend for the podcast is going uphill. That means people are interested in podcasts and the opportunity to sell services to people who do podcasts is high.
Now, you need to figure out if there is a tough competition for podcast-related services on Fiverr or not.
To do that, just make a quick search on Fiverr about the service related to 'podcast'. For example 'Podcast Cover Art"
Or you can simply, write 'Podcast' on the Fiverr search box and Fiverr will automatically suggest keywords that are often searched.
Then you will see a list of services, something like this:-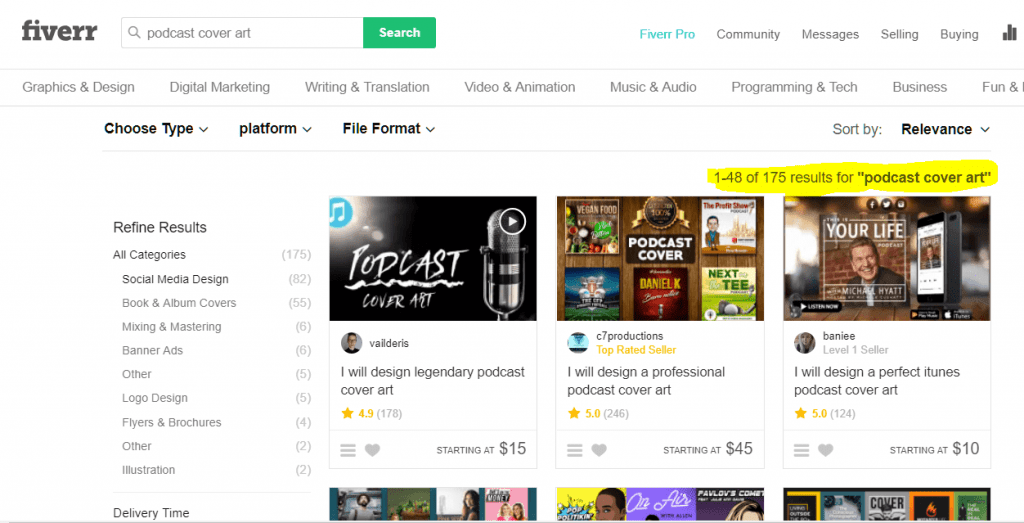 Now, take a closer look at the number of results (see the number of results marked with yellow color in the picture.)
Only 175 gigs are available on Fiverr related to that keyword, which means the competition is very low.
You still have the chance to dominate this niche. As I have mentioned earlier, you can provide extra value and a low price to beat your competition.
On the flip side:
If you search for the term 'article writing', you will see something like this :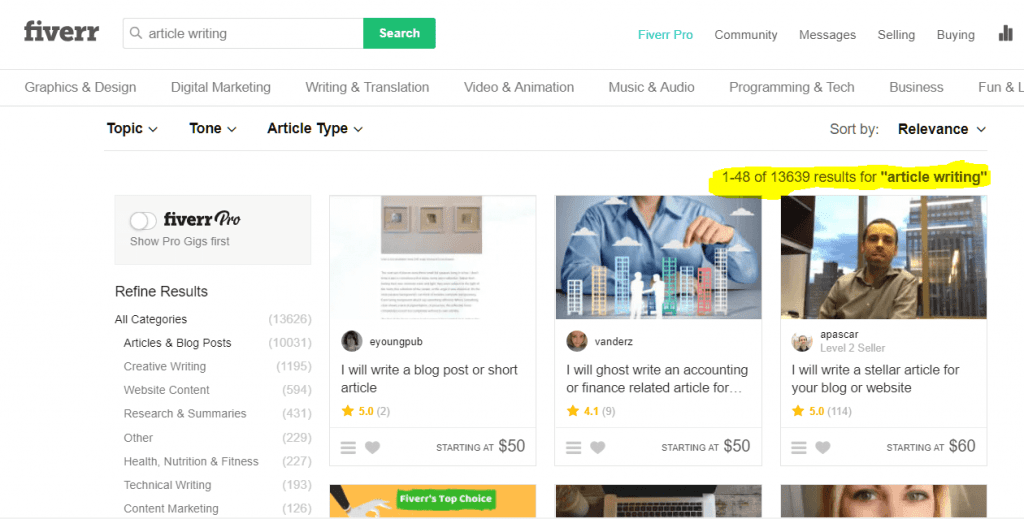 As you can see, the number of search results is more than 13,000.
And you can already guess, the competition is very high.
You have to compete with more than 13k people to get your gig discovered and sold.
That requires a lot of work and patience.
As, I've read somewhere "It's better to become a big fish of a small pond, then to become a small fish of an ocean."
This quote defines this research more than anything.
Bottom line:
You can dominate small niches first then keep expanding your services as you grow.
If you don't have any skills, then don't worry. There are plenty of skills out there that you can learn in just a few days or weeks and start selling to make money on Fiverr.
So, Let's start right into it.
Best Services/Gigs to learn & Sell to make money On Fiverr Quickly.
Mastering a skill like an article writing, web design or SEO requires a lot of time.
On top of that, the competition for these services can make anyone feel puzzled.
If you are don't have money or time to learn those fancy online skills for freelancing but still want to make money off Fiverr then here are the quick skills & tools that you can learn and use to start selling on Fiverr in no time.
Video Creation.
Basic Video editing is a skill that anyone can learn and master in no time. All you have to do is learn how to use a certain video editing tool.
There are plenty of advanced video editors like Sony Vegas, Premiere Pro and so on which requires a lot of knowledge & time to learn but today we are talking only about basic video editing tools that anyone, in fact, my grandma can even use it.
i. Camtasia
Camtasia is a paid tool, but you can buy and use it to sell services like Facebook videos ads editing, YouTube video editing, Instagram videos, tutorials editing, and so on.
This tool is straightforward to use and has a lot of features. You can offer many services using this tool. You can have to take a day or two to learn this tool.
ii. VideoScribe
Ever seen those videos with handwritten whiteboard animation videos? These are all made using software like VideoScribe.
The demand for whiteboard animation is going up & up. So, why not learn this software and start selling services on Fiverr in no time.
This one is also paid software but the best part is it's all drag and drop. You will have plenty of ready-made pictures and animations to use. You just have to drag and drop and edit.
Once you get the ball rolling on Fiverr with the service, there's no turning back. You can make good money through this gig if you managed to breakthrough.
2. Ebook Design.
The ebooks industry is growing rapidly. Anyone can create an e-book and sell it on Amazon or provide it for free on their blogs to collect emails.
While anyone with writing skills and an idea can create an Ebook, not everyone can create a stunning Ebook design.
That's where the demand for this service arises:- "Ebook Design".
And you don't have to master graphics design to do stunning Ebook covers and designs.
All you have to do is get a tool that will do the work in just a few clicks.
There are plenty of free and paid tools for creating an ebook. The software lets you choose templates and helps to create stunning ebooks in a few clicks.
You can learn to make ebooks quickly and use this tool to sell ebook design services on Fiverr.
3. Photoshop skills.
You don't have to master Photoshop to start selling services on Fiverr.
You just have to learn one thing at a time and start selling the skill you learned on Fiverr.
There are plenty of good tutorials on YouTube where you can learn a small Photoshop skill like removing the background from a picture, adding lights & highlights to an image, and so on.
These small tasks are always high in demand because not everyone has time or skill to use photoshop.
You can master certain tools of Photoshop or Photoshop itself in a week or two.
And with practice, you can become the highest-rated Photoshop service seller on Fiverr too.
And I mean it. Nothing is impossible in this world if you have the passion and vision to achieve something.
Best Technique to generate Sales and Referring Clients on Fiverr.
The first thing, you need to do is think about the quality of the service and value you are providing to your customers.
If you think the service you are providing is excellent, you are ready to explore the technique to generate sales and clients who refer your service to others.
Ready? Let's dive in.
1. Always deliver more than your client expected. If possible provide additional service to your client. When you are just starting this helps you to build clients that will keep coming back to you and even refers your service to others.
2. Communication is the key. Improve your communication skills and always reply to messages as quickly as possible and answer all their questions kindly. This step helps you to convert those people into your client.
On top of that replying fast helps you to keep your response rate fast.
3. Provide better service with additional revisions to satisfy your clients which results in 5-star reviews.
5-star ratings are the life of your Freelancing career. Ask your friends and family to order and review your service.
And do anything possible to fill your profile with 5-star ratings.
4. When you deliver your service, provide an additional service for free, then ask your clients if they can recommend your service to people they know.
The bottom line is:
Provide quality service, communication is the key, and deliver more than your client expected.
Conclusion:
Fiverr is a great way for side hustling or you can even make it your main business if you are serious about it. All you have to is read this guide completely and start taking action right now.
Take one small step at a time and focus on it until you make it. There are a lot of freelancers who are making some serious money on Fiverr.
Remember all these top sellers on Fiverr now, once started with creating a simple gig on Fiverr. Now they are making hundreds of thousand dollars on Fiverr.
So, utilize your time & skill to freelance on Fiverr or learn new skills and use this guide to make more money on Fiverr.