If you are familiar with Earning money online, you may be aware of Survey sites. Survey sites are high-paying methods of earning money online.
They are entertaining and not monotonous so it is not boring to do some survey works.
However, many survey sites claim they are legit but it is our duty to properly research these sites.
Today I am bringing you KashKick Review a new survey site. I will inform you how to join KashKick.
Also if the KashKick is legit or a scam.
What is KashKick?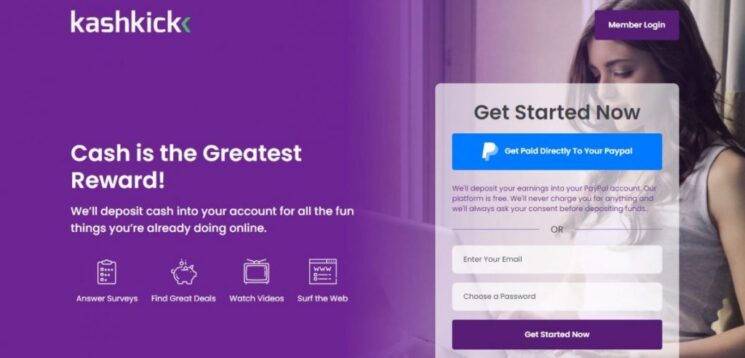 KashKick is the paid survey site and GPT site which means you can do tasks such as answering paid surveys and some macro GPT tasks as well.
On this site, there are many tasks that you can complete and earn some money.
Now, let's start by talking about how to join KashKick.
Getting Started
First of all, you have to visit the site Kashkick to get started. However, you can only access it if you live in the USA.
You also must be over 18 years old to legitimately earn from the site.
Then you have to click the sign-in button and you can either sign up from your Facebook account or your Paypal account which is a bit interesting.
After that, you have to fill in your personal details or your own demographics so that they will send you a survey invite based on your interest and knowledge.
Now you have to verify your email by clicking the link and you are all ready to start earning.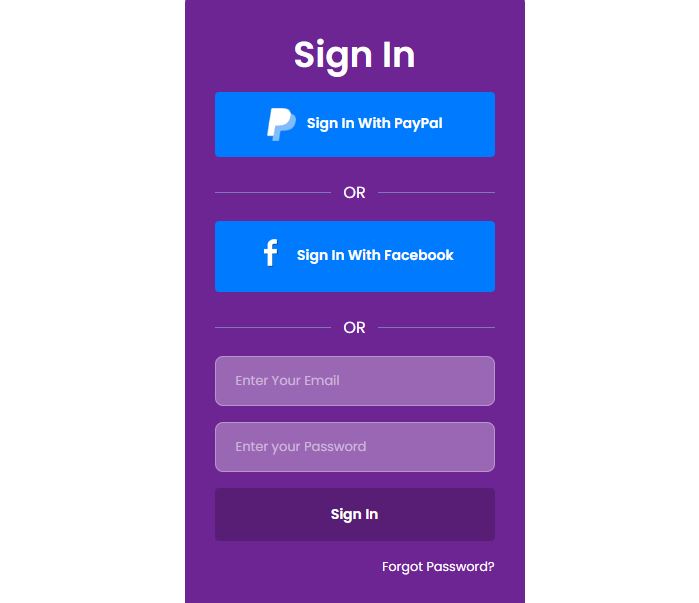 How Can You Work on KashKick?
Now let's talk about what tasks you can complete earning some money on KashKick.
Some of the tasks that are available on KashKick are
Paid Survey
One of the high-paying tasks on the site is surveys. These are the tasks where you have to provide your valid opinion to get paid.
However, each survey has a qualifying set of the questionnaire which you have to answer to be able to answer the actual survey questions.
These qualifying questions will be beneficial for sites to provide you legitimate valid surveys.
It is unclear whether you will be get paid for just answering qualifying surveys or not. But you have to spend some time to complete qualifying surveys even before completing actual surveys.
This will waste a significant amount of your time. The amount that you will be paid is already accumulated on the surveys so you will know exactly.
However the higher payout it will take more amount of time to complete the survey. To complete every survey available on the site and start earning.
Also if you are looking for a survey site then you can check our Mindspay Review.
Offers
Another way of earning some extra income is by completing the paid offers. These paid offers are the macro tasks available on the site.
These tasks have very low rewards but most of them can be completed instantly.
You can immediately complete the tasks and get your earnings on your account. Some of the tasks included in this offer maybe
Signing up to the website
Visiting website
Engaging in social media
Watching videos or Watching Ads
If you want to earn some money by doing some basic GPT Task then please read our Gift Hunter Club Review.
Invite Referrals
Also, another cool way of earning from this site is by inviting referrals on the site. After joining the site you will get your referral link.
When your friends and contact sign up with your referrals you can earn up to 25% of their commission.
This is quite a generous offer in referral earning from any site on the internet.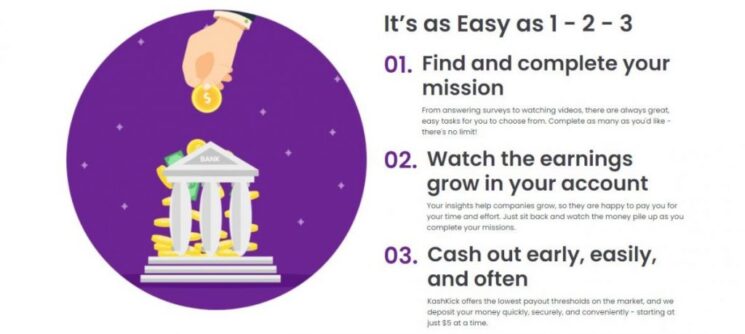 How Much Can You Earn from KashKick?
As in all GPT sites and survey sites, your earnings depend on the availability of tasks, your location, and your ability to complete the tasks.
For eg if you can get up to 5 $2 surveys, you can easily earn $1o per day which equals $300 per month.
However, it is easier said than done. As you may only receive 1 survey invites per day which will significantly decrease your earning potential.
So the trick is to accumulate from all the tasks that you can get from the site and combine your earnings. If you can get up to $2 per day from paid offers and also some amount for referrals.
Hence we can conclude you can earn from $2 to $5  per day.
Minimum Payout and Payment Method
KashKick is the site that rewards you on the firm of cash and not points. So you will instantly get to know how much you will earn from each task.
There is only one payment method and that is Paypal however you have to earn at least $10 to withdraw your earnings on the site.
So the minimum payout is $10 and the payment method of KashKick is only Paypal.
Pros and Cons of KashKick?
Pros
The payout limit is only $10.
The registration is easy and quick.
You will receive payment through Paypal.
There are lots of opportunities for working.
Cons
Only available in the US.
There is a lack of clarity navigating the site.
Lack of customer support as well.
KashKick Review: Legit or Scam
KashKick is a popular survey and GPT site where you will reward for answering paid surveys and doing some basic online tasks.
The site has been around some time and is gathering a lot of momentum.
Talking about the legitimacy of the site Kashkick has a valid SSL certificate validated by Sactico Domain Registration.
However, there is no information on the owner of the domain on the site Whois.
After thorough and detailed research of the site, we can conclude that the site is legit but it is not getting rich quick scheme.
There is a survey limit that decreases the earning potential of the site but if you want to get your hand on extra side income then you should join the site.