There are many easier ways of earning online cash. Some of them are doing macro works, working on GPT websites, doing paid surveys, and so on.
You may even have heard the name of processing or replying to emails to earn money. And you must be wondering can you really earn by processing emails.
Well, worry not because I am bringing you the EmailProcessing4Cash review which claims to pay its users for processing or interacting with the emails.
In this post, I am going to provide you an in-depth analysis of what the site is, how to join it, how it pays, how can you redeem your earnings, and If the site is legit or scam.
so without any delay let's begin:
What is Email Processing 4 Cash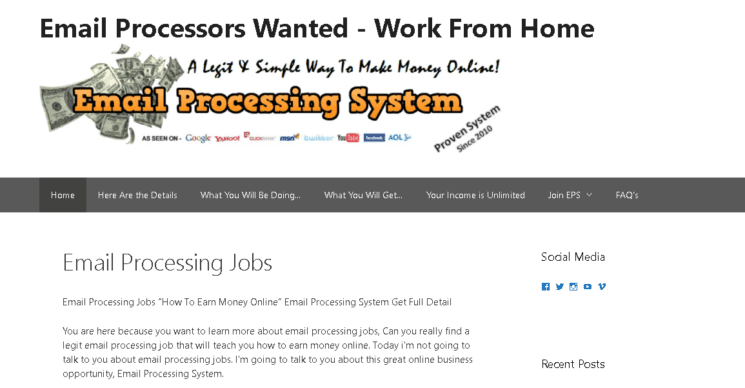 Email processing 4 cash is a website that helps to earn money by processing emails. It promises to pay for every email you process. the per rate of processed email is $25.
They claim to teach to market your talent through this business. the company claims that through email processing one could earn up to $200k just by working from your home.
How to Work on Email Processing 4 Cash?
Firstly, you have to join the site. Then the membership fee is $25 but you don't get full access here. It gives access to a member-only area. Then you will start your own email processing company as instructed after gaining membership.
You have to create your own website or need to pay $25 extra and they will create it for you. Then you have to determine your paying process. Customers will use this processing system to pay you for your services.
After going through all these steps, lastly, you can set up your business. To start the business, you need to put at least three ads each day on your site. There are various packages available to create your ad.
There is Basic Coaching, Elite Coaching, and Pro Coaching packages. Each cost you $25, $50, $100 respectively.
This package teaches how to create, post, and sell your product and in the package, you will receive headlines, ideas, and marketing strategies to get your business started and off the ground. Furthermore, the top cities are recommended to be targeted to market your ads.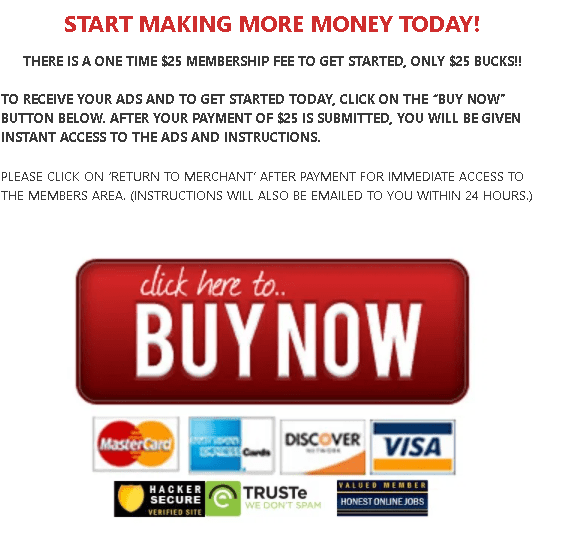 How Does the Company Pay?
There is a sales page that promotes the Email Processing 4 Cash system. On the page, you are told that this site helps people to earn from home. For that, you need to access the email processing job and you will get paid directly in return for every single email you process.
The rate of email processed is $25 per email. But it is not so simple. You will not get paid directly for every single email you process as they promise. Most people end up losing their money rather than making their own.
You may end up sending thousands of emails but not get paid for any of those emails. Basically, a person earns money when another person spends it.
So, on this site, you earn money when a user clicks your ad and purchase the item. While creating your account you are forced to pay $25 and that $25 is paid to the person who recruited you.
So, when you make your site and put up your ad you simply just have to wait. You have to wait until another user wants to join up the system. They contact you through email and joins up the system.
When they join you will become their sponsor and you will earn 100% commission. The person pays you and starts their own business. Since you will be their sponsor, you also earn a commission for each business they perform.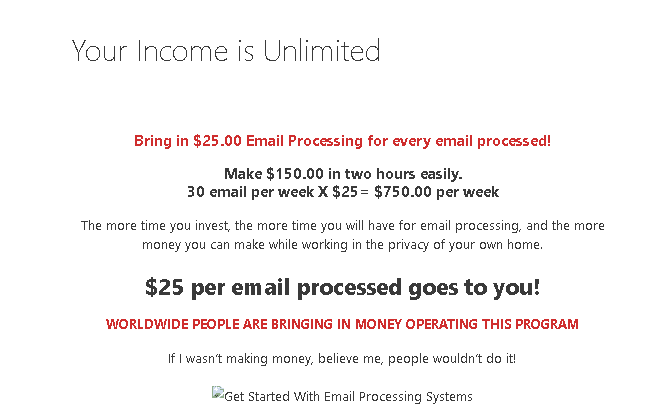 How Much Commission does Company say you will Earn?
Well, that depends on which level you are in. As mentioned earlier, there are three packages. Each package determines the level.
If you have a basic package you earn $25 commission only and if you are on the pro package you earn $100. But to increase your level you need to upgrade your packages. It may take up to $100.
You will be told you must upgrade to avoid losing out on commissions. If you do not upgrade then you will lose out on your commission.
For example, if you are at the $25 level and you recruit someone who upgrades to $100. While receiving commission you will only earn $25  and the remaining amount of $75 will go to your recruiter if he has upgraded to $100.
So, the promise made by this site is false as the promise indicates earn by email processing only. This site is not what it claims to be. This site costs more to users than they earn.
Does this company really pay?
You can sign up for email processing 4 cash and then pay $25 to get a membership. But signing up on this site is not recommended. This is a fake site as it promises one policy and does another.
It promises to pay instantly for each email processed but does not do so in reality. It does not pay for any email processed but only pays when other users join your site.
If you join this site you need to pay additional charges to earn the money. Your cost will be greater than your income as you need to pay for various upgrades.
Email Processing 4 Cash Review: Legit or Scam
I strongly suggest our users never get involved in this site as it is one of the worst scams on the internet. The whole email processing concept is just a trick.
It only focuses on making owners wealthy and leaves their employees in jeopardy. So it is a complete scam. This site also has an extremely low rating on trustworthy site BBB.com.
Do not invest in this system as it wastes your effort, money, and time. You will be spending more than earning in this system. This system is selling nothing but earning money only and once you invested there is no way to refund your money.
Since you are here to check the way of earning money online, why don't you look at 15 side hustle ideas to earn money every month?