Welcome to ClickLoot review on the internet.
As we all know there are many online sites on the internet that pays their users for doing some works on the internet.
These works can be skill-based such as logo designing, accounting, business reports, etc and others can be basic casual works such as watching videos, clicking ads, commenting on social media.
Some websites also provide earnings of giving a review of your used products or apps while other websites pay for fulfilling the user surveys.
These websites provide rewards in the form of cash, gift cards, cryptocurrency coins, voucher coupons, Debit and Credit cards, and others.
One of the sites that pay its user just for doing some easy macro work is Clickloot. Clickloot is popular among gamers because it rewards its many users in the form of game skins. But is the site legit and will you really receive what you earn?
Well worry not, I will provide every information relating to Clickloot in detail. I will include
What the site Clickloot is, how can you get started, how can you earn from the site, minimum payout, and methods of redeeming your payments.
And most of all if the site is legit or not.
So without further ado, let us get started:
What is Clickloot?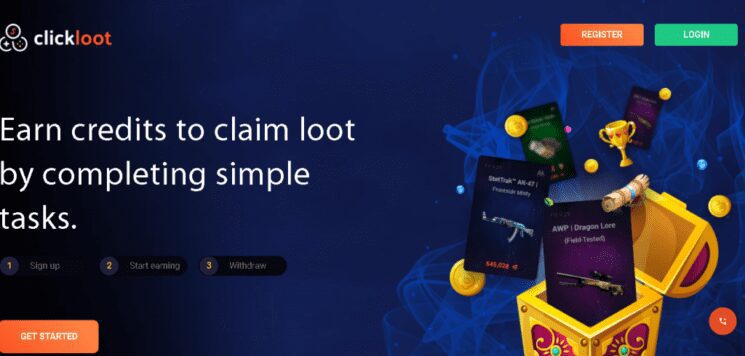 Clickloot is an online platform that rewards its users for doing online tasks or works. It was established in 2017.
There are plenty of tasks to be done in the application and a variety of rewards to be earned as well. Clickloot is one of the most popular applications to earn or download skins for famous mobile, PC, or Console game Counter-Strike.
There are a variety of skins to choose from and you can get it by doing just some basic works, earning points, and converting them into your prized asset.
It also runs in the SSL-based encryption program which is a very reliable and secured means of the website. This verifies the legitimacy of the site.
How to Get Started on Clickloot?
You need to sign in to the website to get started. You have to register by using your Email address. Your Google mail or Steam login address also can be enough to help you get started.
After login in you need to verify your mail address by clicking on the link that the site sends to your Gmail. You are now signed up and can even receive a sign-up bonus as a result.
The signup bonus is $0.25 which now can immediately receive after signing up. Now you are all set to work, earn credits and start earning.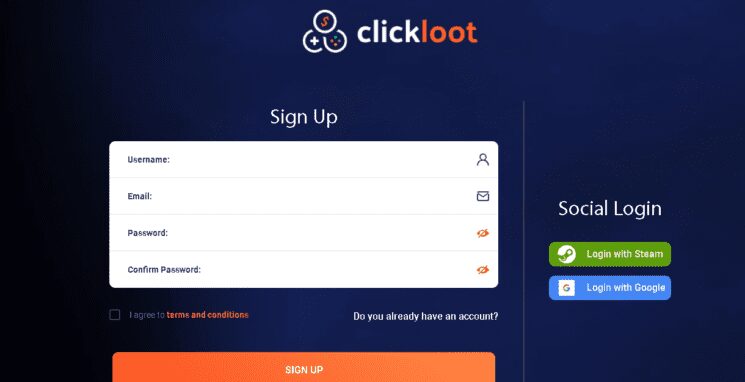 How to Earn in Clickloot?
After login into the site, you can find the button earn credits and watch videos to do some tasks and earn rewards. You can also get a login bonus of $0.25 to get started.
There are various tasks such as fulfilling surveys, watching videos, playing games, etc. The range of earnings is varied from $0.05 to $0.15 per task. You can also earn by watching videos whose range varies from $0.10 to $0.20 per the length of the video.
The videos are ranged from 30 seconds to 60 seconds which can be just left and you can do other works till the video plays in the background. You can earn the rewards from a website and from your phone as well.
But you have to make only one account per IP address. Basically, the site is very attractive to gamers and game tournament competitors for various games.
Clickloot is one of the best websites to shop custom skins for games after earning your rewards. You can also receive your payment in the form of Bitcoin, Litecoin, and Etherium cryptocurrency.
Minimum Payout and Payment Method
The minimum Payout of the site is just $0.50 which is very attractive and encourages the users to log in and work on the site. You can redeem your earnings from a various method which are
Bitcoin, Etherium, Litecoin, and many skins of Counter-Strike games. The site is most popular for gamers because the site provides various skins for many games.
Pros and Cons of Clickloot
Pros
The application is legit and pays.
Rewarding and Validating Work is always consistent
The application is free and you receive sign up bonus
Work can be done from home
Manu ways of earning reward including daily reward bonus.
Cons
The chance of a shadow ban or permanent ban is always there.
Rewards may available only in the form of game skins.
Very Poor Customer Support.
Not enough earnings to use as a primary job.
Clickloot Review: Legit or Scam
Clickloot is a legit site and definitely pays its users for doing works. The site is really attractive to gamers who like to collect skins of games. The minimum threshold of only $0.50 is also encouraging.
Whereas other means of receiving your earnings are Bitcoin, Litecoin, and Etherium. The site is very popular and even trusty site like TrustPilot has rated this site 4 out of 5 stars.
However, some of the drawbacks of the site are not enough methods of withdrawing the funds and very poor customer support as well. And also the working on this site will not provide sufficiently for the individual so it is not advisable to work on the site as primary means of income.
I strongly recommend my users to work on the site and earn some cash for their passive incomes and also if you like games you can shop rare skins for your game outfit.
As Clickloot provides ways to earn rewards by just watching ads there are 10 ways to watch ads and earn money. Check it out.