What is Bitcoin Blast?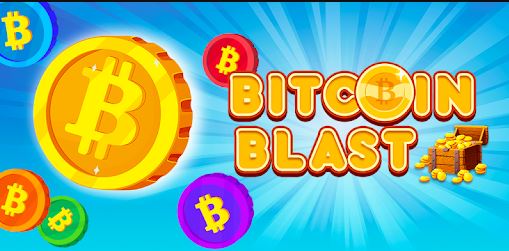 Welcome to the Bitcoin Blast Review. If you really want to earn lots of Bitcoin then start playing the Bitcoin Blast game. In my opinion, this rewarding app is not for you.
Honestly, you can only gain a fraction of a Bitcoin by playing this game which is similar to candy crush. But, it is still a great game to pass your time.
 Bitcoin Blast is one of the legit apps which really pays members without complaining. Most of the games app which claims to pay are probably scams and you are wasting your precious time.
Do look out to those scam games which pay the minimum payout threshold of $100. Honestly, they will stop giving you your earned money when you reach around $97. So you don't get any chance to cash out. Also if it looks too good to be true then remember it is.
Bitcoin Blast is a game application that can be downloaded on your mobile phone which is owned by a company named Bling Financial Inc.
It is one of the competitive match games where you need to challenge other game players by often putting your puzzle-solving skills to test them.
How To Join BitCoin Blast App?
You can usually find such types of games everywhere but the main and important difference between those games and bitcoin is that you can redeem your gained points for real bitcoin.
The best part is that this app is very honest to inform us that it takes a long and lot of time to gain enough points to redeem for a meaningful amount of Bitcoin. Although this app is legitimate and does payout, it also has a very low earning potential as stated.
Bitcoin blast is open to registration for anyone around the globe. The only thing you need is an email to get started. This app is easily available to download in the Apple App Store and Google Playstore.
How can you earn from Bitcoin Blast?
There is only one way to earn from Bitcoin Blast, which is obviously playing the puzzle game. You can download and then register using your email then start playing the games for Bling points. Each and every match is unique with various game objectives.
After each turn, you are said to watch video ads that last around 30 seconds to continue playing the game. This may be the way they earn from the advertisers and they can pay us too.
Besides this required thing, you are also covered to earning a maximum limit of 1000 points daily.
How and when do I get paid?
When you have gained enough of the Bling points, you can finally redeem it for Bitcoin only through Coinbase. As you know, the minimum withdrawal threshold is 1000 points which are equal to 0.0000001 BTC or $0.01 SGD.
If you personally played the game for 10 minutes straight and you can manage to withdraw the bitcoin. But, you can only request your cash out once a week. It is automatically indicated in a timer after your last payout.
Pros and Cons of BitCoin Blast
Pros:
– One email address can just get you started
– It is open to worldwide registration
– It is totally free and legit that's why you can play the game for fun and earn bitcoin at the same time
Cons:
– You will find a daily cap of 1000 points, so once you reach the limit, you will not be able to continue playing for the next 24 hours
– There is no referral program so you cannot earn any passive income.
– It has super low earning potential
Conclusions: Bitcoin Blast Review
After a thorough Bitcoin Blast review, we can claim the app has always proven to be a legitimate rewarding app that tells you to play a puzzle game to earn points and exchange it for bitcoin.
If you are serious about earning bitcoin online then, this game is definitely not for you. But if you are looking for an entertaining game and just for fun then, you can give it a try after all.
If you like to earn some passive income by just watching ads you can check our review of JillsClickCorner and find out if the site is legit or scam.