What is Bitcoin Blast?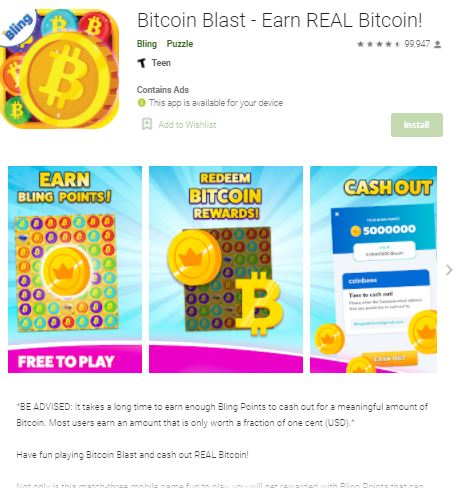 Bitcoin Blast is a puzzle game that is addictive and in which you can earn Bitcoins. However, you will only make some fraction of Bitcoin and it will take a long time to earn Bitcoin.
The game is a puzzle game just like Candy crush however in order to earn Bitcoin you have to earn some loyalty points first. You will earn loyalty points by watching the ad that arrives after each round of games.
You can withdraw your earnings if you reach 1000 points which you can earn daily, however you can only earn 1000 points within a day.
How to Get Started?
Bitcoin Blast is only an Android game so you have to download it from the play store. After downloading the game you have to register with your Gmail or social media account if you don't want to lose progress.
Once you register, you are all set to play the game and earn Bitcoin.
How to Earn From Bitcoin Blast?
The game is a puzzle which you have to arrange to eliminate the same kind of candy. When you eliminate the candy you will receive points.
After each round, you will have to watch an ad. When the ad is complete you will be provided with loyalty points. You have to combine all those points in order to reach 1000 points.
In one day you have a cap of only earning 1000 points and withdraw the said amount. You also have to provide your bitcoin wallet address to receive the amount.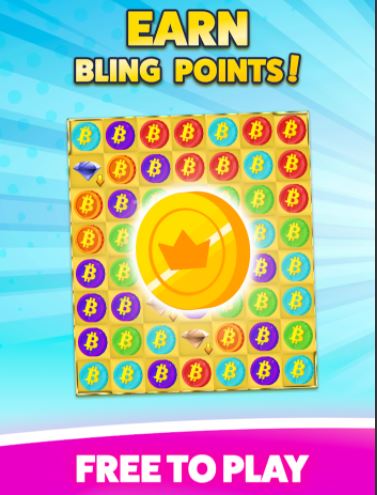 How Much Can You Make from Bitcoin Blast?
You can only earn 1000 points on the day in this game which is equivalent to 0.000001 BTC. When it is converted it is equal to only 10 cents worth of $USD.
It means you will have 27 years to make 1 BTC or if the price of BTC is increased exponentially over the period of time.
Minimum Payout and Payment Method
You have to reach 1000 points in order to withdraw the amount earned from the game. The game is easy and you can earn the threshold within an hour.
The site pays out through various bitcoin wallets such as coin base, blockchain, and many more. You have to provide your bitcoin wallet before playing the game. After you reach the threshold amount you will click receive the coin and the game will send it in your recorded bitcoin wallet.
Pros and Cons of Bitcoin Blast
Pros
The games are easy and addicting.
You can earn 1000 points every day.
The company provides clarity on earnings and the percentage of earnings.
You can receive payment fast.
The game is legit and it pays its gamers.
Cons
The amount you can earn is very low which means it can not be used as an active source of income.
You can only earn 1000 points per day.
The game is way too easy for some and levels also repeat after some time.
Conclusion: Bitcoin Blast Review
After the detailed Bitcoin Blast Review, we can conclude that Bitcoin Blast App is legit and it is not a scam. The positive aspect of the game is developer has already cleared how much you can earn and how much it takes to earn the required amount.
However, the payment is extremely low which means it is not recommended even for passive sources of income. Bitcoin Blast game itself is really addictive and fun to play until the levels start to repeat themselves.
Hence we recommend Bitcoin Blast only for playing and entertainment purpose but not for earning large sum of money.
If you are looking for some more legit app to earn some money check our review of Lucky 2048 Review and find out if the site is legit or scam.