Hello and welcome to Part-Time Clicks Review.
In the very unprecedented time, as we are living right now, many people are engaging and attractive earning money from online. There are various ways of earning money online which include doing surveys or using cashback apps to receive cash or gift cards so it is essential to know which site is legit or not.
One of the popular websites that provides payment if you can review the keyword is Part-Time clicks. But you may be wondering if the site is legit or a scam.
Don't worry about it, today I am providing you all the details you need about Part-Time Clicks before joining
I will include
What the site Part-Time clicks is
How can you get started?
How to work on-site
How can you get paid?
Minimum payout and payment method
Final Review of Part-Time Clicks site
So let us get started
What are Part-Time Clicks?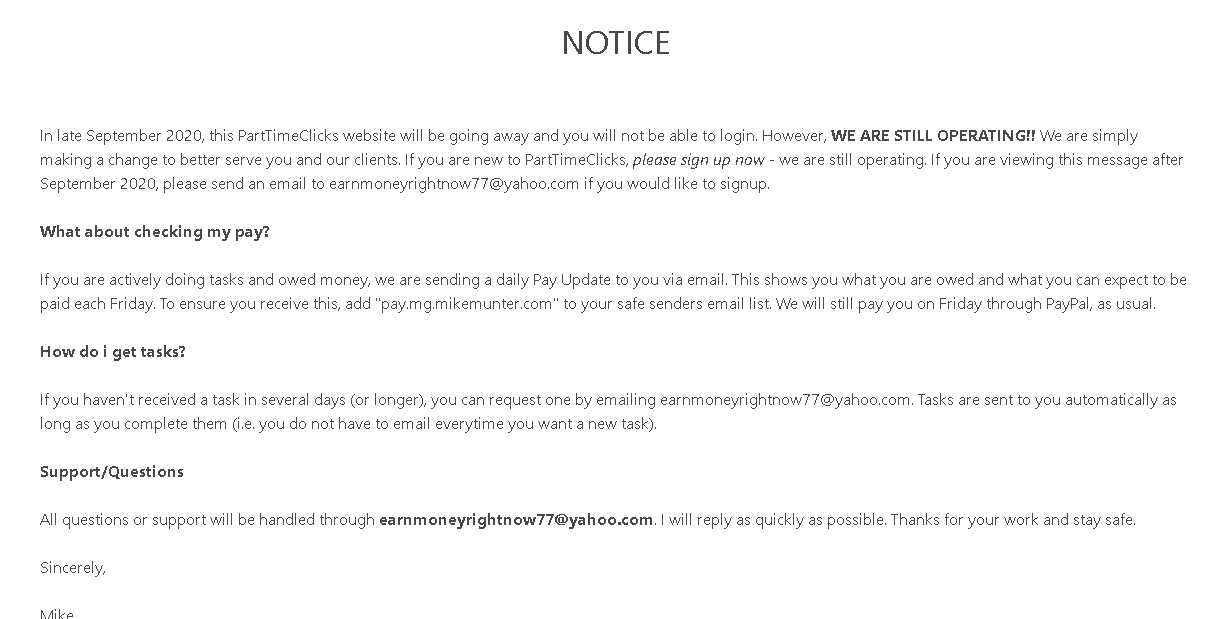 Part-Time Clicks is an online platform where you can get paid for doing some simple tasks such as googling or generating information about something and providing feedback related to the matter.
You can work from home and wherever you want. However, you have to work only from the USA as the site is only available for the people of the USA.
The best part of the Part-Time Clicks is you can do the tasks from desktop, laptop, or even smartphones.
Since the name itself has part-time in it you may not be able to earn a very large amount of money but can earn some passive income here and there.
How to Get Started on Part-Time clicks?
To get started on the Part-time clicks you have to first register for the site. But as of September 2023, you have to send an email to [email protected] for you to sign up for the site.
You can only earn from this respectable site if you are a citizen of the USA. You need to provide your email address, name, phone number, and PayPal Email.
After you register for the site, you have to verify your email and phone number. You will receive an email or text message with some digits or codes which you have to type on the website.
This is necessary for withdrawing the amount as well as getting started on the website.
How to Work on Part-Time Clicks?
To work on the site is really simple and straight forward. You are given topics to research and provide feedback.
What you have to do is google the keyword for what you have to provide feedback to and then search about it on the internet and provide feedback on the website. You have to go into the website of the specific keyword.
You have to stay at least 30 seconds on the site and search about the related keyword in the website. After researching the respective keyword you have to then provide 1 sentence summary related to the keyword.
You don't have to accurate regarding the page but just provide your review about the page.
Other activities on the website are writing comments on social media, blogs, or websites or writing reviews related to the site.
How much can you make from Part-Time Clicks?
The earnings on the site depend on the number of tasks you can complete successfully on the website. You have to fulfill the requirement of spending 30 seconds on-site, using keywords on your review, and providing an adequate review.
The tasks are mainly less than a minute and have rates of $0.20 and $0.40 per task. While you can also receive $5 for some complex tasks such as writing summary, or reviews.
There are a very limited number of tasks so you can expect to earn between $20 to $30 per month.
Minimum Payout and Payment Methods
The best part of the site is there is no minimum payout. The site pays every Friday of every week so if you have any money accumulated you can withdraw it straight away.
However, there is only one way of withdrawing your money and that is PayPal. You have to provide an accurate PayPal id otherwise your earnings will be transferred to somewhere else.
Can you get Ban on Part-Time Clicks?
Yes, you can get ban immediately if you use a VPN or any other Proxy tool to do your work. In any GPT site using a VPN or proxy is considered an automatic fraud.
You can also get ban if you change your country while doing the tasks. The site only runs for US citizens so your IP address of other countries can get traced and you can get a ban.
Pros and Cons of Part-Time Clicks
Pros
The site is legit and pays
Very easy and simple tasks.
There is no payment threshold.
The viable payment method of PayPal is really attractive.
Very attractive pay considering the task
Cons
The site is only available for US citizens.
Very limited amount of tasks available.
Not viable to use as a primary source of income.
Part-Time Clicks Review: Legit or Scam
Part-Time Clicks is definitely a legit website and pays its user for just providing a one-sentence review relating to the keyword. You can work from home and also can pick your own hours to work.
However, the site is only limited to USA members and there are very few tasks available so you will not earn a very large amount of money.
I will highly recommend our users who are living in the USA to work on this site but only as a passive source of income.
If you are looking for part-time side hustles that you can even work at night then check out the given link and find out various ways of earning money online