Update: AppBounty App is no longer available. The company has been shutdown for some reason.
Welcome to my AppBounty Review.
In this review, you will learn everything about this smartphone app called AppBounty.
Whats more?
I will also share a secret strategy to earn more points as well as make real money from this app faster!
Wait for the secret sauce to make more money! It's worth it! 😉
But first, you may be wondering :
Is this app Legit? Does it pay on time? or It's just another scam?
Well, Keep on reading and you will find out answers to all your burning questions related to this app.
So, let's begin. Shall we?
Introduction: What is AppBounty.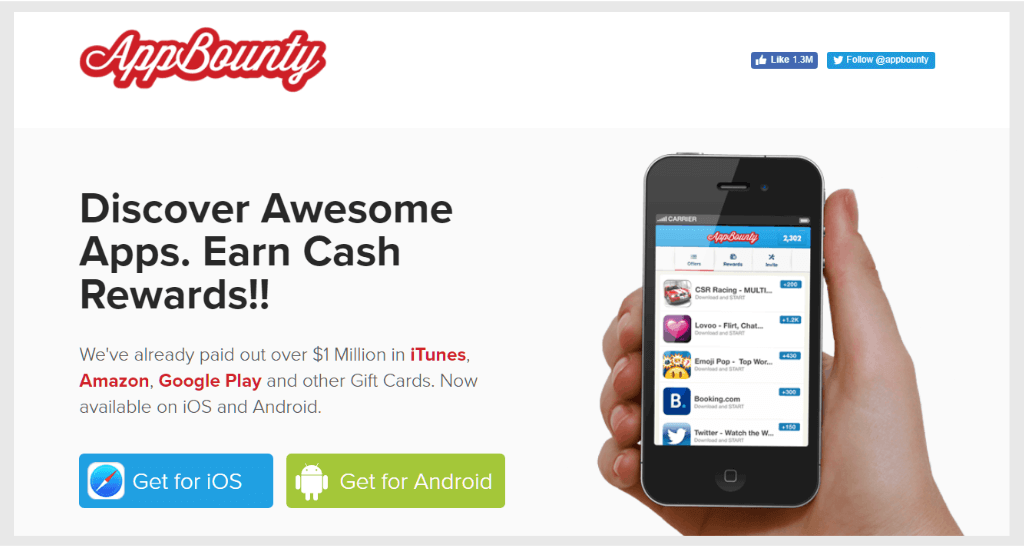 AppBounty is a mobile rewards app available for Android & IOS smartphones which allows you to make money by downloading and testing other apps.
It is a great alternative to a similar mobile rewards app called Coin Pop. Check out my Coin Pop Review.
Sounds like a fun way to make money. Right?
Let's learn more about this app:
AppBounty is operated by German-based startup called Advertile Mobile which is founded by Jens Disselhoff.
Their headquarter is located in Berlin, Germany, and has a team of 13 hardworking members.
Fun Fact:
AppBounty has over 1 million downloads on play store, 133K likes on Official Facebook page, and over 322K followers on Twitter.
How Does It Work?
To get started, you have to download the app.
Here are the download links :-
Download for Android | Download For IOS
Make sure your smartphone has enough storage because you have to download a lot of apps later to make money from this app.
Once you install the app on your phone, you need to register an account on the app.
After successful registration, you can visit the offers tab within the app and download the available mobile app or games.
Each download will give you some points. Once you have enough points you can redeem these points as gift cards
And that takes us to the next section!
How Much Can I Earn With AppBounty?
This is the question every new users of the app has in their mind. And I want to make this clear!
Your earnings will depend highly on – how much apps or offers are available for you to complete and how much offers/apps you can complete everyday.
Whats more?
If you are from first world countries, you will get a lot of apps to download and each download will earn you higher points compared to people who use this app from third world countries.
Reason?
People from first world countries are valuable users for app developers or companies who are paying for every download.
So that result in higher earnings.
Another way to earn money is to refer your friends to join this app which will give you 250 points after a successful referral. The referred person will also enjoy a free 50 points on their account.
Bottom line:
Download more apps and refer more people to make the most money out of this app.
Another app that you can earn from is App Nana.
AppBounty Hack: How To Make More Money?
Earlier, I have promised a secret sauce to make more money from this app quickly. Right?
Well, here you go. Enjoy the secret ingredient. 😉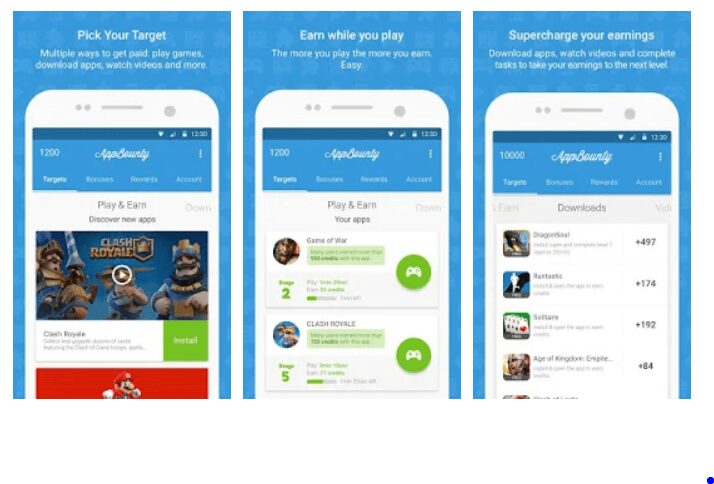 Do you want to earn more points and ultimately redeem more gift cards from AppBounty?
If yes, then in this section you will learn all the tips, tricks and method to earn a lot of points on AppBounty.
Without wasting any time, let's dive right in.
One obvious way to earn points is to download more and more apps and another way to earn more points is to refer people to join this app.
And over the few paragraphs, I will tell you exactly how you can get tons of referrals.
Each referral is worth 250 points, so if you can refer 1000 people that's 25000 points.
Here's the method:
Make an AppBounty Video on YouTube
This sounds like a lot of hard work but to be honest It's not. In fact, this is a free and easy way to get huge referrals.
So, how does it work?
Many people are searching for ways to make some extra money online.
You are going to make a video reviewing AppBounty and in the video talk about how people can earn points by downloading apps and redeem gift cards.
And let the viewers know that they can earn 50 points if they sign up with the link given on your video description. (insert your referral link.)
Once you get enough viewers on your videos, you will actively get referrals.
The video will generate more views and referral over time and you will keep on earning passive referral points.
Not only YouTube but you can also use the power of social media to promote your referral links and earn more points.
Become a Media Partner
Many people don't know that you can actually earn real money and receive payment through PayPal by becoming a media partner.
Basically, As a media partner, you will promote AppBounty to your audience and earn 250 credits(0.50$) for each referral who sign up and download to apps on AppBounty.
If you successfull referred 1000 people, you will earn 1000 * 0.50$ = $500.
Imagine, referring 10000 people, that's $5000.
How To Become Media Partner?
To become a media partner, you must have at least 10,000 YouTube Subscribers or social media followers.
Then you have to apply at [email protected] to become a media partner.
Payments – How To Receive your earnings?
AppBounty pays you through gift cards. You can redeem your points with iTunes gift card, Amazon gift cards, Xbox gift cards, and PS network points.
However, As an AppBountry media partner, you can receive payments through PayPal.
AppBounty Review: Is It Legit or a Scam?
I have shared all my knowledge about the app and how to make more money from this app.
But is it worth a try? Is it even legit?
Well, read my review:
So, I've used this app and done a complete research about this app for you guys. And, the good news is – AppBounty is a legitimate app that you can use to make money.
AppBounty pays its users on time through Gift cards. You can redeem a $5 gift card once you have earned 2500 points.
However, the drawback of this app is – users will get lower points for each download. You may find it hard to earn a $5 gift card.
But if you applied my strategy that i shared earlier, you can make good money through this app.
Conclusion
AppBounty is a good app and it's a great use of your spare time. Likewise, with other mobile rewards app, you should use it for some extra money.
Addition to that, your phone will be filled up with tons of apps downloaded from this app. So you will need a phone with a lot of storage.
But you can earn some points and redeem some gift cards here and there by using this app in your spare time.
I hope this App Bounty review helped you with all the information you needed.
Are you planning to use AppBounty? Let me know in the comments below.