What is Superpay.me?
Superpay.me is a popular GPT website that has daily paying methods for its workers if they complete some task from proper instructions.
The thing about GPT sites is they are simple to join, easy to work, and earn some decent passive income.
Not only is Superpay. me a popular GPT site but is also a paid survey site with some high-paying surveys as well.
It has tons of good reviews from the workers and also has payment proof already on its website.
So does the site really pays or is it just another scam. Let's find out.
The site is a hybrid of GPT and PTC tasks and also has paid survey. Another website that has exact same types of tasks available is Metro Opinion.
Check out our detailed review of Metro Opinion Review here.
Getting Started
It is very easy to get started on Superpay.me. Just visit the site and then click the "Join Free" Button.
You will be directed to the registration page where you have to fill up the form. You have to provide your name, email address, password, mailing address, and payout method.
Finally agree to the terms and conditions of the site and you are all good to go.
How to Work on Superpay.me?
Superpay.me is a hybrid of GPT site and paid survey sites so there are tons of work available on the site to earn some money.
Let's take a look at what kind of tasks are available on the site.
Paid Surveys
Paid Surveys are one of the high-paying and popular tasks available on the site.
You can take part in surveys of Superpay.me, and the third-party surveys that you can get redirected from the site.
However, to qualify for the survey, you have to pass some demographic tests or screening questions.
Superpay.me is also one of the 35 high-paying survey sites from the Philippines. Check out the full list here.
Paid Offers
Another task available on the site is Paid Offers where all you have to do is complete the offers.
You can earn from both paid and free offers on the site. Paid offers are high-paying and can provide huge cashback options on the site.
For paid offers either you have to spend some cash or buy some product via your credit card.
Hence one of the easy ways of earning on the site is by completing paid offers.
PTC
PTC refers to paid to click which means the site will pay you for clicking links, videos, or ads. This task is generally very low-paying.
However, there are tons of PTC tasks available on the site, which will keep you busy and earn you some decent passive income.
All you have to do is click the link or ads and wait for up to 10 seconds to get instantly paid.
Contests
Another way of earning in the site Superpay.me is by taking part in the contest.
You can win up to $1000 per week if you are the highest earner in that week.
If you continue to work on the tasks and keep earning you will certainly be eligible for the paid contest and have a chance to earn $1000
 Referral Programme
Yes, Superpay.me has a very high-paying referral program. You can earn 25% of the earnings that your referral earns.
This is one of the highest paying referral sites which is really a plus point for the site.
How Much Can You Earn from Superpay.me?
Superpay.me is a GPT and survey site so the earning potential of the site is not very high. It will entirely depend on how many tasks can you get done.
The survey task has earning potential of up to $2 per survey whereas the PTC task can only get you up to 10 cents per click.
You can either earn points or cash and later redeem them for some interesting perks.
Minimum Payout and Payment Method
The minimum payout threshold in the site is only $1 for the entire site and for any tasks which make the site very attractive and intersting.
It is one of the lowest payment thresholds in GPT sites.
There are several ways of withdrawing your payment from this site.
Superpay.me can pay you via Paypal, Payza, Skrill, Bitcoins, and Gift cards from Amazon and Tango which are only available in some places.
The easiest way of withdrawing your money from this site is via Paypal as you only have to verify your address or phone number.
Pros and Cons of Superpay.me
Pros
Very low minimum payout threshold.
Easy to join and earn
Variety of options in payout method such as Paypal, Giftcards, and Bitcoin
Customer support is excellent.
Entertaining tasks and contests.
Cons
The site takes a commission on payment withdrawal.
The payout rate is really low.
Tiring and tedious tasks only.
Superpay.me Review: Legit or Scam
Superpay.me is a legit site and one of the entertaining sites to work and get paid.
Many users from the Trustpilot site have rated the site 4.6 out of 5 stars, which indicates that most of the workers are very happy with the site.
Let's take a look at some User Reviews and find out what they have experienced from this site.
User Review
Review$1
The user is very happy and kept his remarks short and simple. The site is legit and useful too. This indicates he is satisfied with the site payment and tasks.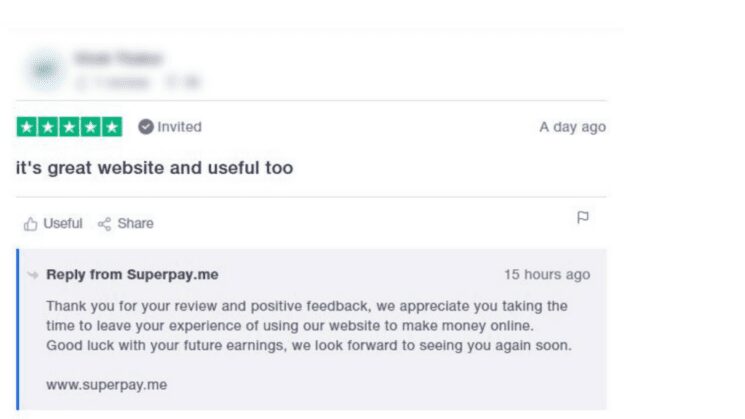 Review #2
However, this user is not so pleased with the site as he got blocked after earning some money.
But Superpay.me site has responded that the worker account was blocked due to suspicious activity but are willing to help him and provide assistance.
This clearly shows excellent customer support.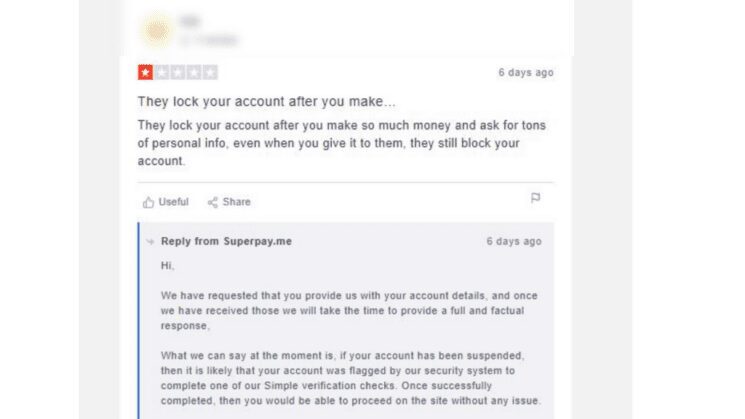 Review #3
This user claims Superpay.me is the best GPT site and it pays and is really easy to transfer the payment on Paypal as well.
It seems he is extremely happy with the services of the site.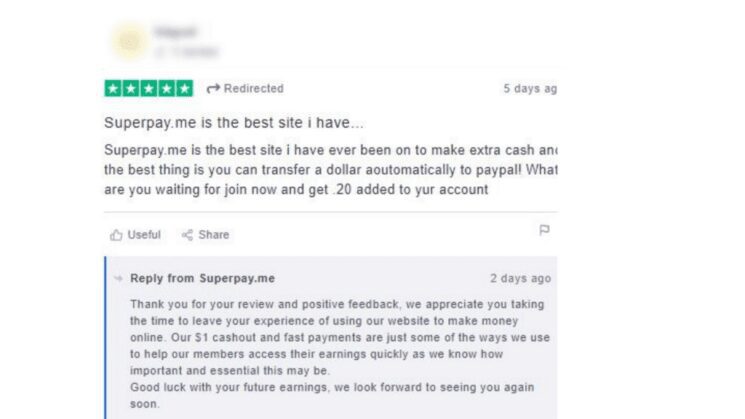 Review #4
One of the best reviews from the user for the Superpay.me site. This user was always skeptical about the online earning sites but his mind was changed by the site.
Not only did he get paid for his task, but he was paid within 8 hours, proving the site's legitimacy.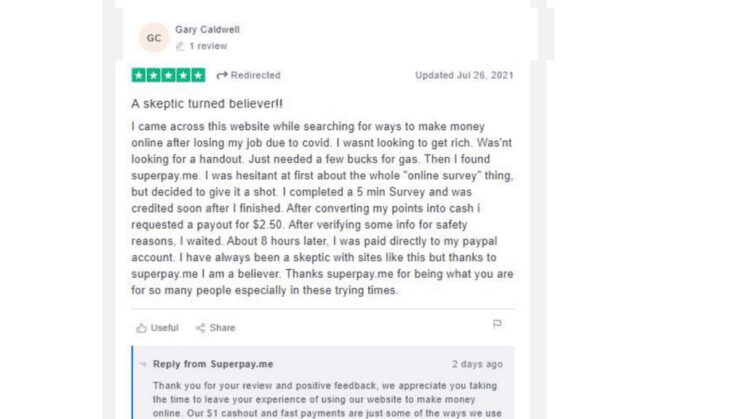 Review#5
This next user was not happy with the lack of customer support from the site and was ready to tell them but the site clearly helped him what to do for the next step and explained his process of customer support.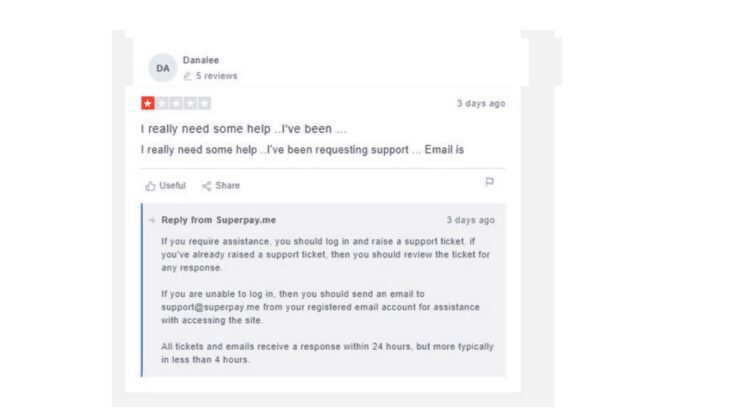 The Bottom Line 
Hence the bottom line and the final verdict is Superpay.me is a super website for GPT tasks and online earning.
You will not get rich joining the site, but you will definitely get paid immediately and do entertaining tasks.
So we humbly recommend you to join the site and start earning.