What is RandomWorkers?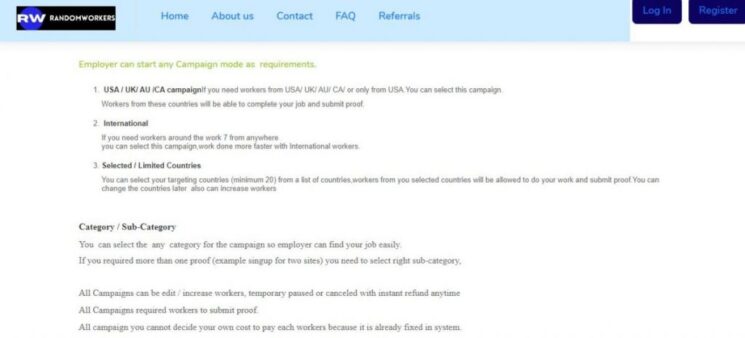 RandomWorkers is a micro job website that will actually pay you for completing small jobs. RandomWorkers is also a relatively straightforward site that offers a very simple way for you to earn money.
Likewise, this application also has few disadvantages you need to be conscious of.
How To Work on Randomworkers?
This application offers so you can also understand how this website works and what its earning potential actually is.
1. Jobs
The primary earning opportunity of this website called RandomWorkers.com is the jobs it offers to the consumers.
When you install the application and become a RandomWorkers freelancer, you will then get access to the different jobs.
All you have to do is just log in to the website and you will immediately see all the jobs you can easily work on. Every job has actually a limited number of slots offered.
When that particular number is finally reached, not anyone will actually be able to apply for that particular job and it will also be taken off, from the list of available jobs.
Most of the jobs you will find in that application will mostly ask you to visit different websites such as view YouTube videos, download mobile apps, and also sign up for certain websites.
It is a lot similar to RapidWorkers (just with fewer jobs). When you finally see a job you are interested in doing, you just need to click on that, to see the job details.
If you are finally ready to take on the job, you just need to click the "Apply Now" button.
And once you've done everything the job is actually asking you to do, all you have to do is submit all the requirements on the same page.
After you've submitted all the requirements that are actually needed, the employer who posted the job for you will then review your work.
If everything you filled is in order, the employer will then mark your work as "Satisfied" and you will finally receive the promised compensation. The final waiting time to get your work approved is just 7 days/a week.
Review of Jobs
If for any reason, the employer fails to review your work within that amount of time, it will then automatically be marked as complete and "Satisfied" which is probably great news for the people who wanted this.
On the other hand, if the employer is not satisfied then he/she will give you details of the reason and you can then again submit the proof of your work.
After the correction you made, if you cannot satisfy your employer, the site will pay you but won't be able to do the task again.
While you will still receive the payment, doing jobs where the employer is not satisfied, will definitely affect your success rate. You must maintain a success rate of above 60%
Unfortunately, most of the case with such sites that offer the same kind of jobs as RandomWorkers even though most of the jobs are posted by other members and some of them really try to underpay you and are not always completely obvious about how much time is required to complete the jobs you take.
And some of their jobs are even immoral or in some cases unsafe to even complete.
Also, the language on this website is pretty poor English in many cases which gives a bad user experience and sometimes can also make it a little harder to understand what you need to do exactly.
 2. Referral program
Another easy way you can earn from this site is by inviting other people such as your friends or family to join the site through their referral program.
To invite a person, you just have to create your referral link on their actual Referral page. After that, you just have to share the link with the person you want to invite to this site.
Once they finally sign up as a member using your link, they will finally become your referral. You will then receive a $0.50 bonus and your referral will receive $5 once they complete their first-ever job.
Also, you must remind them to complete a job within the 30 days of signing up because if they don't complete it, they won't become your referral and you will definitely not receive the reward and they will also not receive the bonus.
Bonus
Now, apart from the $0.5 bonus, you will receive, when your referral earns $0.10, you will also receive a $0.01 commission from the site.
Then all of your earnings from their referral program, the site will track in a separate balance which is called "Referral Balance".
Each time your referral balance reaches $5, you will then receive an additional $0.50 as a bonus.
Their referral program is a long-term commitment from the time when you don't exactly receive a significant reward.
But if you invest enough time and a little bit of your effort, it can also become a very decent source of passive income for you.
You need to invite people who will work and earn from this site RandomWorkers.
Another best thing about their referral program is, when you get five referrals, the site will upgrade your membership to Silver (from Basic), and you will then not be charged when you withdraw your real earnings.
And if you manage to get at least 20 referrals, the site will upgrade your membership to Gold and you will also receive gifts such as vouchers and different campaigns which will also allow you to create your own jobs to offer.
How do you get paid?
For each and every job you complete, you will also earn a certain amount. The site will credit it to your RandomWorkers account balance.
Once you have earned at least $5 in your overall earnings, you can then withdraw your cash either through PayPal, Skrill, or direct bank transfer.
However, there's also a condition you need to meet before you can withdraw your earnings. Your success rate must be above 60% before you can withdraw your earnings.
So, it's very important to only do jobs that you know you can actually complete. Because if your success rate ever falls below 60%, it can also take a few of your time before you will be able to withdraw your earnings again from the site.
In my opinion, their payment system is comparatively straightforward. I also like the fact that they have a very low payout threshold and they also offer convenient payment methods like PayPal and direct bank transfer.
Pros and Cons of Random Workers?
Pros:
It is available worldwide
It also offers convenient payment methods
Cons:
It offers limited earning opportunities
It also has very low rewards
The explanations of jobs are often unclear
Conclusion: RandomWorkers Review
RandomWorkers isn't really good. There are very few jobs that do pay well. And there aren't really a lot of jobs to pay you well. They also have a low payout threshold, which can take quite some time to finally reach.
If you want to earn from mobile apps and playing games, check our review of App Flame Review.