There are various sites on the internet that claim to be perfect for earning money online but some may be just for scamming people.
In this GrandBux review, I will inform you if the site is legit or a scam.
What is GrandBux?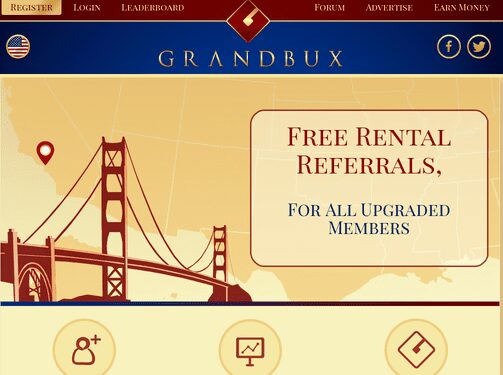 GrandBux is a popular online platform that hires workers to view the ads on the site and pay them accordingly. These websites get paid from advertisers who posts advertise here for some fees.
And then Grandbux hires workers who click on those ads and pays them the accumulated amount of the ads. You can also earn on the website by doing other macro works such as watching ads, daily contests, referrals, playing games, etc.
GrandBux was first established in 2013 and has been ever running since with mixed reviews on the internet.
How to Get Started?
You have to join and register on the website to get started. After you go to the site, you have to click the sign-up button and then start to fill-up the form.
You have to input your name, email, address, and password to enter into the website. After that, you can verify your email address by clicking the link sent by the site.
Now that you have verified your profile, it is time to start earning.
How to Work on Grandbux?
Grandbux is a PTC site which means you can earn by clicking on ads on the website. After you sign up on the website, you can view your profile's dashboard.
In the top right-hand corner, you can see the advertisement icon and click it. There you will find various videos or websites to watch ads and earn value accumulated to it.
You have to watch entire ads which are about 10 seconds to 30 seconds long. The site will credit the balance in your account after it confirms you have watched full ads.
There are also other jobs that you can work to earn some extra cash such as daily contests, play games, answer short surveys, and provide feedback regarding apps and websites.
How Does Company Pay?
You are not going to earn from the site as much to completely pay off your debts and mortgage but you can earn a decent amount of passive income from it.
Every ad you have has accumulated a value of 10 cents to 50 cents per ad. Other macro jobs are also around the same pay rate where you can earn around 50 cents to 1 dollar basis on the project.
Hence in a month, you can make from $30 to $50. The company pays you through PayPal and Payza which you have to input in their payment method section.
Does Granbux have a Referral?
Granbux has a referral program which is better than most of the referral programs on the internet. You can earn up to $50 per month from your referrals but it is the only way you can earn mainly from the site.
Minimum Payout and Payment Method
You have to generate up to $20 to redeem your payment which is a very large amount in such a PTC website which creates a big red flag around the website.
The site only pays you through a PayPal account or Payza account which you must have before creating a profile on this website.
Pros and Cons of Grandbux
Pros
The site is available worldwide.
Very Easy to Work and Earn
The site accepts PayPal which is accessible means of payment
You will be paid within 3 days of processing
The site has a very attractive Referral Program.
You can ask for help in a forum.
Cons
The amount you earn is not enough for even a passive source of income.
You need to earn at least $20 to payout which will take a very large amount of time.
This site has very mixed reviews mostly on the bad side in general surveys or forums.
Conclusion: Grandbux Review
After the detailed Grandbux Review, it can be concluded that the site is a scam despite it tries to make itself like it is legit. There are an overwhelming amount of people who have worked on the site and have never been paid.
The site also has a very large number of red flags which can explain why the site is a scam. It also has only 1 star on trusted sites like Trustpilot. The only positive part of the site is its referral program but since the site doesn't pay it does not matter.
Hence Grandbux is a scam site so you should join some legit site that pays. Check out our reviews of One Day Rewards and find out if the site is legit or a scam.