Today, I am sharing an exclusive guide or a method to make over $50 per day on Fiverr.
I will be revealing my niche on which I am selling my gigs on Fiverr. I will be completely transparent and give you a step by step blueprint.
If you read this method carefully and took action, I am sure you will make good money on Fiverr.
In fact, I am doing exactly this method to make over $480 on Fiverr.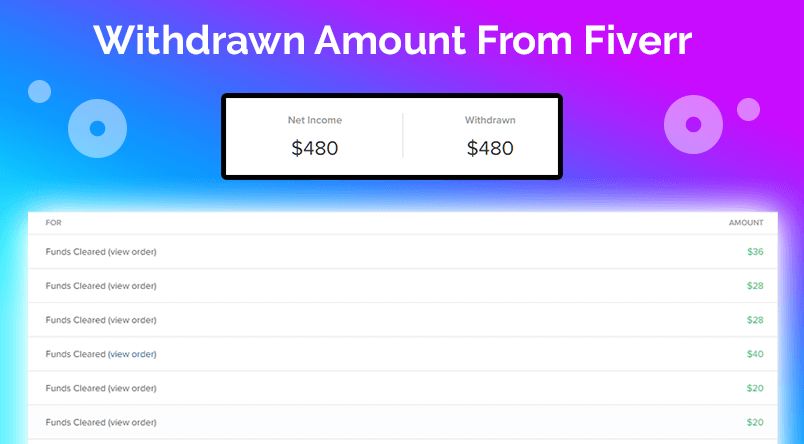 As you can see in the image above, I have made over $480 on Fiverr.
You can also get this result on Fiverr or even more.
Well, this post is all about it. So let's get started:-
Fiverr Method: Introduction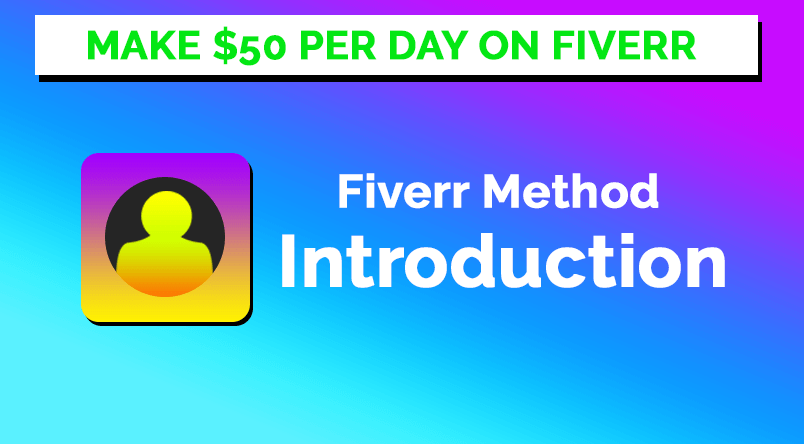 In this section, we will learn the basics of this method. I will explain exactly how this method works. As this post progresses, I am going to give you a step by step guide to making money on Fiverr.
Basically, we are going to promote the music of new bands on our social media account. (Facebook & Instagram preferred.)
We will create a gig on Fiverr about music promotion. For example, "I will promote your music on Instagram page with 100k+ followers"
"But wait a sec Author! I don't have an Instagram Page with 100k+ followers. I already made my mind to stop reading this."
Hang on! I am also going to reveal how to grow any social media account from 0 to 100k+ as well and add another monetization technique to make even more money from it. (topic for another post)
All I ask you is to read and take action. That's all I am asking.
So, back to the introduction. As you have already found out that we will be selling gigs on the music promotion niche.
That's a hot and untapped niche. All we have to do is promote new music of aspiring artists. New musicians are looking for a platform to showcase their talents. And we are going to promote them on our social media pages and give them the exposure they need.
That's a win-win situation.
Musicians get new fans and get their talent showcased to a large number of audience. And we get paid for that.
The first part is to build an audience (which I am going to reveal later in this post), once you have the audience, all it needs is just 5 minutes to promote the music of the artists and you gonna make $30 to $50 for just 5 minutes of work.
That's awesome… Isn't it?
If you have made this far and excited to nail this method. Continue reading.. (the good part is yet to come. 😉)
Part 1: Get Started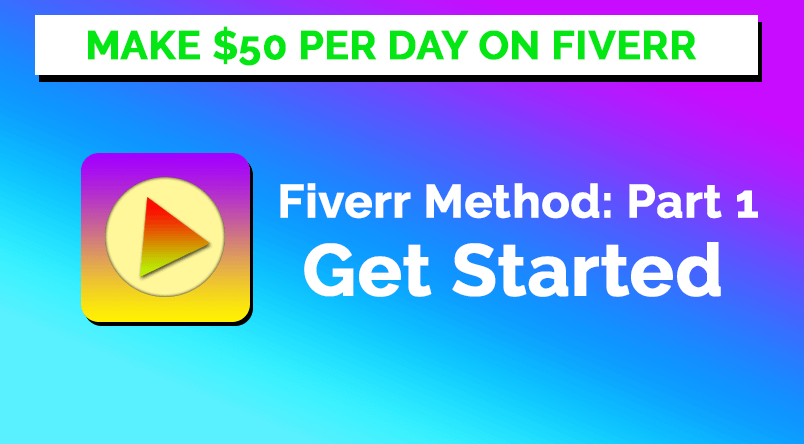 The first thing you need to do is Get started with Fiverr. Go ahead and create an account on Fiverr if you haven't.
Make sure to name your profile something related to music. Like "Music Promo Dude" or "XYZ Promotion". Be creative and name what you want.
I am not going to write about how to create an account and post gigs on this post. I have already written it, check it here.
After creating an account, create a gig about the music promotion we are going to do.
Follow the format something like this. Be unique, we don't want 1000 gigs with the same title and same description.
Title:- "I will Promote your Rock music to over 20k audience on Facebook."
Put the audience size to 20k, because It might take some time to reach 100k audience. So, let's aim for a 20k audience or less for now and later you can increase the audience size as your page grows.
You might be wondering why I told you to create a gig even before having an actual page with followers.
We are just making things ready. We can either publish the gig or just save it as a draft. Once we have grown the social accounts we can come back and publish or edit the gig.
Part 2: Grow Social Media Account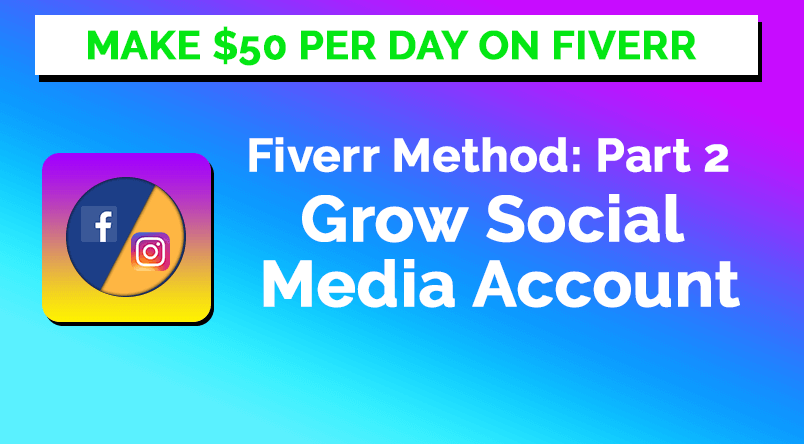 Growing social media accounts is the backbone of this method. Without social media accounts on the music niche, you cannot sell this gig.
I am going to share a foolproof method to grow your social media accounts. In fact, using my strategy you can grow your social media account from 0 to 100k very quickly.
You can get 1k to 5k followers every single day. So, let's kill the suspense and follow it.
Basically, you will be creating a music page on FaceBook and run voting posts on the pages.
In the voting post, you gonna compare 4 musicians and asks for fans to vote for their favorite musician to make them win for an award.
Something like this: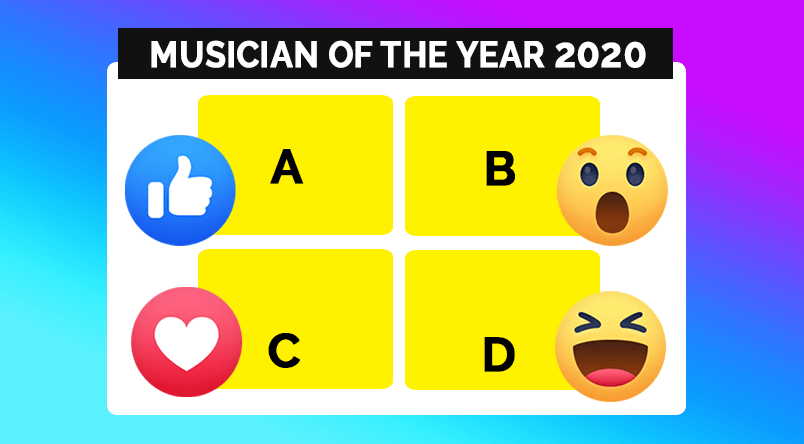 Create a post similar to this with a different title and different images of famous musicians.
Then, you have to share this post on related Facebook groups. If you are doing a voting post like "Best Rock Musician of the Year", then find and join rock bands groups, and then share your post on the group.
A quick google search will show a list of rock bands, so you can make your voting posts and share on the groups.
When you share the voting post on groups, members of that group will react as well as comment on your post. Fans will start sharing your voting post on different groups to make their favorite musicians win.
It will become like a competition between fans to make their favorite musician which will result in getting your posts viral.
Then, make another voting post which will be like the second round of the voting contest we did.
Like "Rock Musician Of The Year 2023: Round 2". Then cross one of the musician's pictures which gets the fewer number of reacts.
Which means, we will eliminate one of the musicians on each round, which gets fewer votes.
This will create a sort of panic on fans that their favorite musician will get eliminated, so it will go even more viral.
Hence, your page will get a lot of likes and grow very fast.
Once you get your Facebook page viral, you can promote your Instagram account on that Facebook page and grow it.
You can even make a Voting post on your Instagram account and share it on Facebook to get it viral.
This how I grew my Facebook and Instagram accounts from 0 likes to 100k likes within a few months.
This method to grow the page is still working and you can make your page viral very quickly using this strategy.
You will be doing this for at least 3 weeks. Here's how you will be planning the content on a daily basis
-Post 1 voting image (Day 1)
(Promote it on groups.)
-Post images related to the band/musician (Day 2)
-Post 1 voting image: Round 2 (Day 3)
(Promote on groups.)
-Post Images or videos related to musicians.
Rinse and repeat. That's all you have to do. Posting images related to musicians will keep the page active.
Part 3: Outreach and Promotion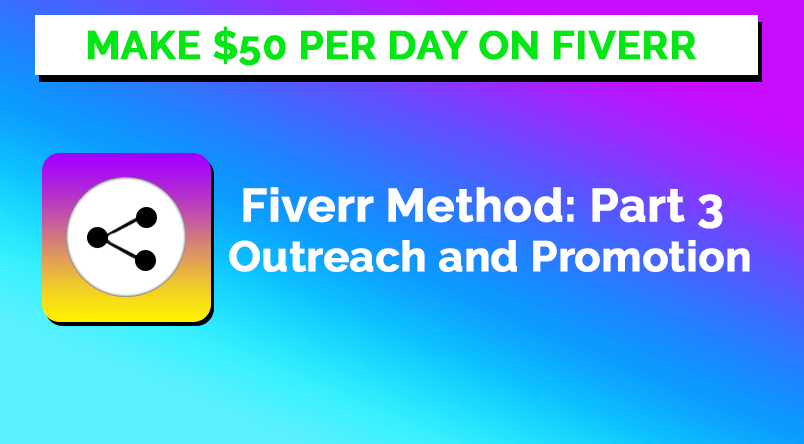 This part is going to fun and you will be promoting your gigs and getting orders.
Trust me, the feeling of selling your first gig and getting 5-star ratings on Fiverr is out of this world.
So, let get started:
First of all, you must have your social media accounts ready and active with the number of audiences your gig promised.
Then, visit Bandcamp, it's a site where new music is uploaded every day, where fans can buy the music and support new artists.
So, visit the site and then hit the search box.
Then, you will see these categories. Select the genre you are working on. For example "Rock"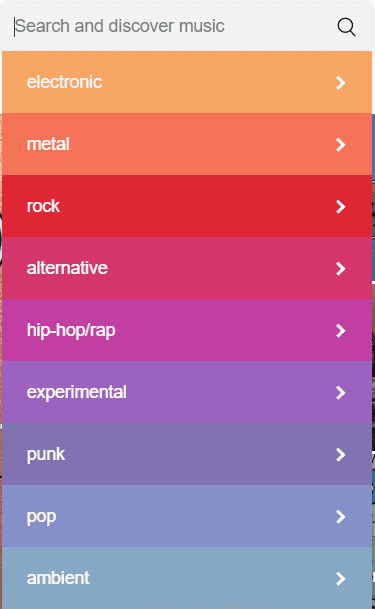 Then all you have to do is find the social media page or email address of the artists and pitch them with your Fiverr gig
Here's how I pitch the artists:
"Hy, Are you interested to promote your music to over 100k+ audience on Facebook/Instagram?
They are hardcore rock music fans and I think this promotional campaign will help you to reach more fans and showcase your art.
If you are interested, let me know!
Regards"
Short and sweet! Right? This is how I promote, of course, you can make your own template and reach the artist using their Facebook page or email. But don't promise what you can't do.
For example, don't promise them that they will get tons of views on their music videos and so on"
That's not cool. And you will end up getting negative reviews on Fiverr.
We have to get initial good reviews and traffic to our gig, so later we will get orders from Fiverr without promoting our gig.
One trick to get guaranteed 5-star reviews is to provide more than what was promised.
Suppose, if you have 20k page, make a gig with audience size 15k and then promote the client's music on 20k page and while submitting the work, say something like As a bonus I have shared you with additional 5k+ audience.
That will make them happy and generate a nice 5 star ratings.
The trick is to make them satisfied and happy. 😉
Conclusion
This method is still working and I am still making money with it. If you start working on this method today, with a month You can start making $50 per day or even more or less. (result may vary).
But this works and it is one of the easiest ways to make money online on Fiverr. I do make money using different ways and I will be sharing everything with you guys here on this blog. So make sure to join my mailing list for exclusive money-making methods and bookmark this blog.
If you have any questions related to this method, let me know in the comment section. I will respond to your questions as soon as possible.