Do you spend a lot of your time endlessly scrolling through the social media newsfeed?
Here's good news for you:
Now, you can make money by spending time on social media.
Yes, you read it right.
There's a social network called Rollbol which claims to pay its users for engaging in it.
But is it too good to be true? Is Rollbol legit or a scam?
Welcome to my Rollbol review. In this review, I am going to cover everything single details about this network so you can make the ultimate decision to join this social network or not.
So let's get started:
What is Rollbol?
Rollbol is a social network where users can make money by engaging with the community.
Rollbol offers different ways to make money on the platform. If you are an abid social media user than switching to Rollbol could help you to earn money.
Rollbol is just like Facebook & Twitter where you can add friends, share posts, and like/comment on other people's posts.
The only difference is they share revenue with their members.
How To Register?
To get started, you have to create an account which takes less than a minute.
Visit Rollbol.com and click on "Create an account and get 1000 points" button.
You will get this form: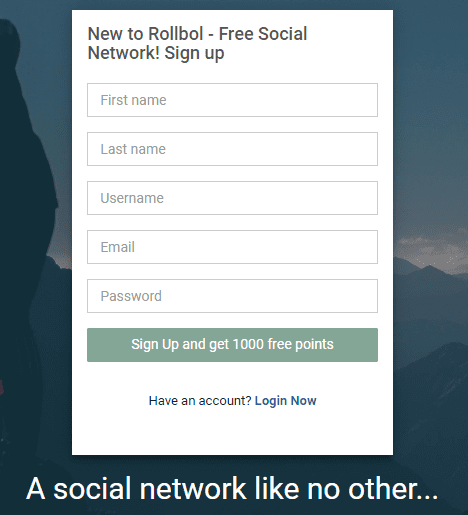 You have to provide your information like name, age, gender, email address and so on.
Fill out the form and upload your profile image.
Then you are ready to make money from this platform.
Let's learn how to make money:
How to earn money on Rollbol?
Rollbol gives a 1000 points registration bonus to all new users. The points are called Bol points.
And let me tell you that the value of 10000 Bol points is equal to $1.
You may be wondering:
How do we make more Bol points?
To make more Bol points, you can post status, like other people's posts, comment and share it.
Basically, Rollbol will pay you to actively engage with the community. So, you can earn more by actively engaging and posting new content on the platform.
Here's how much points you can earn:
Creating a post: 10 points
Commenting on a post: 2 points
Reacting on a post: 1 Point.
Moreover, you will also get 10000 Bol points for referring new users to the platform. You can grab your referral link and share on social media and get referrals.
You can also share the Rollbol links on Facebook groups and get $5 for the promotion. You can read about the rules after signing up for an account on Rollbol.
You can also make a 50% commission when your referral buys a package on Rollbol. Suppose, one of you referral buys a package of $40, you will get a 50% commission which is $20.
Sounds good. Right?
Payment Methods:
Rollbol provides 2 main payment options which are Paypal and bank transfer.
And the minimum payment threshold is $20.
Review
During my research period, I found out that Rollbol is a legitimate social media platform and pays it's users when the minimum payout threshold is met.
But don't dream to make big money using this social network. You have to invest a lot of time and effort just to reach the minimum payout threshold.
You need to make 10,000 Bol points to reach $1, so it's 2,00,000 Bol points to reach $20.
So, you can just use it in your spare time and if you enjoy the social network, then it's worth it to spend time there and you can make some money here and there.
So I conclude that Rollbol is a legit social network and you can expect to get paid from this network. If you have any problem with Rollbol, please let me know in the comment section.
Conclusion:
As you know Rollbol is a social network that pays its users. If you have nothing to do and enjoy using social media, then it's better to spend time on Rollbol to make some little money.
However, if you are joining Rollbol to pay bills and make a living, then I suggest you to stay away from this social network.
This is a legit network and will make you little money if you stay consistent on this platform