Hello and welcome to Everve Review. Let us get started
What is Everve?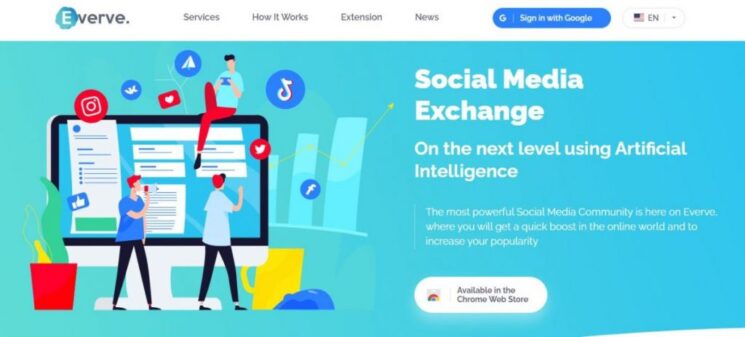 Everve is an online social media exchange platform where the site pays its users for likes,  comment, and sharing of the traffic and their social media page. It is also a GPT site in which you have to do some basic macro tasks such as watching ads, liking posts or retweeting tweets, etc.
The basic gist of the site is engagement and you will be paid accordingly if your social media is valid and if you have completed your task in rules and accordingly.
Despite the concept, many users will not be attracted to the rate of payment of the site.
How to Join Everve?
In order to join Everve, you have to above 16 years old. However, the site is global so anyone can join it. You have to sign in to the website through your Email id, Facebook Id, or Twitter id.
After signing up for the site you will have to verify the mail address that you have joined from or from the phone number. Once you have verified your mail or phone you can now start to work.
You will be directed towards your dashboard where you can find various tasks along with their rate of payment.
How to Work on Everve?
The work on Everve is simple. You have to do some simple macro tasks and earn money. Now let's look at the tasks available on Everve.
Social Media tasks
Everve is a social media exchange website so in order to earn from the site, you have to perform the basic tasks on social media platforms.
There are several social media from to choose from such as Facebook, Twitter, Instagram, YouTube, and others.
There are lists of social media tasks to complete such as liking and commenting on Facebook, Liking and Retweeting on Twitter, liking the video and subscribing to the channel on YouTube, Liking and commenting on Instagram photos and videos.
Some of the tasks you can complete can be automatically but others you have to complete manually which can be monotonous and boring and the payment rates are also not that high which can be demotivated for the users.
Hence in order to earn a decent sum, you have to complete a lot of tasks in a day.
Referral Method
Just like any other site, Everve also has a referral earning method. You can earn up to 15 % from the ad spend by your referral and up to 25% for an entire life earning of your referral.
How Much Can You Earn from Everve?
Everve is a macro task site. Every task has a fixed payment of $0.10 to $0.50. Hence if you want to earn more from the site you have to complete more tasks in a day.
However, each task in a day is limited from 30-50 so the total social media task on each day can be from 200 to 300 so he can earn up to $2 to $3 per day.
This is not adequate even for the passive source of income. Which is the reason you have to depend on the referral for earning a significant amount of money.
How Does Everve Pay You?
There are various ways that the site Everve pays you. Some of the methods are QIWI, Yandex Money, and Payeer.
However, in order to withdraw from the site, you have to earn at least $7. But the challenge is that the payment rate of the site is so low it will take a monumental amount of time to even reach there.
In order to withdraw from Payeer, the service fee is 5 % and 7% from the other two means of withdrawing methods.
Pros and Cons of Everve
Pros
The minimum threshold is minimum very low compare to other sites.
The site is available for everyone to join worldwide.
The payment method is very much accessible and convenient.
You can be engaged in various tasks to earn some money.
Cons
The site pays extremely low even for passive sources of income.
Everve charges service charge which affects users payments.
The site does not have a Paypal method of withdrawing which is not convenient in new times.
Conclusion: Everve Review
After the thorough Everve Review we can confirm the site is legit and pays its users. However, each task rate is only $0.10 to $0.50 and they are limited for a day which is why you cannot earn more than $2 to $5 per month.
Despite this, if you are interested to earn some money from doing some social media tasks you can easily join the site and start earning.
If you like another GPT site you can check our review of the Robson App.