What is Dollars Hunt?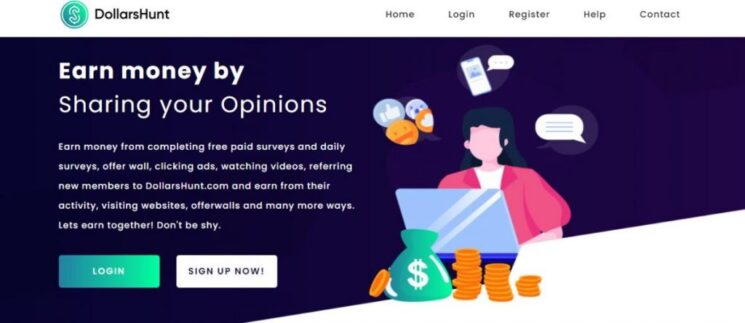 Dollars Hunt is a website where you can earn money for doing surveys online. You can earn money by completing free paid surveys, daily surveys, offer wall, clicking ads, watching videos, and referring new members.
Dollars Hunt is Get Paid To (GPT) website.
How to Join Dollars Hunt?
First, you have to register an account on Dollars Hunt. Visit Dollars Hunt | Best Ways to make money online Free!. Click the register option and then fill up the details in the registration form.
You are required to fill up your first name, last name, gender, password, address, zip code, and email address. Then click agree to terms and conditions and privacy policy before clicking the register option.
You can only join this website if you are at least 18 years old. Thus, your account will be registered
 How Does it Work?
After completing the registration process, you can start taking surveys and watching videos in Dollars Hunt. Go to the make money option to start earning. First, there is a daily survey where you can complete surveys and earn money instantly.
There are offer walls where you have various offers for conducting surveys. Click any offer you like and start taking the surveys from various advertisers. They may contain the downloading app,
You can also play jackpots and enter promo codes that you find on social media or any other website to earn extra money. You can visit the top offers option to earn higher than surveys. These offers may contain liking pages, sharing opinions, and taking surveys.
Go to the just added option to take the latest offers and surveys. There are also most credited and last credited options to make you knowledgeable about the most credited offers and last credited offers.
The site, there are also various contests held on the website where you can participate and try to win the contest. There is also a referral option where you can refer Dollars Hunt to friends and families and earn extra earnings.
It is free to participate in any survey in Dollars Hunt.
How do you earn?
You are paid for taking surveys and watching videos in Dollars Hunt in Dollars Hunt. You will be paid in both points and dollars. Daily offers pay you instant cash. The pay rate depends upon the survey you are taking.
In offer walls, you will be paid in points initially after completion of your survey. The point varies upon the type and difficulty level of the survey.
Remaining earning opportunities like Jackpot, Promo Codes, Top offers, Most Credited, Last Credited, Just added and Offer Contest pays you in dollar directly. The pay rate is not constant and varies as per the offer.
You can earn $1 per Referral for referring your friends in Dollars Hunt. But for referral to count, each referral must earn at least $02.50 or 250 points in total in the month.
How Does the Company Pay?
You will be paid in points initially in Dollars Hunt which can be redeemed in dollars. 100 points are equivalent to 1 USD
You will be paid through PayPal, Bank Transfer, Amazon gift card, and Paytm. Each payout gateways have their own minimum payout threshold.
The minimum payout threshold for PayPal is $2 and a small fee will be charged, minimum payout threshold for Bank Transfer is $3, for Amazon gift card and Paytm it is $5.
For new members, you will receive a payment within 72 hours and for old members, you will receive a payment within 24 hours. The site won't pay you on weekend.
 Pros and Cons of Dollars Hunt
Pros
Dollars Hunt is free and easy to join
The site pays you through PayPal and other modes of payment
Pay rate varies as per the time duration and difficulty
You are free to do any available surveys
 Cons:
Your referral does not count if he/she does not reach $02.50 or 250 points in a month
Your surveys may be likely to be denied or reversed
Conclusion: Dollars Hunt Review
After the through Dollars Hunt Review we can clearly know the site is not a scam. But it does not have any reviews from customers and authentic sources so we cannot believe it blindly. Thus, Dollars Hunt is legit but you can use it as a secondary site to earn. This website is available in all countries.
If you want to earn some money by doing some basic GPT works check our review of GPT.com is legit or a scam.