I am not a native English speaker and like all other non-native English speakers, I always had a fear when writing a blog post.
And The fear was:
what If my spellings were wrong, what If my readers find a stupid yet simple grammatical error.
Believe it not, this fear can make you quit writing and end your blogging career even before starting.
But I choose to overcome this fear and started searching for online tools that can help me to write content without any grammatical errors.
That's when I found out Grammarly, I have been using Grammarly for a few years now and It has helped me to write blog posts without errors.
In this article, I am going to share everything about this tool along with my experience,
So, let's get started:
What is Grammarly?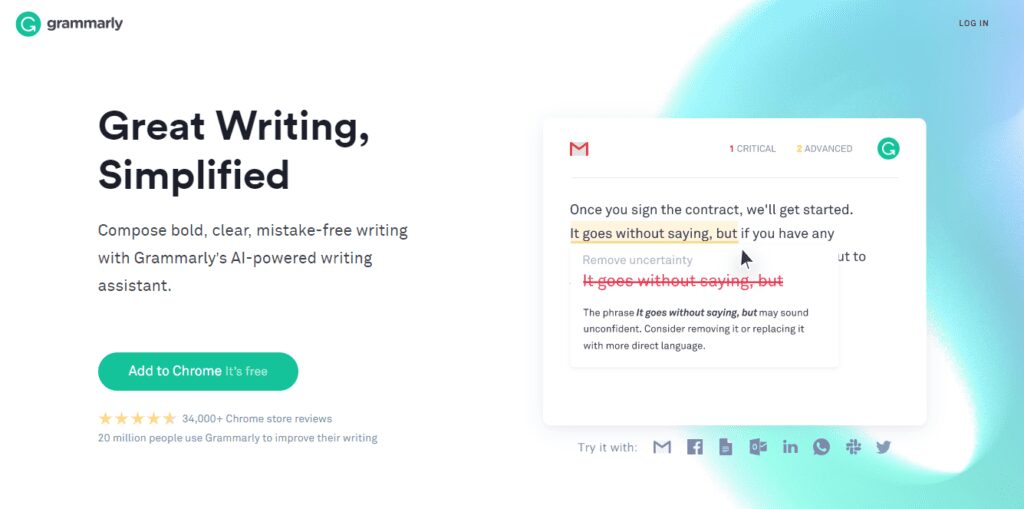 Grammarly is an online tool that acts like grammar police which checks for any grammatical errors in your writing and provides solutions to fix them with a click.
This is how Grammarly looks like in action: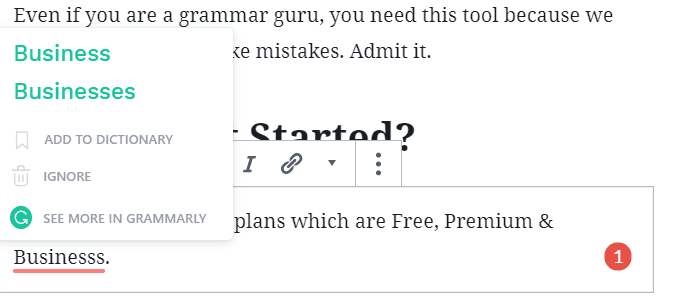 Grammarly is one of the best & trusted Grammar & spell-check tools online which you can use.
If you struggle like me to write content without error, then you should get this tool right now.
Even if you are a grammar guru, you need this tool because we are human and we make mistakes. Admit it.
How To Get Started?
Grammarly provides 3 Free plans, Premium & Business.
Premium plan costs $11.66/mo whereas business plan costs $15/mo if billed annually.
Trust me If you are serious about writing a perfect blog post, then this will be your best investment on an online tool.
I use a free plan and It gets my work done. You can also get the Free plan here and get a taste of what Grammarly has to offer you.
Simply, visit the Grammarly website and add the Grammarly extension on your browser.
Then sign up for an account on Grammarly which gives you more features like an email report which shows all the errors & writing progress you are making, you can write your articles on the Grammarly site, and so on.
My Experience with Grammarly
Grammarly has helped me a lot to overcome my writing fears. I knew I had to improve my writing skills so this tool has helped me to fix all the errors & grammar mistakes that I make every time I write an article.
What I like about Grammarly is it's free to use and the flexibility it gives to correct all the errors in real-time as you type the words.
Even if you are a veteran writer, you will often make spelling or small errors that you don't usually notice. By using this tool, you will get notified about the errors, and even give you the fix which you can use with a click.
Grammarly has boosted my confidence as I don't have to worry about any errors in my writing and this gives my mind the freedom to explore more ideas to write rather than worry about any errors.