Welcome to my detailed SlideJoy Review. I usually write here about saving and earning money online. And this article deals with the same topic.
So, let's start:
Do you want to make some spare money without putting in any additional effort or time?
If so, then SlideJoy is the app that you are looking for.
SlideJoy is available for Android phones which you can download and install from PlayStore. This app will pay you to view advertisements shown on your phone's LockScreen.
Making money every time you unlock your phone is great but if you want to make money doing surveys that pay you up to $50 then check out my ClixSense Review.
But the question is:
Does it work as it claims? Does this app pay you on time?
Well, this SlideJoy review will provide you with detailed information about the background, features, cons & legitimacy of this company.
So, Let's start analyzing this mobile app that pays its users.
What is SlideJoy Exactly?
SlideJoy is an award-winning Android app that users can install on their phones and make money by viewing sponsored ads.
So, when a user installs this app on their phone, SlideJoy will start showing ads on the lock screen.
So whenever you try to unlock your phone, SlideJoy will greet you with a sponsored ad that you can view or just skip the ads and unlock your phone.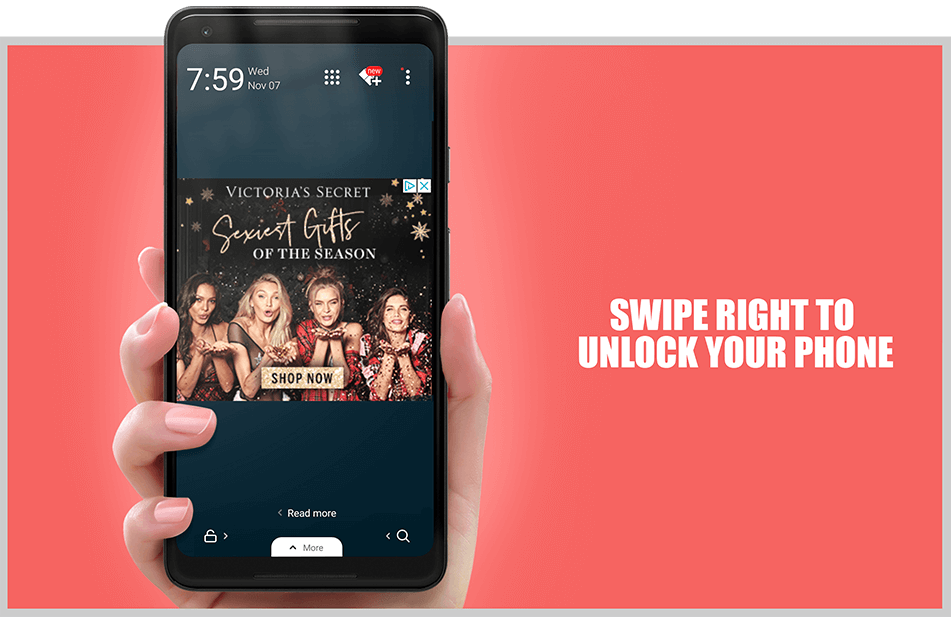 Best part:
You don't have to interact with the ads to make money. Viewing the ads on your lock screen will make you some money.
Isn't this interesting?
SlideJoy Interesting Facts
SlideJoy was founded by Pyungwoo Yoo, Robert Seo & Sanghoon Kwak in 2014. Its headquarter are located in Greater New York Area, East Coast, Northeastern US.
This app has been downloaded more than 1 million times on Android PlayStore & has been rated with 4.3 stars by 94 thousand people.
It has been featured on media with the likes of Bussiness Insider,  Fox, Wall Street Journal, TechCrunch, Today Show, CNBC & more.
According to Crunchbase, SlideJoy was acquired by a lock screen advertising network called Buzzvil. 
SlideJoy & Buzzvil serves a whopping 5 billion ad impressions each month.
How Does SlideJoy Work?
Using this app is very easy. You can download this app from PlayStore.
Once you install this app on your phone, you are all set to make money
The cool thing about this app is that it doesn't force users to view ads for a certain time or interact with ads to make money.
SlideJoy offers you handy features that will allow you to easily unlock your screen. Furthermore, you can also read trending news and articles by swiping up on the lock screen.
Here is the basic tutorial that will help you to use this app efficiently:
Swipe Left to Learn more about the ads.
Swipe up to view trending news & entertaining articles.
Swipe right if you wish to ignore the ad and unlock your device.
It doesn't send you annoying notifications at other times. The only time you will see an ad is when you try to unlock your phone.
SlideJoy also collects information about its users like location and shopping behavior. And the app uses the information to show relevant advertisements to its users.
SlideJoy Hack: How To make more money?
Whenever you view an ad on your Lock screen, you will earn points which are known as Carats.
Each carat has worth $0.001. So, you have to earn 1,000 carats to make $1.
So, When you have enough carats on your account, you can redeem them.
And if you want to earn more money from this app, you have to use your phone normally.
Locking and unlocking your phone too often with an intention of earning more carats doesn't work.
Using your phone normally will ensure relevant and high paying ads. So, it's recommended not to try to game the system.
If you are thinking to increase your earnings by interacting with the displayed ads, then you might wanna change your mind…
Because it doesn't pay you for interacting with the ads.
Apart from viewing ads, SlideJoy also allows its users to earn money by completing offers like doing surveys, installing apps, and creating an account on the advertiser's website.
In fact, you can access this feature using the offers tab on your lock screen.
SlideJoy Payment:
SlideJoy lets you choose between 2 modes when you create your account.
i.e Hero mode & Normal mode. (You can also change the 'mode' later.)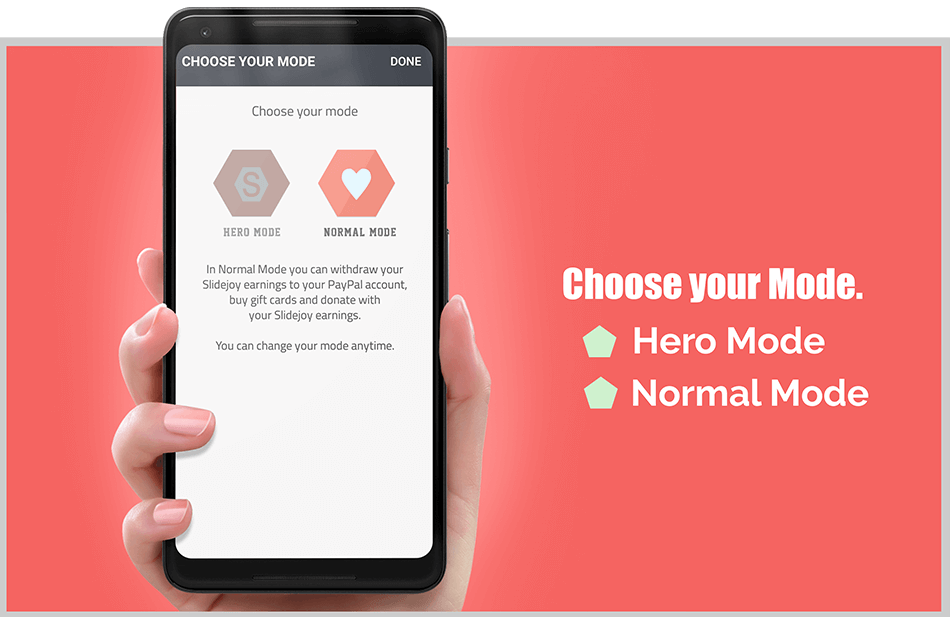 If you choose hero mode, your earnings will be donated to charity automatically. But if you choose the Normal mode, you receive your earnings via Paypal.
Payments will be made at the end of the month. You can also redeem your carats with gift cards.
The minimum payment threshold is $2 or 2000 carats.
Features :
Slidejoy provides a clean and sleek design with easy to use tools to interact with the ads and unlock your phone. Some of its features are listed below.
Free to Install & Use.
Makes it easier to view notifications on the lock screen while receiving rewards.
users can make money viewing relevant ads & news.
great way to monetize your lock screen.
has surveys & offers to maximize earnings.
Pays with PayPal & gift card.
What I Don't like about SlideJoy:
This app is not available worldwide.
Sometimes this app can cause some bugs and affect the performance of your mobile device.
has the only limited way to make more money from this app.
Is SlideJoy Scam?
This app is legit and you can install it on your phone to make some extra coffee money every month. You can also use this app for the right cause by donating your money to charity.
Best part?
You can withdraw your money on time using Paypal.
SlideJoy pays it's a user on time and only serves ads to real users.  The quality of the ads displayed is good as it only shows safe and relevant ads according to your location and behavior.
It is free to download and has no additional fees.
So, we can conclude that this app is Legit.
Final Words:
If you are thinking of paying bills by using this app, then this app is not for you. But you can use this app to make some spare money that can buy you some coffee.
Considering the fact that you don't have to invest money, time, or effort, this app is a great way to monetize your lock screen for a few extra money every month.
If you think viewing ads on your lock screen is worth the money then this app is certainly for you.
Feel free to leave your experience with this app in the comment section below.