Are you wondering whether Lucktastic app is legit or scam? Do you want to learn more about this app?
In this Lucktastic review, I am going to share each and every detail of this app so you decide whether to use it or not.
Introduction: What is Lucktastic?
Lucktastic is a free mobile app where can win real cash and gift cards for free playing scratch card games.
The gift cards can be redeemed from over 30 major brands and retailers.
Furthermore you can win $10,000, groceries and gas for a month.
Isn't that amazing?
Lucktastic is one of the fun and easiest way to make money from your smartphone.
Lucktastic is only available in United States and you need an android or an IOS phone to start making money with it.
How to download Lucktastic app?
You can download the app by visiting Google Play Store or Appstore on your smartphone or tablet.
If you are wondering if you can use Lucktastic for PC, then let me inform you that the app is not available for PC or laptops.
Fun Facts about Lucktastic:
Lucktastic has been downloaded more than 10 million times on Google play store.
Lucktastic has more than 2.9 million fans on Facebook, 830k followers on Instagram & 308.08k followers on Twitter.
Lucktastic's headquarter is at NewYork and its annual revenue is estimated at $2 million ( Owler ).
There are more than 1,000,000 Lucktastic winners to date.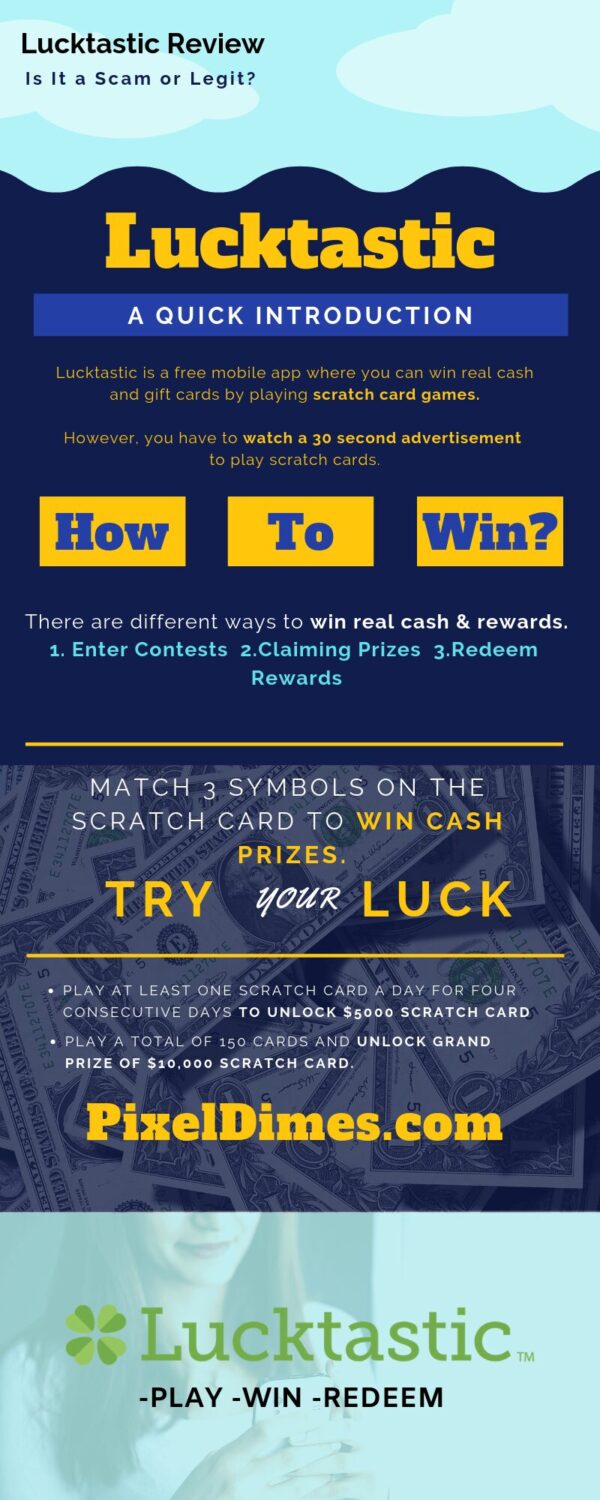 How To Make Money With Lucktastic?
There are different ways you can make money with Lucktastic.
But if you are trying to make quick money by using Lucktastic cheats, you will end of getting banned from the platform as there is no such way you can make money by cheating the platform.
I have listed all the possible ways to make money from this app below:
Scratch Cards
Scratch cards is one of the common ways to make money with Lucktastic. You can scratch games many times in a day.
However, you have to watch a short advertisement in order to play games.
Sometimes it gets annoying to watch Ads often but we can't complain much about it considering the fact that it's a free app and requires no in-app purchase.
You can win grand prizes and vouchers by matching 3 symbols out of a six box scratch card.
If you get lucky, you can win gift cards, cash prizes which vary between $ 2 and $1,500 and a grand prize of $10,000 when you unlock the grand prize scratch card.
Unlock $25 Scratch Card:
You can also follow Lucktastic on social medias using the app to unlock scratch card which you can use to win $25.
Corina R – $1,000 Lucktastic Scratch Card Winner Announcement:
Even if you didn't win any prize after scratching on all the boxes, you will be rewarded with 1 bonus token to use on the next scratch game.
Play Daily to Earn Rewards
You can earn daily rewards by playing scratch games at least once in a day. You can earn up to 500 tokens for playing scratch card games daily.
If you didn't log in once in a day, your scratch cards will get expired.
You will be eligible to play $5,000 scratch card when you play for four consecutive days.
Whats more?
When you play regularly, you will be able to reach 150 scratch cards quickly which makes you eligible for $10,000 scratch card.
Which means more chances of winning huge cash.
Playing daily scratch card games also make you eligible for mystery rewards like cash, gift cards and so on.
So, you can play regularly to earn more money from Lucktastic.
Refer your Friends
Another way to make money from Lucktastic is to refer your friends and family to join Lucktastic.
You will get a referral link from Lucktastic which you can share on social media like Facebook & Twitter.
When someone signs up using referral link, you will be rewarded with 1,000 Lucktastic tokens.
Then you can use those tokens to redeem Instant rewards or enter into different Lucktastic contents.
Lucktastic Review – Is It a Scam?
After doing complete research on this app, I can say that Lucktastic is not a scam.
This app is free to download and use. You can make some money without spending any money.
However, you have watch ads and trade your time in order to make some money.
The app company also doesn't endose it as a way to get rich quick.
They have also clearly entioned that the odds of winning a grand prize is low and depends upon how many people have joined the giveaway.
You can use this app on your free time and earn some rewards. However, the change of winning cash price is very low.
You need to reach 10,000 points in order to redeem it with gift cards which can become a daunting task for some users.
But they pay you when you have enough points. You can also check out the list of Lucktastic winners.
Therefore, Lucktastic is a legit app and you can join it if you are fond of earning rewards while playing scratch-and-win games.
Conclusion
Lucktastic is a free app and you can use the app to make to play scratch games and earn some rewards.
If you are lucky enough, you can win cash prizes of $500, $5,000 & even $10, 000.
However, you can't rely on Lucktastic to make a full time living. You can use the app as a fun way to spend some free time and maybe earn some rewards and cash.
They are a legit company and you will reward without spending any money on the platform. However, you have to trade your valuable time to earn some rewards and money.
I hope this Lucktastic review provided all the information you were looking for. I will be updating this if i find more information about this app.