What is Quidco?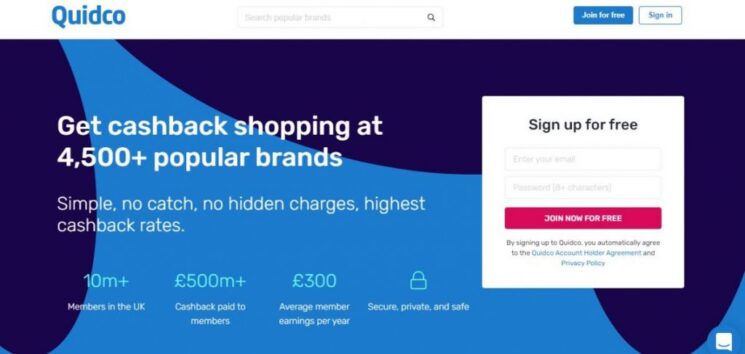 Quidco is the website that claims you can shop online from home. It is the UK's largest online platform where you can earn money by receiving cashback from your shopping items.
Cashback is the reward for the online shopper who gets significant discounts or rebates on their purchase. You can find the exact same scheme on the Rebaid site.
How to Join?
Visit Quidco | The UK's Highest Cashback Guaranteed to get started. Select join for free option located at the top right of the page and then you will have to fill up your details like your email address and.
Then you will receive an email with a conformational link from Quidco to confirm your email address.
You can also download Quidco App from Play Store on Android devices or App Store on iOS platforms and login into the app.
How Does Quidco Work?
Quidco is an online platform that enables people to earn money by receiving cashback from their shopping items. After logging in to the website or app, you can start shopping.
You can type the name of retailers or service providers in your search option of Quidco and make an online purchase. You can also see different cashback percent for different brands and retailers.
Some may have a percent system and some may have a fixed cashback amount. Then after visiting your retailer's page click on the 'Get Cashback' option and continue your shopping.
There are various categories where you can earn cashback in Quidco. Some of them are retailers, travel, telecoms, insurance. household utility bills, entertainment, and food.
Retailers consist of fashion, electrical, supermarkets, etc., travel consists of holidays, flights, etc., telecoms consist of mobile deals, broadband, etc., insurance consists of car insurance, life insurance, etc., entertainment consists of cinemas, songs, etc and food consists of Just eat, Dominos, etc.
There is also a referral program in Quidco. You can invite your friends and relatives to sign up on the Quidco website and earn a referral bonus.
Not only Quidco but we also have the 10 best cashback sites if you are a vivid online shopper.
How Do you Earn?
Quidco is an online platform that enables people to earn money by receiving cashback from their shopping items. You will earn cash backs on every item available on Quidco.
But the amount of cashback varies from retailer to retailer. Some may pay less than 5% cashback while others may pay more than 10% cashback. Thus, the rate of cashback is not fixed.
Not only in percentage, but also in the fixed amount you might get cashback. You might get 50 pounds cashback on car insurance or 35 pounds cashback on a new deal. So, cashback might also be in a fixed amount.
You will also earn a referral bonus if your friend signs up in Quidco through your referral link. You will earn 5 pounds or 10 pounds as a referral bonus.
How are you paid?
You will be paid in sterling pounds and is stored in your Quidco account. The payout gateway of this website is direct bank transfer, gift cards, or PayPal.
You can withdraw your amount once you have reached a minimum of 1 sterling pound in your Quidco account. Thus, 1 pound is the minimum payout threshold. You will receive your payments within 6 business days of the payout request.
Pros and Cons of Quidco Review
Pros:
Quidco is free and easy to join
You can request your payment through PayPal, direct bank transfer, and gift cards
Quidco is available worldwide
There is a low minimum payout rate that is 1 sterling pound.
Cons:
Quidco offers you limited earning options that are only through cashback
You will have to buy a membership to earn a higher rate in cashback
Hard to receive a referral bonus as you will receive it only after your referral make 5 pounds purchase
 Conclusion: Quidco Review
Quidco is not a scam as it is a website where you can earn money by receiving cashback from your shopping items.
You will be paid in cash in your Quidco account and can be requested payment once you reach 10 sterling pounds through PayPal, direct bank transfer, or gift cards.
This website is legit and is one of the leading websites in the United Kingdom.
The rating of Quidco in the Play Store is 4.8 thus, you can rely on this website for online shopping or bills payments and receive cash backs through it. Quidco covers almost all the areas in shopping and bills payments.