What is Ad Wallet?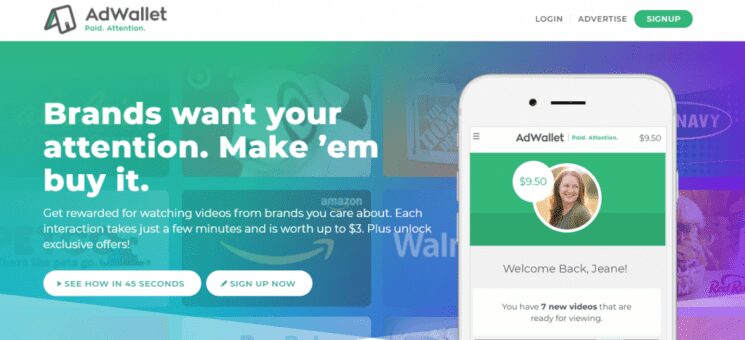 Ad Wallet is an online platform where you can earn money by completing various tasks. You have to watch ads and refer this website to your friends and relatives to earn points and redeem it for cash or various rewards.
Ad Wallet is a GPT platform that gives you an opportunity to earn money. According to Ad Wallet, "Ad Wallet is a direct-to-consumer marketing and research platform that rewards consumers for their time and attention."
How to Join Ad Wallet?
First, you have to register an account on Ad Wallets. Visit the site Ad Wallet and click on a sign-up tab.
To join you must be at least 13 years old and be a resident of the United States. You cannot sign up from other countries as it is not available globally.
On this site, You just need to enter your basic information along with your name, date of birth, email address, zip code, and other information.
You will have to provide your mobile number to activate your account. The mobile number should be legit as they will send you a link to the number in order to complete the registration. You should click the link that they send in your mobile to verify the user and activate the account.
You are also required to fill in your demographic information. This will determine the kind of ads you will be applicable to watch.
Remember that only citizens of the US can join Ad Wallet.
 How Does it Work?
After completing the registration process, you can start watching ads. You can get ads to watch that are applicable to you through text messages. You will not be qualified to watch all ads.
The ads you receive will be based on your profile so it will be determined through various demographic factors like your age, your area, and your gender.
Also, keep your profile updated after watching each ad. You will not only watch ads but also answer various questions.
These questions determine that whether you were attentive while watching the ad or just passing your time. You will also be asked about various brands as if you are taking the survey.
You may get one or more ads per week or no ads at all.
How do you earn?
You are paid for watching ads and taking surveys in Ad Wallet. By watching ads, you can earn $0.5. This is a fixed amount. Either you watch short or long ads you will be paid $0.5 only.
After watching ads, you will have to take a survey. For completing a survey, you can earn up to $3. The amount you earn will be dependent on your answers to a given survey.
You can also earn an additional $0.25 for sharing this website in videos, blogs, social media like Facebook, Twitter, Instagram, and many more.
Referring Ad Wallet to your friends and family is also a way of earning. You will receive $1 for every friend or relatives who joins this website through your referral link or code.
How Does the Company Pay?
You can redeem your earnings for gift cards from Amazon or bank transfer or donation. The minimum payout threshold for PayPal is $10.
After you collect enough amount to redeem, tap on the "redeem" button at the bottom of your Ad Wallet account. There you can choose to redeem from the various cash-out options.
You can redeem via bank transfer to either your personal checking or saving account. You can also redeem via numerous gift card vendors or donate your earnings to a local non-profit organization.
The bank transfer may take 3 to 5 business days to complete.
Pros and Cons of Ad Wallet Review
Pros
It is easy and free to join
Pays you through either cash or gifts
You can also donate your earnings
The payout threshold is lower that is $10
You can also earn a referral bonus for referring someone
Ad Wallet is a good source of side income
Cons:
Ad Wallet is only available in the United States
The pay rate is lower
Gender, Geographical location, and age play vital roles in watching ads and taking surveys.
It provides a limited number of opportunities
Conclusion: Ad Wallet Review
After the thorough Ad Wallet Review, we can conclude that the site is not a scam. It is a good site to earn some extra money. Only residents of the United States can join this website. You have to watch ads and take surveys to earn money.
The type of survey you will take will be dependent on your demographic factor like age, area, etc. If you want to make extra money then you can join this website. Thus, Ad Wallet is legit and can be used to earn side income.
But if you are looking to earn a huge amount of money then this Ad Wallet, not the one. It is only for extra earning and its pay rate is very low.
Check out our review of Uniqpaid and find out if you can earn from doing some easy surveys and tasks. Find out if the site is legit or a scam.