What is Gridcash?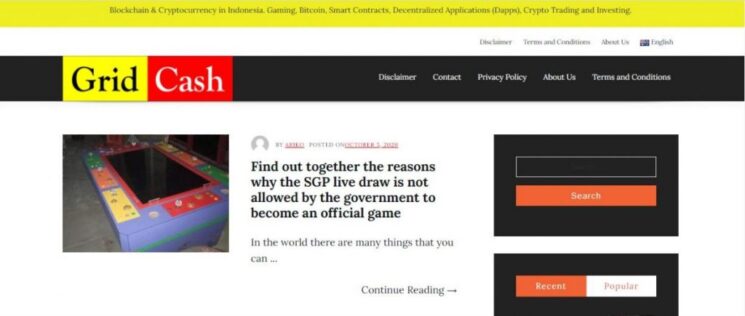 Gridcash is an online network that helps you to mine cryptocurrency when you can attract traffic to your websites and blogs and earn relevant cryptocurrencies such as Bitcoin, Litecoin, Etherium.
To earn XRP from the site, you must have lots of traffic, and when the visitor visits the site, and stays on the page. The script will continue to mine the cryptocurrency when the traffic is acting on the page.
Today we will be learning how to join the site Gridcash, How to earn, How to withdraw, and if the site is legit or scam.
How to Join?
It is really easy to join the site Gridcash. All you have to do is register on the site. You have to fill out a form in which you have to fill out your name, email address, and password.
However, On this site, you have to verify your email address from the link that the site sent you in your mail address.
When you click on the link your account on the site gets verified and you can start to work on the site.
How to Work?
After registering on the site, you can now access your dashboard. You will receive the website code that you can attach to the javascript section of your blog and website.
After you paste the script you will see various boards and advertisements of the Gridcash website on your site. When traffic is actively engaged on your website the site starts to mine the cryptocurrency on your website.
There is no limit on the mining process but the process is really slow and it will take a long time to withdraw your earnings.
Minimum Payout and Payment Method
The minimum payout from the site is 0.4 XRP which takes up to 20 to 30 days to earn that amount. You can withdraw the amount that you earn via various bitcoin wallets such as Blockchain, Coinbase, etc.
Pros and Cons of GridCash
Pros
The site is legit and it pays its user.
You can earn in the form of cryptocurrency.
On the Gridcase site, you can earn continuously without interrupting.
The customer help is really nice and the site is consumer-friendly.
Cons
You can only earn in cryptocurrency.
It takes a lot of time to earn a decent amount to use as an active source of income.
You have to earn up to 0.4 MXR to withdraw your amount.
Conclusion: Gridcash Review
After the detailed Gridcash Review, we can easily conclude that the site is legit but it is only for cryptocurrency lovers, You will earn in the means of cryptocurrency and withdraw in the form of a crypto wallet.
If you are looking for an online job that pays you daily and weekly check this site,