The need for thermal shipping printers for small businesses has significantly increased. The use of thermal printers can provide high-quality prints for shipping and labeling products. Businesses can benefit from these devices as compared to any other type of printer. Labeling products requires multiple copies of the same image at high-quality resolution.
Thermal printers are perfect that will best suit your needs. Besides, it is also a cost-effective option and increases the efficiency of the business. However, there are multiple options when it comes to buying thermal shipping printers.
Head on to this website to browse from a wide variety of thermal printers and print labels for your business. This article will illustrate a few best thermal printers for your small shipping business.
Types of Thermal Shipping Printers for Small Businesses
There are mainly two types of thermal printers. The use of these devices can benefit small businesses in multiple ways.
1. Direct Thermal Printers
Direct thermal printers can produce images on heat-sensitive paper or labels without the use of ink or ribbons. The heat-sensitive layer on the paper or label darkens when heated by the print head, producing the image. Due to the fact that they don't require additional consumables like ink or ribbons, direct thermal printers are renowned for their simplicity and cost-effectiveness. However, exposure to heat, light, or chemicals may cause the prints to deteriorate with time.
2. Thermal Transfer Printers
Thermal transfer printers are equipped with thermal print heads that enable ink from a ribbon to be transferred onto labels or other media. The ink is put onto the label using pressure and heat, and the ribbon is commonly constructed of wax, resin, or a combination of both. Long-term label printing applications are suited for thermal transfer printers because they generate robust prints that are resistant to fading, moisture, and chemicals. However, they call for frequent ribbon replacement, which raises the continuous cost of consumables.
Benefits of Thermal Shipping Printers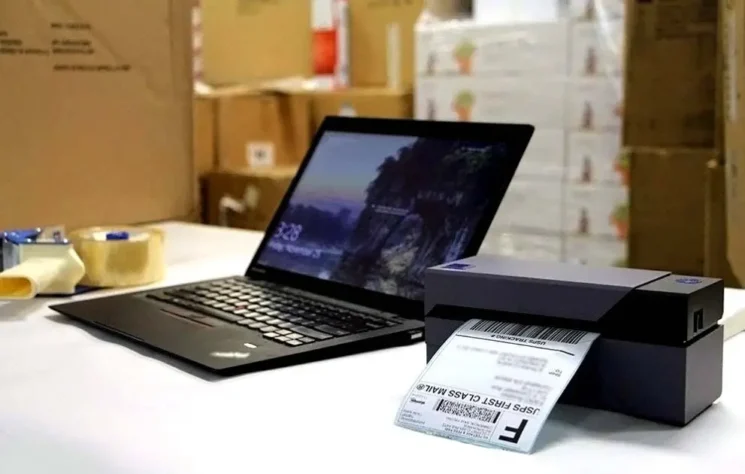 1. Fast Delivery with Quality Prints
Time is the key essence for many businesses. One of the primary benefits of a thermal shipping printer is that it ensures faster printing of images. These devices allow you to print multiple copies of an image much faster than any other printer. Besides, the quality of the print is also top-notch.
It ensures their effectiveness in providing high-quality prints in less time allowing businesses to deliver services to more customers. These devices provide multiple printing options including labels, receipts, and other types of documents in an instant.
2. Affordable Printing Alternative
Small businesses can gain from thermal shipping printers by taking advantage of their affordable printing options. The cost of printing is significantly less when compared to other printing technologies. Furthermore, the running and maintenance cost of these devices is also affordable allowing businesses to eliminate unnecessary expenses.
It guarantees quick, high-quality prints at a lower cost per print. Additionally, this makes it better suited for small firms with substantial printing needs. Small companies can fulfill their printing needs while saving money on pricey printing choices.
3. Enhances Productivity and Workflow
Thermal shipping printers are known for providing an uninterrupted, continuous printing experience. If your printers are clunky and slow, the printing process could take longer and be delayed. This will affect the company's overall output and result in a decline in employees' effectiveness and productivity.
Additionally, delays in deliveries to consumers and clients may result from interruptions. Businesses can fulfill deliveries on time and guarantee a smooth printing process thanks to thermal printers' increased efficiency.
Thermal Shipping Printers for Small Businesses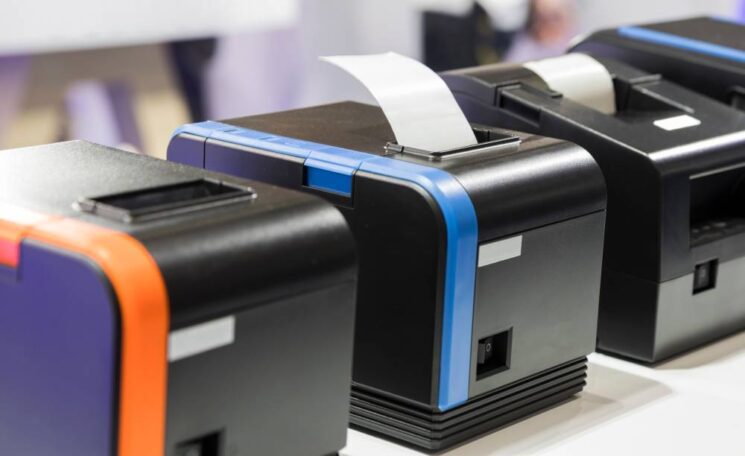 1. DYMO LabelWriter 4XL
Due to its cost and ease of use, the DYMO LabelWriter 4XL is a preferred option for small enterprises. Larger packages can benefit from its ability to print shipping labels up to 4 inches wide. You won't need to bother about buying new ink or toner because it uses thermal printing technology.
Along with DYMO Label software, the DYMO LabelWriter 4XL makes it simple to generate personalized labels and effectively manage your shipping process. Small businesses will find it helpful that it has USB connectivity and is compatible with well-known shipping services like USPS, UPS, and eBay.
2. Rollo Label Printer
For small businesses, the Rollo Label Printer is a potent and versatile thermal shipping printer that offers high-quality printing. It's perfect for printing labels in a range of shipping label sizes because it can print labels up to 150mm wide. Label printing is speedy and effective thanks to its high printing speeds of up to 150mm per second.
Shipping labels, barcode labels, and product labels are just a few of the label types that the Rollo Label Printer can print. It has numerous connectivity options, such as USB, Bluetooth, and Ethernet, making it simple to connect to your computer or mobile device. The Rollo Label Printer is a comprehensive shipping solution because it has its own label printing software.
3. Brother QL-1100
The Brother QL-1100 is a high-performance thermal shipping printer that offers excellent printing capabilities to small enterprises. It has a printing quality of up to 300 dpi and can print labels up to 4 inches wide for sharp, clear printing. It has an integrated label printer with a choice of label templates and customization options.
Due to its fast printing speeds of up to 69 labels per minute, the Brother QL-1100 is a quick and effective option for your shipping needs. Because it includes USB connectivity and is compatible with well-known shipping platforms such as USPS, UPS, and FedEx, it is an obvious choice for small enterprises.
The Bottom-line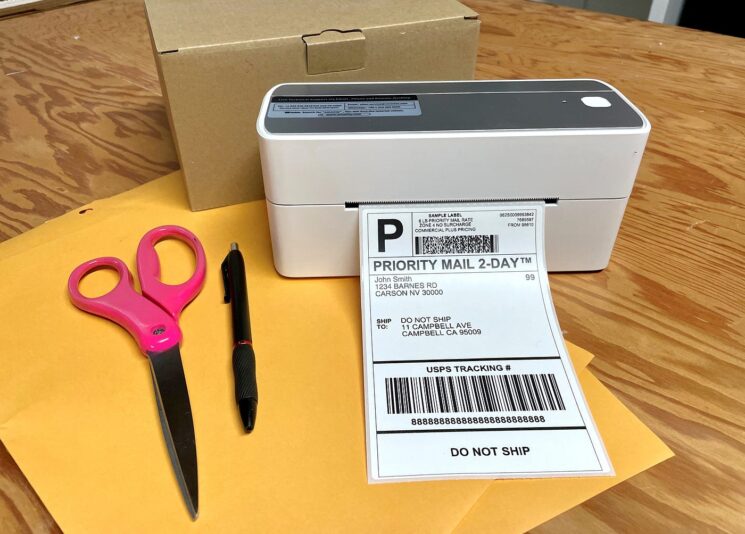 In conclusion, thermal printers are versatile and can benefit small businesses in carrying out their production and shipping with high-quality fast printing processes. If your business is in need of high-quality printing devices, thermal printers are the perfect option that enables multiple copies of an image or document at a much faster period. Make sure to identify your needs before selecting the right option.