Introduction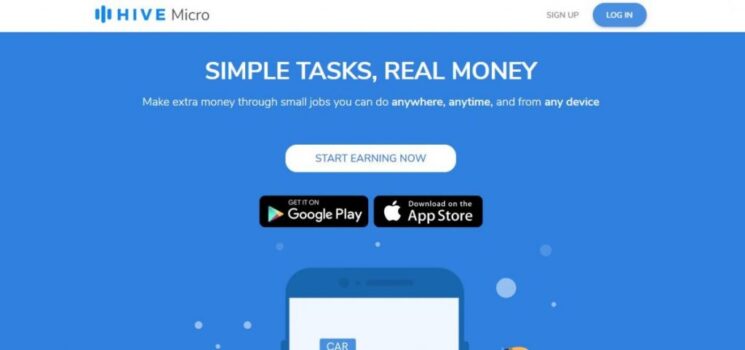 Welcome to Hive Micro Review, Today we are looking at what Hive Work is and how you can earn from the site.
Hive Work (also known as HiveMicro) is an online micro-working site that helps you to earn money for finishing short and repetitive tasks.
The tasks on HiveMicro usually involve things like identifying the content of images, separating out "real life" videos from animations, drawing boxes and around certain image elements, identifying movies and TV shows, and transcription.
On the face of it, the tasks have diverged. They're certainly pretty simple. They're mainly based around the kind of things computers can't yet be trusted to do consistently.
How to Join The Site?
Signing up to HiveMicro is very simple and quick. You just have to provide a name, email address, password, and country. Unlike many online earning sites, Hive Micro appears to accept members from all over the globe.
After that, you have instant access to the existing tasks. For each person, you must complete a "Qualification Test." Once you've passed, you are free to complete as many of those precise tasks as there are available.
How To work on Hive Micro?
One positive thing about HiveMicro is that the user experience is actually rather decent. It's not perfect, but things are flatter than they are on most of the other micro working sites.
Unfortunately, people do get disappointed when they realize how many tasks you're expected to do to earn a very small amount of money.
They ask you to choose the correct label for food in an image, which sounds simple enough until you will get to know that you have to do it 1000 times to earn just 20 cents. That isn't just a low rate, it's utterly ridiculous.
Another task is that you get involved in watching movie trailers until you were able to confirm the movie. The rate for this? 35 cents for 1000 tasks! 
Even if each task takes 10 seconds (and that's incredibly optimistic), you're looking at spending nearly three HOURS, just making 35 CENTS.
Fortunately, when I went back researching about this site just to be able to accurately update this Hive Work review there's something I find was some better-paid options.
There were a number of jobs which was paying between $4 and $8. Even though there are not a lot of tasks rather only 300 tasks available, it would still seem like a slightly more sensible proposition.
But, the low rates for the mainstream of tasks are not the only problem. There's also room for uncertainty in some of the tasks. This actually means there are times when you can't be sure you've answered correctly.
If they find too many things wrong, you will only end up with a two-hour ban from that task.
Permanently Banned by Hive Work
Hive Work tasks may be impartially simple but the platform does want that you do the tasks with a very high level of precision. While a few mistakes can lead to a two-hour ban, multiple breakings will lead to a permanent ban.
How to Earn on Hive Work?
While the tasks may be simple you need to put in a lot of effort and work to earn money. The type of task, rate and user speed will all affect your earnings but I probably think it is definitely fair to write that most people should not expect to make even $1.00 per hour.
Depressingly, it seems Hive Work finds plenty of takers/peoples for their micro-tasks. According to the company they have over 1.5 million users in over 200 countries which is very huge.
Hive Work Payouts
HiveMicro usually pays out weekly on Tuesday. Payment is often by PayPal or Bitcoin, and you also should set your payment threshold as low as two Dollars.
This is a good job when the rates are so low but PayPal fees and withdrawal options could easily wipe out most of the amount that has been earned.
Hive Work Referral Scheme
In HiveMicro the site pays you"up to $5" for each new person you refer HiveMicro to. The trouble is, you have to earn $2 before you allowed to refer any people. Then, they need to make $5 before you get any commission.
If you consider the low rates, and how little people are actually making based on the "leaderboard," this barely seems worth bothering with.
We can put it in this way, Obviously, I'm not going to do hours of work only because I can put a referral link on this site.
Hive Work Pros and Cons
Pros
This platform is slick and functional.
It has a low minimum payout.
Cons       
It insultingly low rates for the vast majority of tasks.
The rates and minimum payment fees appear to vary based on user location or other demographics.
It has a lack of support.
Conclusion: Hive Micro Review
After the detailed Hive Micro Review, we can say this app is 100% legit and not a scam but I do suggest you not take this app seriously. This app plays a very little amount of money and wastes a lot of your time for a small amount.
There is a lot of things on this app that did leave me unimpressed. If you want to earn some money by doing some basic GPT Task, please check our review of Dollar Huge and find out if it is Legit or a Scam.